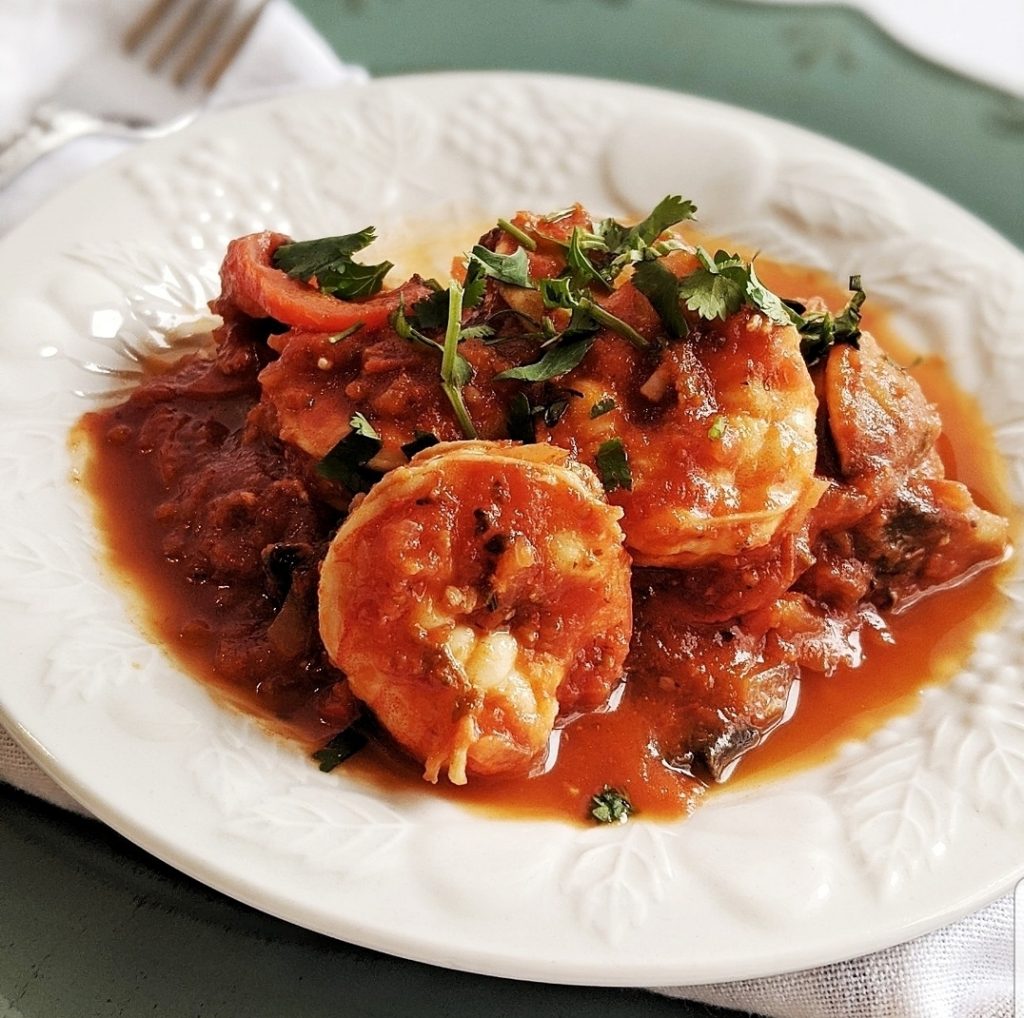 I've wanted to make my own version of a cacciatore for quite some time now, and I finally had the time to sit down and bust out my own creation a few days ago. I've said it before, but I'll say it again, anything Calabrian is my absolute favorite spice to work with. In my take on cacciatore, I used Calabrian chili flakes. I think you'll love this!
Print
Shrimp Cacciatore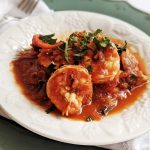 My take on this classic Italian dish — with a bit of a kick! 
Scale
Ingredients
2 lbs shrimp, peeled, tails removed; set aside
Olive oil
1 large onion, diced
4 cloves garlic, minced
Kosher salt
1 red bell pepper, thinly sliced
1 yellow bell pepper, thinly sliced
12 oz. mushrooms, sliced
1 ½ teaspoon oregano
1 teaspoon kosher salt
1 cup white wine
1 28 oz can crushed tomatoes
¾ cup vegetable broth
1 teaspoon Calabrian chili flakes
1/3 cup fresh basil, chiffonade
Instructions
Preheat oven to 425*. Prepare shrimp, pat dry and set aside. Heat olive oil in a large pan and add onion and garlic, and salt, and saute until they become soft and translucent. Add peppers and mushrooms and saute for 5-7 minutes. Add oregano and work into the vegetables. Deglaze the pan with the white wine, scraping up the browned bits from the vegetables. Pour in the tomatoes, vegetable broth, and the chili flakes. Bring to a boil, then reduce and simmer for 30 minutes to allow the peppers to soften and the sauce to thicken. Meanwhile, put the shrimp on a baking sheet, drizzle with olive oil; and salt and pepper. Roast for 5-7 minutes. Remove and add to the cacciatore with the chiffonade basil. Serve immediately! We like this with roasted potatoes, creamy polenta, or garlicky noodles.