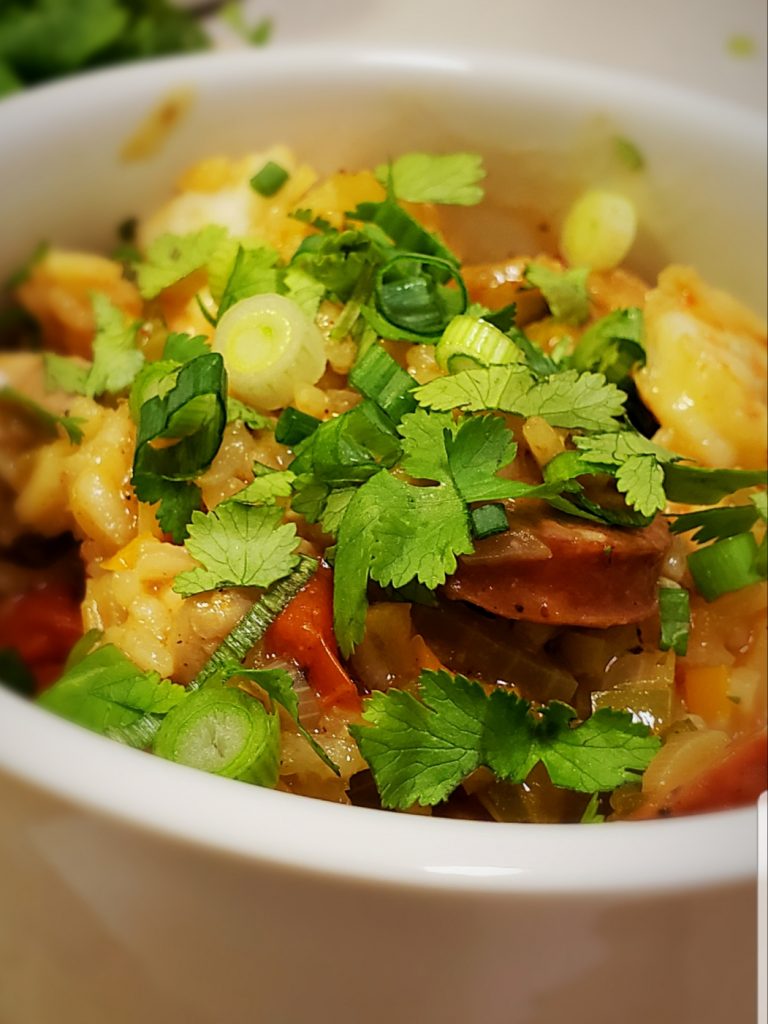 When the captain (my sweet husband) says he wants jambalaya… He gets jambalaya. I did a lot of research before creating my own version of this popular New Orleans meal, and he loved it! Pairs nicely with BB King playing in the background. 😉
Print
Jambalaya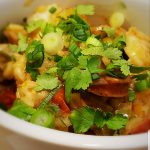 A combination of shrimp, chicken, and andouille sausage paired with bold cajun style rice and veggies.
Scale
Ingredients
3 T olive oil
1 lb chicken thighs, cut into 1" cubes
1 lb Andouille sausage, thinly sliced into rounds
3 bell peppers, cored and diced (red, yellow, and orange)
2 ribs celery, diced
1 jalapeno, finely chopped
1 onion, chopped
5 cloves garlic, minced
Salt and pepper
1 t thyme
½ t oregano
½ t cayenne pepper (up to 1 t)
3 T flour
2 t creole seasoning
1 t cumin
½ t paprika
1 t worcestershire sauce
1 t chili powder
1 can fire roasted tomatoes
4 cups chicken stock
1 ½ cups rice
1 lb raw large shrimp, peeled and tails removed
1 t oregano
1 t red pepper flakes
1 t creole seasoning
1 t cumin
1 t paprika
1 t chili powder
Kosher salt and pepper
Cilantro, chopped
Scallions, sliced
Instructions
Heat oil in large stockpot.  Add chicken and sausage and saute for 5-7 minutes (or so), until chicken is cooked through and the sausage is browned and crisped.  Remove and set aside on a plate.
Add extra oil to the pot and pour in the peppers, celery, jalapeno, onion, and garlic, salt and pepper.  Saute for 6-8 minutes; or  until the vegetables are softened and translucent.  Add thyme, oregano, cayenne, flour, creole, cumin, paprika, worcestershire, and chili powder; and cook for 2-3 minutes until the seasonings combine with the vegetables.  Add the can of tomatoes, chicken stock, and rice; and bring it to a boil, then reduce to a simmer for about 25-25 minutes – stirring every 5 minutes or so, so that the rice doesn't burn.
Meanwhile, combine the remaining seasonings, under the shrimp – oregano, red pepper flakes, creole, cumin, paprika, and chili powder; and toss with the shrimp.  Saute in a small skillet  until cooked through.
When the rice is done, stir the chicken, sausage, and shrimp into the rice mixture.  Season with salt and pepper.  Serve, topped with shopped cilantro and scallions.