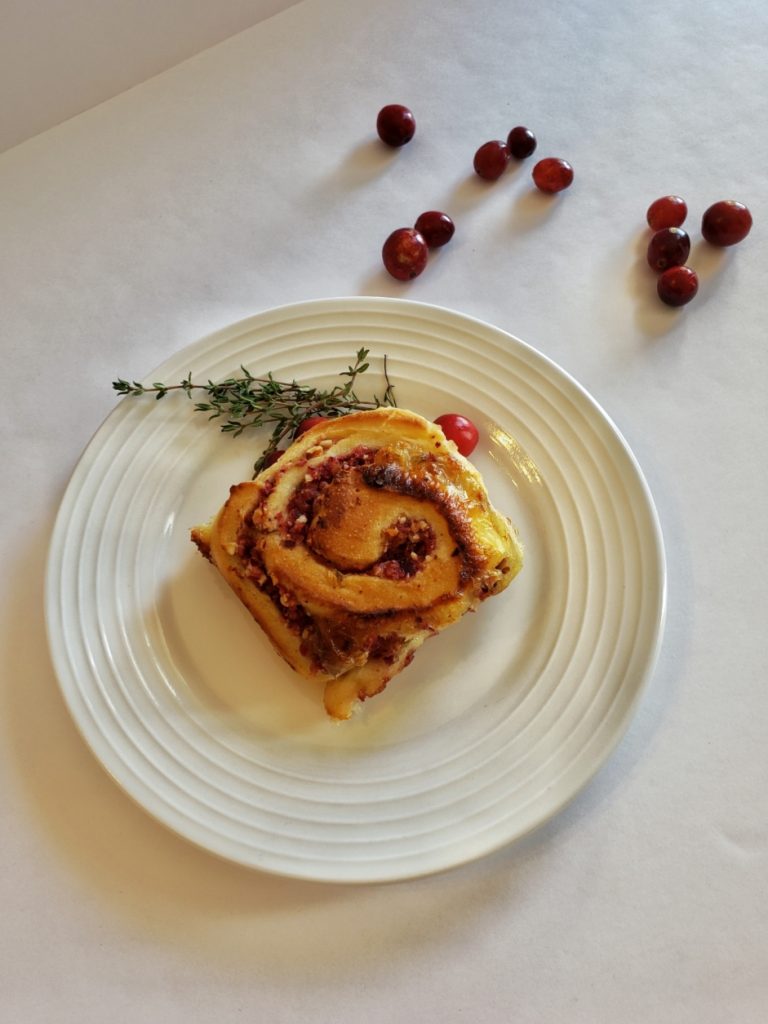 With the holidays right around the corner, I wanted to experiment with a traditional favorite: cinnamon rolls. But, I wanted mine to be more savory rather than sweet, and something you can have with your holiday dinners rather than breakfast. That's where my Cranberry & Brie Holiday Buns come into place. I hope you enjoy this new creation!
Print
Cranberry & Brie Holiday Buns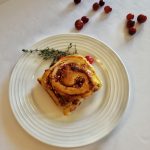 Savory cranberry buns with a delicious brie filling.
Scale
Ingredients
For the dough:
2 packages active dry yeast
½ cup warm water
2 cups hot water
3 tablespoons sugar
1 tablespoon salt
5 tablespoons olive oil
6 cups flour, unsifted
For the filling:
12 oz fresh cranberries
¾ c granulated sugar
½ cup brown sugar
1 teaspoon salt
5 green onions
1 tablespoon fresh thyme leaves
1 tablespoon fresh rosemary leaves
1 teaspoon ground ginger
1 teaspoon ground cinnamon
½ teaspoon ground nutmeg
1 cup almonds
1 round of brie cheese, rind removed, then grated
Instructions
Dissolve yeast in the ½ cup warm water, letting it stand for 10 minutes. In a stand mixer, combine the
hot water, sugar, salt, olive oil, and half of the flour. Beat well. Stir in the dissolved yeast and the
remaining flour. Mix well on high for about 2 -4 minutes until the dough begins to come away from the
edges of the bowl. Turn out onto a floured surface and knead until it is smooth and you have developed
the gluten. Put the dough in an oiled bowl, cover and let it rest until doubled in size.
Meanwhile, make your filling. In a food processor combine the cranberries, sugar, brown sugar, salt,
green onions, thyme, rosemary, ginger, cinnamon, nutmeg, and almonds. Process on low, until you
have a pesto like consistency and the almonds are well incorporated. Taste and adjust the seasonings to
your taste.
Roll the dough into a 24×9 rectangle on a well-floured surface. Spread the cranberry sauce on top of the
dough, leaving about an inch border around the edges. Sprinkle the grated brie along the center. Roll
the dough into a tight log, lengthwise, and pinch the seam. Cut into 24 buns and place into 2 9×13
greased baking pans. Allow to rise until doubled in size. Preheat oven to 400*. Bake for 20 minutes, or
until nicely browned.
Serve warm with herb butter, or whipped cinnamon butter