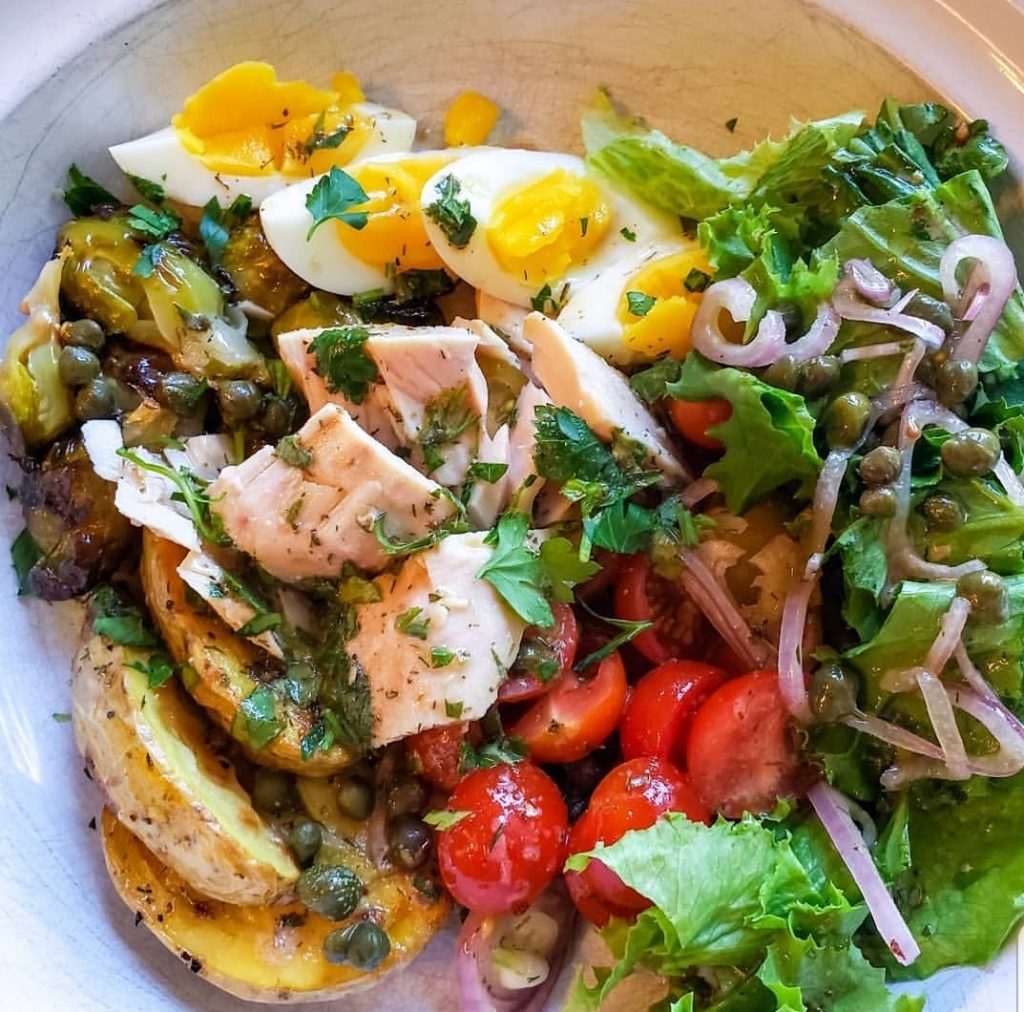 Print
Tuna Nicoise Salad
The perfect combination of flavorful ingredients, come together for a twist on a classic Tuna Nicoise Salad.  Crispy roasted potatoes and brussels sprouts are joined with cherry tomatoes, shallots, hard boiled eggs, capers, and albacore tuna; alongside crisp romaine lettuce.  Drizzled with a zesty red wine vinaigrette and topped with fresh parsley.  You will love the fresh bursts of flavor from this salad!
Scale
Ingredients
For the vinaigrette:
1 T Dijon mustard
¼ cup red wine vinegar
½ t salt
1 t white pepper
½ t sugar
1 T Minced fresh parsley
½ c olive oil
½ t celery salt
1 ½ t dill
For the salad:
6–8 new potatoes, quartered
3 T olive oil
3 cloves garlic, minced
1 lb brussels sprouts, quartered
1 ½ cup cherry tomatoes, halved
1 shallot, thinly sliced
¼ – ½ cup niçoise olives or kalamata olives
2 T drained capers
1 head, romaine, thinly sliced; or spring mix
4–6 hard cooked eggs, peeled and quartered lengthwise
1 can albacore tuna
Chopped parsley for serving
Chopped scallions for serving
Instructions
Whisk all the ingredients for the vinaigrette together, and set aside.
Preheat the oven to 425*.  Toss the potatoes in the olive oil with the minced garlic and place on a baking sheet.  Roast for 15 minutes.  Add the brussels sprouts to the baking sheet with the potatoes, and roast an additional 20 minutes.  Turning once. Remove and set aside to cool.
Meanwhile, add the tomatoes, shallot, capers, and olives to a bowl.  Sprinkle with salt and pepper. Pour in ½ cup dressing and gently combine.  When the potatoes and brussels sprouts have cooled, separate them into bowls, and toss the potatoes with 2 T of the vinaigrette.
To assemble the salad, place the lettuce in the bowl, spoon some vegetable mixture next to it, place potatoes next to that, then brussels sprouts, then hard cooked egg quarters.  Chunk the tuna over the salad.  Drizzle another ¼ cup dressing over the salad and top with chopped parsley or scallions.  Serve with remaining vinaigrette at table.