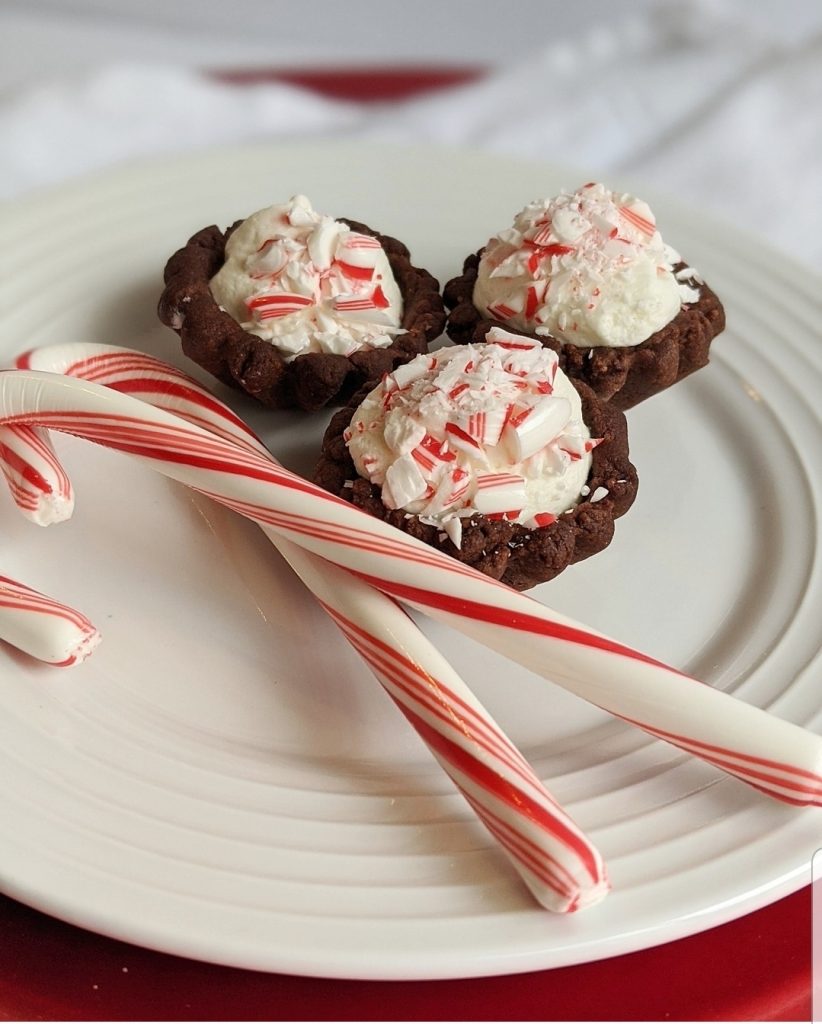 I know it's not quite December yet, but my mind has been on holiday baking for weeks now. I can't help it! Something about peppermint just makes me happy, and December is the one time a year that peppermint is finally all around us. Peppermint inspired these tarts, and I know you'll love them!
Print
White Chocolate Peppermint Tarts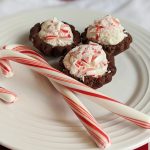 Chocolate tarts filled with white chocolate peppermint mousse. Mmmmm.
Scale
Ingredients
Tart Shells
½ cup butter, softened
½ cup powdered sugar
1 egg
1 cup flour
3 tablespoons almond flour
3 tablespoons cocoa
½ teaspoons salt
Small tart tins
Cooking spray
White Chocolate Peppermint Mousse
1 ¾ cup heavy cream
1 cup white chocolate
1 t pure peppermint extract
3 egg whites
¼ cup sugar
1 peppermint candy cane, crushed
Instructions
For the tarts: 
Preheat the oven to 375*.
Cream the butter and powdered sugar together until well combined and light in color. Add the egg,
beating well, until light and fluffy. In a separate bowl, sift the flour, almond flour, cocoa powder, and
salt together. Slowly add it to the butter mixture, beating slowly, until just combined.
Place the tart tins on a baking sheet and spray with cooking spray. Roll 1 ½ tablespoons of dough into a
ball and place in the tart tin, pressing the dough down into the bottom and up the sides of the tin. You
can use a wooden pastry press, sometimes called a tart tamper; which makes this much easier! They
have them on Amazon for a great price. Prick the pastry with a fork, around the edge and in the bottom,
so it doesn't puff too much. Bake for 12-15 minutes. Remove and cool completely!
For the mousse: 
Whip the heavy cream, until stiff peaks form. Put in a covered container and refrigerate. Melt the white
chocolate in a double boiler stirring occasionally. When melted, add the peppermint extract and mix
well to combine. Remove and set aside to cool. In a separate bowl, beat the egg whites, gradually
adding the sugar, until they become glossy and stiff peaks form. When you pull up the beater, and you
have a nice peak that doesn't fall, you're ready. Fold the cooled, melted white chocolate into the stiff
egg whites, until well incorporated. Then fold in the chilled, whipped cream, carefully. Transfer the
mousse to a piping bag with a large tip. Fill each COOLED tart shell with the mousse. Top with crushed
candy cane and serve.