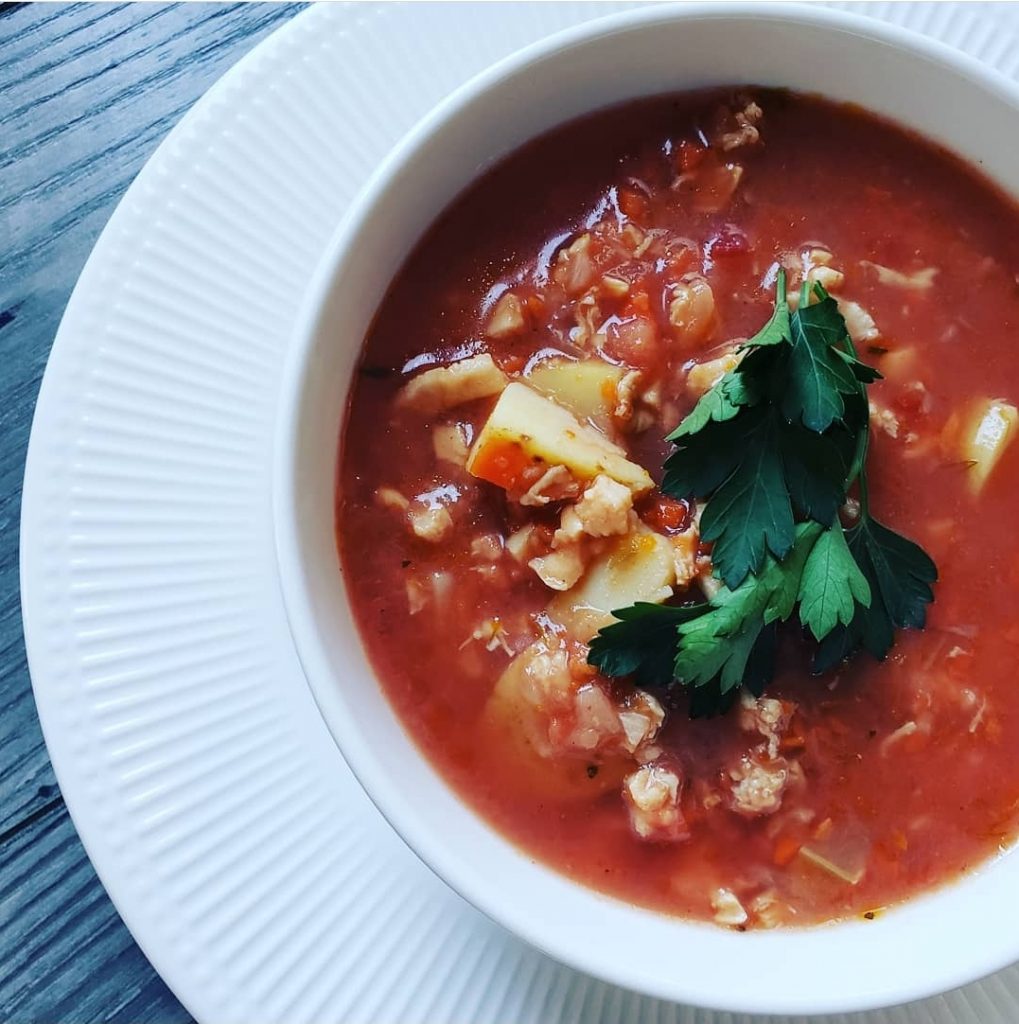 Snowy days call for warm soups, and this soup warms the soul. It's also gluten free and dairy free, so it can be served to literally anyone!
Print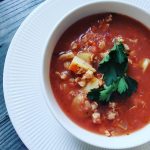 Manhattan Clam Chowder (GF & DF)
---
Description
Gluten free and dairy free clam chowder.
---
Scale
Ingredients
1 large can clams, drained, reserve the broth; set clams aside
Olive oil
1 large onion, diced
3 cloves garlic, minced
2 celery stalks, diced
1 carrot, finely diced
Red-pepper flakes, to taste
4 large Yukon Gold potatoes, cubed
1 cup white wine
1 cup chicken stock
1 8oz clam base
1–2 teaspoons Old Bay
3 sprigs thyme
1 bay leaf
1 28 oz can crushed tomatoes
Freshly ground black pepper to taste
¼ cup chopped parsley
½ bunch fresh dill, chopped
---
Instructions
Put the onion, garlic, celery, and carrot in a food processor, and process until they are finely minced.
Heat olive oil in a large dutch oven and add the veg mixture, sauteing until they are soft and fragrant,
but not browned. Season with salt, pepper, and red pepper flakes. Add the potatoes and cook until
they have started to soften and brown, about 5 minutes. Add the reserved clam broth, white wine,
chicken stock, and clam base. Sprinkle in the Old Bay and the thyme sprigs and stir to combine. Add the
bay leaf and cover the pot. Simmer until the potatoes are tender; about 15 minutes. When potatoes
are tender, stir in tomatoes, and clams, stirring to combine. Taste and adjust seasoning. Let chowder
come to a simmer, and remove from heat. Take out the bay leaf and the thyme stems.
Serve, topped with chopped parsley and dill.