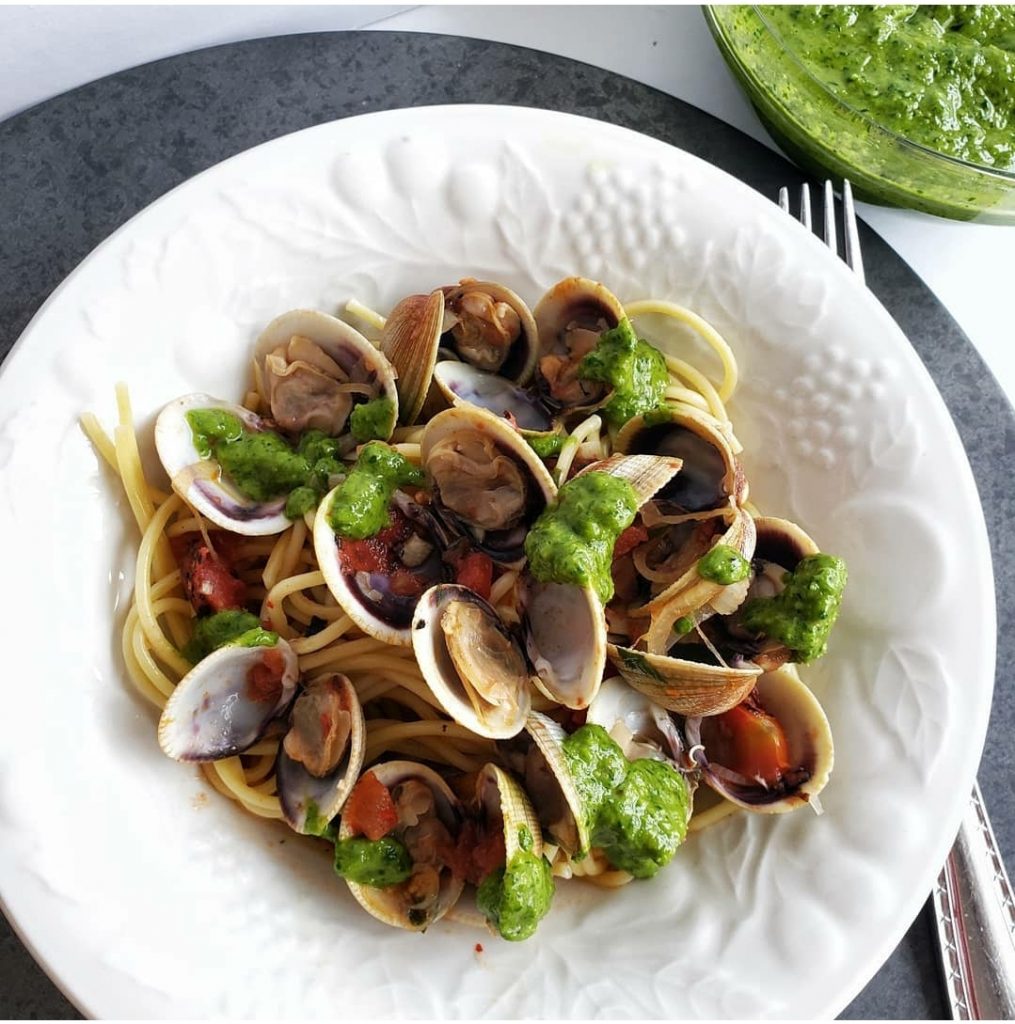 If you love seafood as much as my family does, this dish is for you. Clams steamed with a tomatoey white wine broth, and topped with a sauce that's loaded with fresh herbs. Serve over linguine and with a crusty bread on the side, to soak up the delicious sauce! You'll need plenty of napkins because you'll be slurping this dish. Trust me.
Print
Steamed Clams with Tomato White Wine Broth and Herby Sauce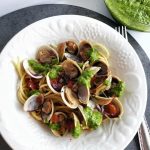 Steamed clams paired with a fresh herb sauce.
Scale
Ingredients
2 pounds small clams in their shells, cleaned picked through
¼ cup flour
½ bunch fresh cilantro
½ bunch parsley
3 tablespoons fresh dill
½ bunch basil
1 bunch scallions, sliced, some reserved for garnish
2 garlic cloves
1 lemon, zested and juiced
2 tablespoons white wine vinegar
½ cup olive oil
Salt and pepper
1 pound dried linguine
Kosher salt
4 tablespoons extra virgin olive oil
2 shallots, thinly sliced
5–6 cloves garlic minced
1 can fire roasted tomatoes
2 teaspoon red pepper flakes
1/4 cup chopped fresh Italian parsley
1 1/2 cups dry white wine
2 teaspoons kosher salt
Freshly ground black pepper
Fresh basil
Grated lemon
Instructions
To clean the clams, put them in a large bowl, covered with water. Add the flour and let sit for 30
minutes, while they disgorge any sand. Drain, rinse thoroughly and discard any that aren't tightly closed.
Make the herb sauce, and set aside. For the sauce: combine the cilantro, parsley, dill, basil, scallions,
garlic, lemon zest and juice, white wine vinegar, and olive oil in a blender and blend until smooth.
Season with salt and pepper to taste.
Fill a large pot with water and bring to a boil. Season generously with kosher salt and add the linguine,
cooking until tender but still al dente.
Meanwhile, in a large dutch oven heat the olive oil over medium heat. Add the shallots and the garlic
and saute until the shallots are translucent and the garlic is very fragrant. Add the tomatoes, red pepper,
parsley, wine, salt and pepper; and bring to a boil. Add the clams, and the fresh basil, cover the pot, and
let it simmer for 8-10 minutes, until all the clams open up. Remove and throw away any clams that
didn't open.
Once the pasta is done cooking, reserve 1/4 cup of the pasta cooking water (just in case you need to add
it to the clams) and drain the linguine, sprinkle it with olive oil, so it doesn't stick together. Serve the
clams over the pasta, topped with the lemony herb sauce.