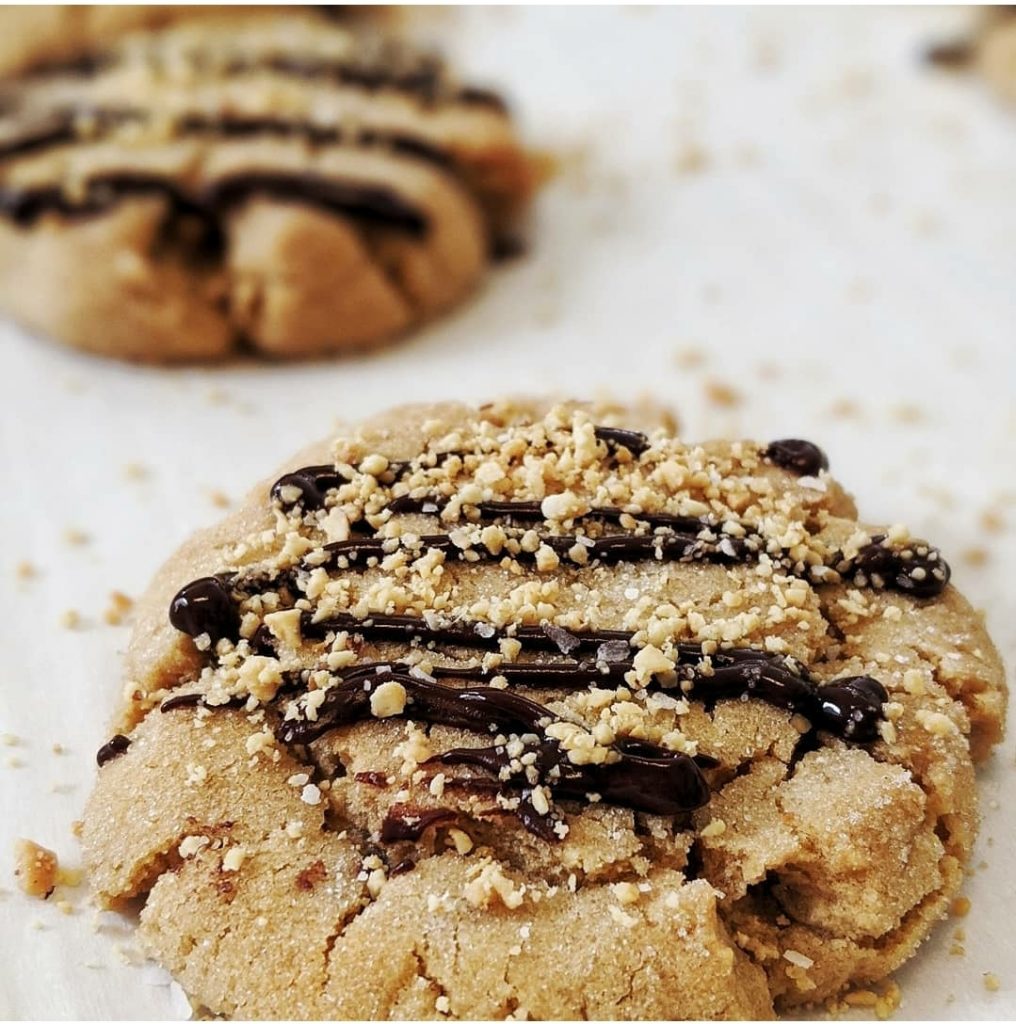 Needing a scrumptious dessert, that's simple to make? Introducing my Chocolate Drizzled Peanut Butter Cookies. Kid you not, these cookies were gone by the end of the night. Take these to any party, potluck, whatever! I promise they'll be a hit, and your guests will be begging for more!
Print
Chocolate Drizzled Peanut Butter Cookies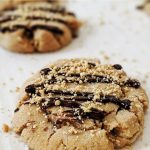 Chocolately and peanut buttery. Crispy on the outside but oh so soft on the inside.
Scale
Ingredients
Cookie Dough:
1 cup butter, softened
1 cup peanut butter
1 ¼ cups brown sugar
½ cup white sugar
2 eggs
2 teaspoons vanilla
2 and 1/2 cups all-purpose flour
½ cup cornstarch
1 teaspoon salt
1 1/2 teaspoon baking soda
Sugar for rolling cookie dough in
Chocolate Drizzle:
2/3 cup Semi-sweet chocolate chips
1 tablespoon butter, if needed to thin
Roasted Salted Peanuts, crushed
Instructions
Preheat oven to 375F degrees, and line two baking sheets with parchment paper.
In a stand mixer, beat the butter and peanut butter on high, until smooth and incorporated.
Add the sugars, and beat on high again for 3-5 minutes, until fluffy. Add eggs and vanilla and
beat for 1 minute more.
Mix in the flour, cornstarch, salt, and baking soda, just until combined. Put the sugar in a bowl,
to roll the dough in. Measure about ¼ cup of dough and roll it in your hand, into a ball. Put it
into the bowl with the sugar and roll it, covering it completely with sugar. Place it on the
baking sheet and smash with a glass, dipped in sugar as well, so it doesn't stick. Be sure the
cookies are 2 inches apart.
Bake for about 10 minutes, or until cookies are just golden. Remove and let them sit on the
baking sheets for 5-10 minutes before removing to a wire rack to cool completely. When
cooled, make the chocolate drizzle. Place the chocolate chips in a glass measuring container
and microwave in 20 second increments, just until starting to melt. Add butter as needed and
stir to smooth. Drizzle over the cookies and sprinkle with the crushed peanuts.