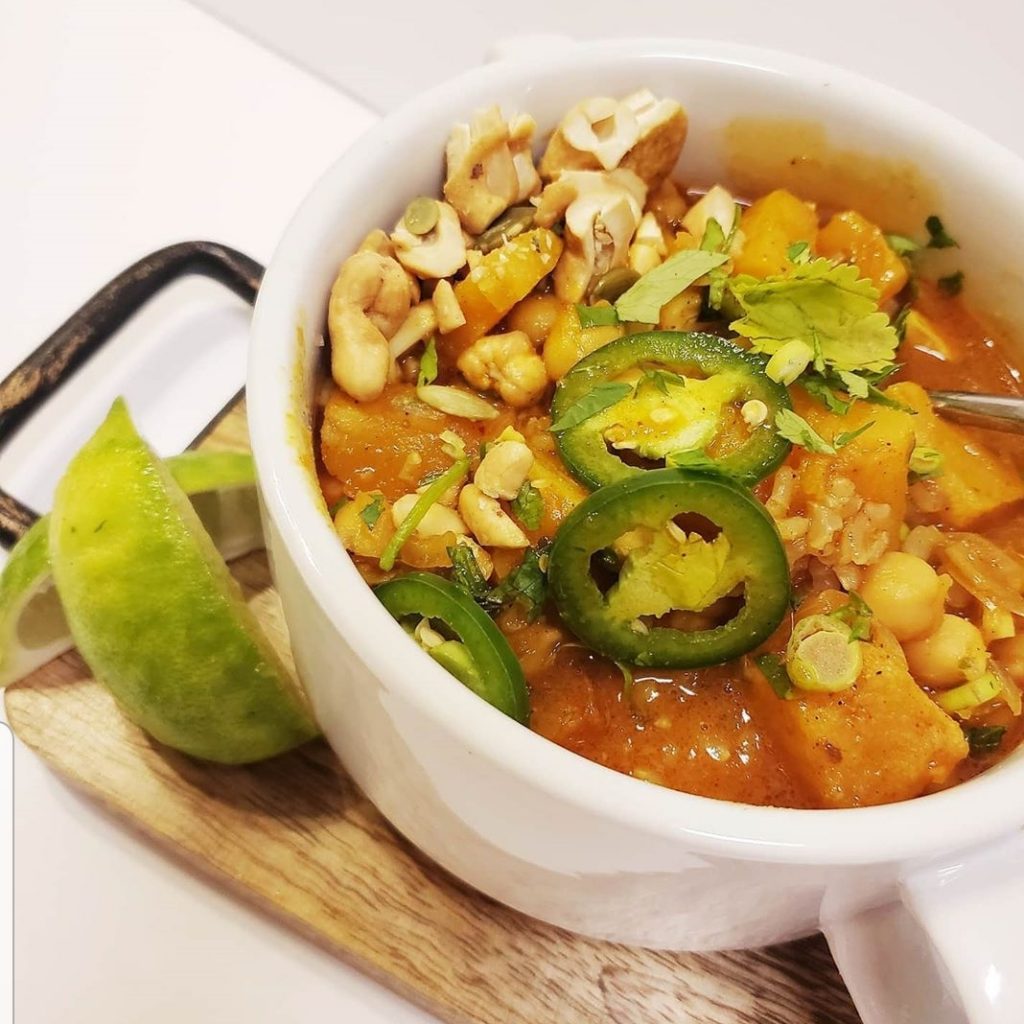 Comfort food at its best. This Thai inspired curry is creamy, spicy, and filling. The sweet squash and textured chickpeas are the perfect backdrop for the curry spices. This soup packs a punch of flavor! Serve with rice, a squeeze from a fresh lime, and top with jalapenos, cilantro, and chopped cashews.
Print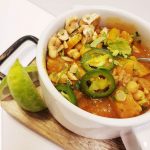 Butternut Squash Chickpea Curry
---
Description
Creamy, spicy, and filling.
---
Scale
Ingredients
2 lbs butternut squash, peeled and cubed
Olive oil
Kosher salt
3 tablespoons olive oil
2" fresh ginger, grated
1 onion, diced
5 garlic cloves, minced
1 teaspoon turmeric
1 ½ teaspoon cumin
1 ½ teaspoon smoked paprika
2 teaspoon curry powder
2 sprigs fresh thyme leaves
3 tablespoons red thai curry paste
½ teaspoon cinnamon
½ teaspoon nutmeg
¼ teaspoon allspice
2 tablespoons brown sugar
¼ cup honey
1 tablespoon fish sauce
2 cups chicken stock
2 cans coconut milk
2 cans chick peas
Cooked rice, for serving
Limes, for squeezing over the curry
Toppings – optional:
Crushed cashews
Pumpkin seeds
Chopped cilantro
Chopped green onions
Jalapenos, sliced
---
Instructions
Preheat oven to 450*. Toss the squash with olive oil and kosher salt and put on a lined baking sheet.
Roast for 20 – 30 minutes. Remove and set aside.
Meanwhile, heat the 3 tablespoons olive oil in a large dutch oven. Cook the ginger and onion over
medium heat until they are soft and translucent. Add the garlic and cook until fragrant. Sprinkle in the
turmeric, cumin, paprika, and curry powder, and gently work them into the onion mixture. Add the
fresh thyme leaves and the red thai curry paste, cinnamon, nutmeg allspice, brown sugar, and honey.
Again stirring them to combine with the onions. Add the fish sauce and chicken stock and whisk until
fully combined. Pour in the coconut milk and whisk again until well incorporated. Add in the butternut
squash and chickpeas and bring to a simmer for 10-25 minutes to let the flavors come together and the
chickpeas to heat through. Serve over rice, with a healthy squeeze of lime and topped with the
suggestions above.