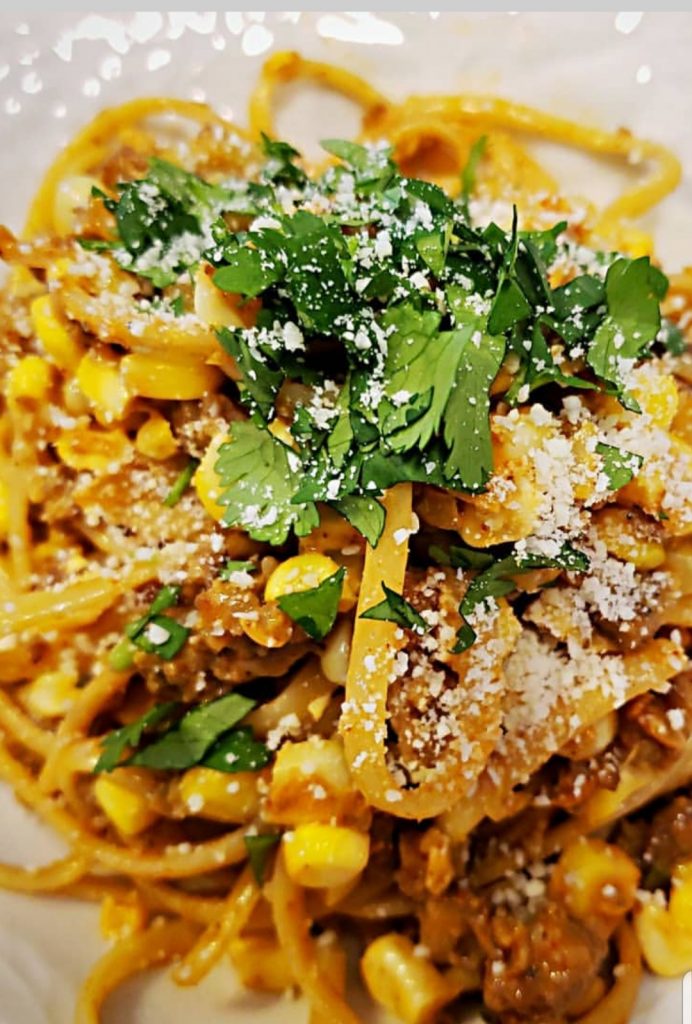 Print
Mexican Corn and Sausage Pasta
Mexican Corn and Sausage Pasta is a quick dish with a luscious sauce made from spicy sausage, onions, garlic, and sweet corn.  Top it with cilantro and cojita cheese and watch it disappear!
Scale
Ingredients
1 lb spaghetti
2 T olive oil
1 onion, diced
Kosher salt
2 garlic cloves, minced
1 lb spicy sausage
1 t red pepper flakes
¼ cup white wine
1 can fire roasted tomatoes, drained
2 cups sweet corn kernels (about 2 ears of corn, or you can use frozen kernels that have thawed)
½ bunch of cilantro, chopped
¼ cup cotija cheese, crumbled
Instructions
Bring a large pot of water to a boil.  Season well, with salt.  Cook pasta until al dente, about 7 minutes.  Reserve 1 cup of pasta water before draining the pasta; set aside.
Meanwhile, heat olive oil in a large skillet.  Add onion and garlic, season with salt; and sauté until soft and translucent.  Add in the spicy sausage, breaking it up with a wooden spoon.  Sprinkle with red pepper flakes, and sauté until the meat is cooked through.  Deglaze the pan with the white wine, and add in the fire roasted tomatoes.  The sauce should be thick. 
Add in the corn and heat through.  Toss with the pasta, adding some of the reserved pasta water, if needed, to coat the strands of pasta.  Serve, topped with the chopped cilantro and crumbled cotija cheese.