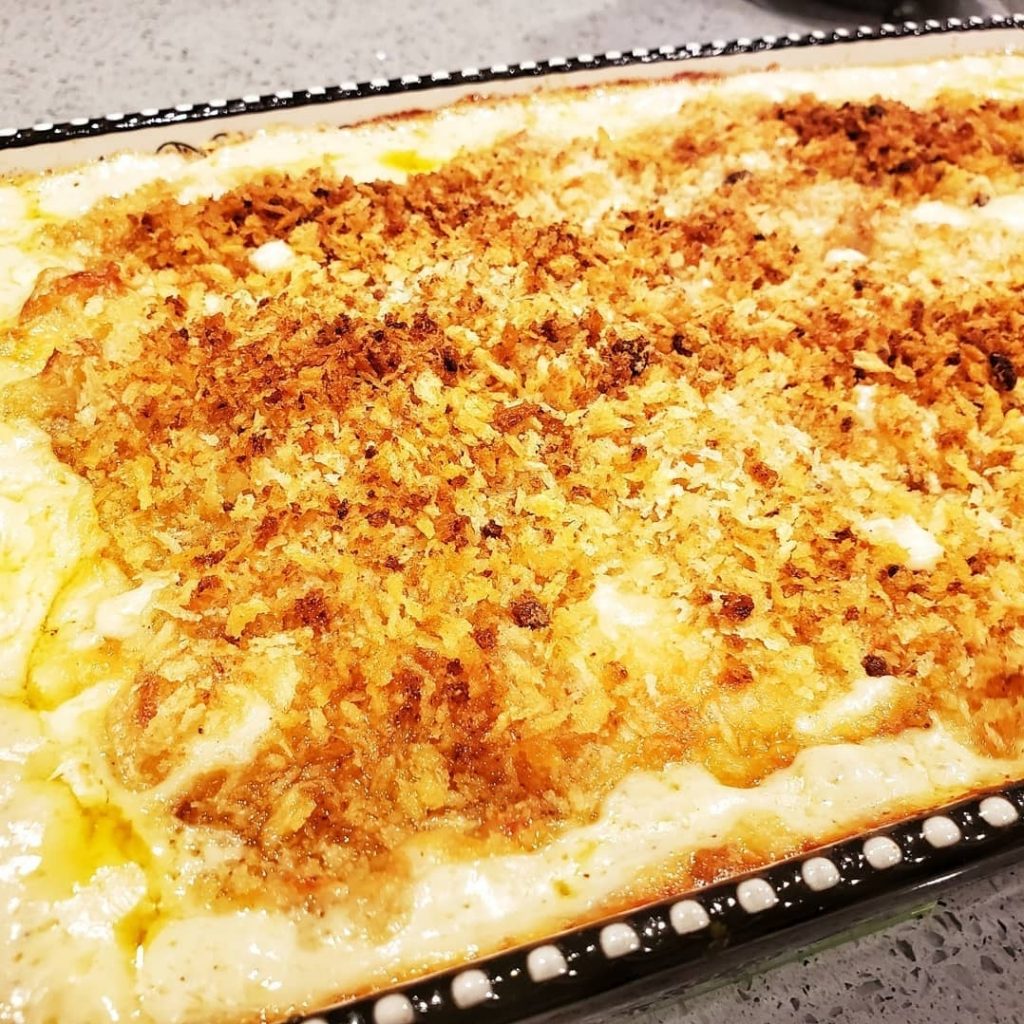 Print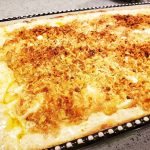 Seafood Mac n Cheese
---
Description
Everything you love about seafood is now in this delicious mac n cheese!
---
Scale
Ingredients
1 pound cavatappi pasta
½ cup butter
½ cup flour
2 tablespoons dry sherry
3 cups milk
1 cup heavy cream
2 cups white cheddar cheese, grated
2 cups sharp cheddar, grated
2 cups fontina cheese, grated or Gruyere
⅓ cup grated parmesan cheese
1 teaspoon Old Bay
½ teaspoon nutmeg
½ teaspoon black pepper
Langostino lobster tails (can use shrimp, chopped up too)
1 ½ cups panko breadcrumbs
¼ cup butter
3 anchovies, chopped
---
Instructions
Preheat the oven to 400°F
Cook the pasta in well-salted boiling water, according to package directions; about 7 minutes.
Drain and set aside.
In a large sauce pan, melt the butter over medium-low heat. Add the flour, and whisk over low
heat for 2 minutes; this cooks out the raw flour taste. Add the dry sherry, milk, and heavy
cream, and continue whisking until thickened and smooth. Remove from the heat; and add the
white cheddar cheese, sharp cheddar cheese, fontina cheese, and parmesan cheese; whisking to
incorporate. Add the Old Bay, nutmeg, black pepper; then taste and add kosher salt.
Add the sharp cheddar, Comte and parmesan cheeses, one handful at a time, whisking to
incorporate. When one handful is melted, add the next. Add the cooked pasta and langostino
lobster and combine. Place the mixture in a buttered baking dish.
Melt the ¼ cup butter in a saute pan, add the anchovies and cook until they crisp a little. Pour in
the panko and saute until lightly browned. Sprinkle over the mac and cheese and back for 30
minutes or until it's bubbly and browned on top.