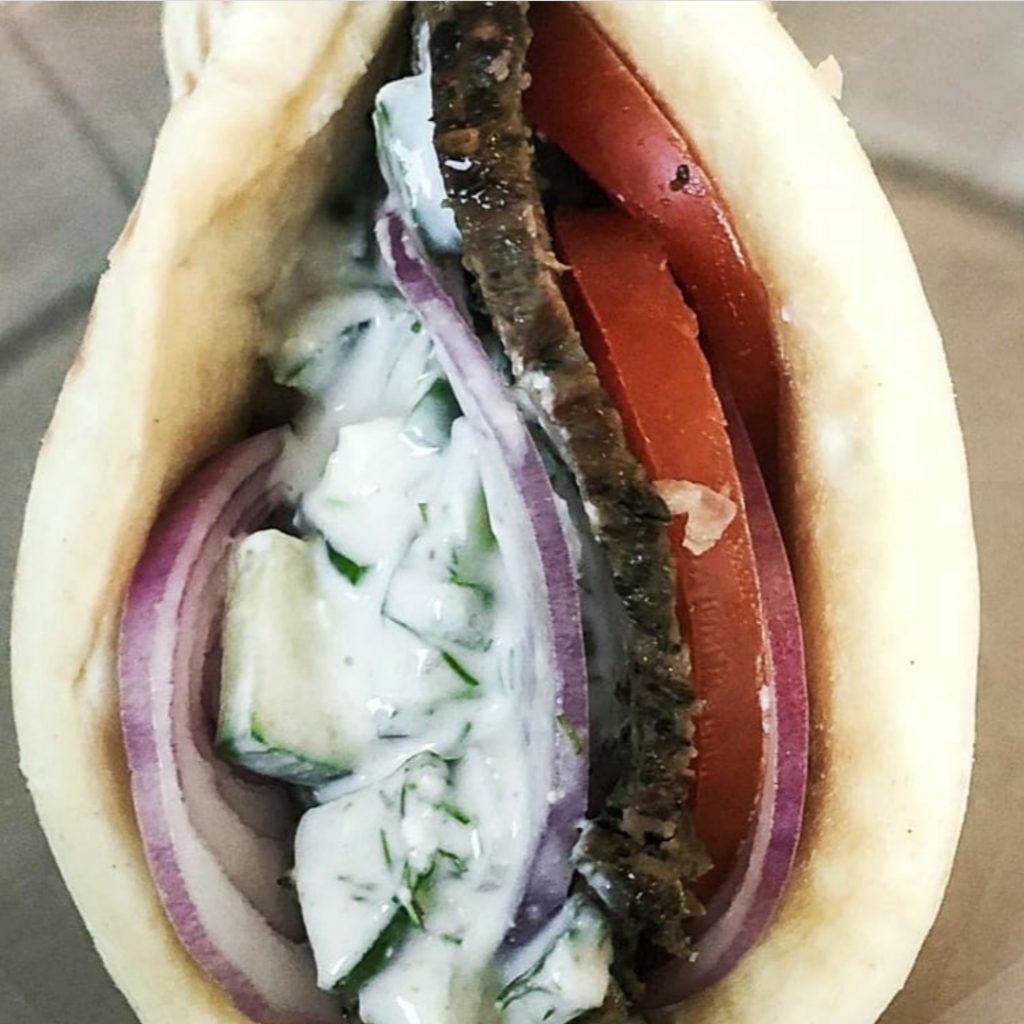 My husband used to rave about gyros he had at the fire station. I recreated it with thinly sliced gyro meatloaf, served on pillowy naan bread, with tzatziki sauce and red onions. It was a hit! This will be a fantastic addition to your weekly rotation.
Print
Gyro Meatloaf Wraps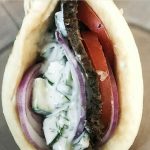 Gyro meatloaf served with tzatziki sauce on top of naan bread.
Scale
Ingredients
Meatloaf:
1 (10-ounce) package frozen spinach, thawed
½ onion, cut into chunks
1 pound ground lamb
1 pound ground beef
2 tablespoons grill seasoning
1 tablespoon minced garlic
1 teaspoon dried oregano
2 teaspoons ground cumin
1 teaspoon marjoram
1 teaspoon dried rosemary
2 teaspoons chili powder
1 tablespoon coriander
1 teaspoon thyme
½ teaspoon ground cinnamon
1 teaspoon black pepper
½ teaspoon kosher salt
Tzatziki Sauce:
1 cup plain Greek yogurt
1 small clove garlic, minced
3 scallions, chopped
½ teaspoon coriander
1/4 cucumber, diced
2 teaspoons red wine vinegar
2 tablespoons fresh dill, chopped
1 cup feta, crumbled
1 lemon, juiced
2 vine ripe tomatoes, thinly sliced
1/2 cucumber, thinly sliced
Red onion, thinly sliced
Kalamata olives
Naan bread (Pita works as well if you cannot find naan)
Instructions
Place the onion in a food processor, and process until finely chopped. Put the onions and the spinach into a
towel and squeeze out the liquid. Put both the onions and the spinach back in the food processor and add
the lamb, beef, grill seasoning, garlic, oregano, cumin, marjoram, rosemary, chili powder, coriander, thyme,
cinnamon, black pepper, and salt. Process until it is finely chopped; about 1 minute.
Preheat oven to 325 degrees F. Press the meat mixture into a lightly greased 7×4 inch loaf pan. Place the
loaf pan in a roasting pan. Pour boiling water in the roasting pan, halfway up the sides of the loaf pan.
Bake, uncovered, until the gyro meat is no longer pink in the center, and the internal temperature registers
165 degrees F; 45 minutes to 1 hour. Meanwhile, mix yogurt, garlic, scallions, coriander, cucumber, red
wine vinegar, dill, feta, and the lemon juice together. Place the sliced tomatoes, cucumbers, and red onion
on a platter; alongside the olives.
Brown the pitas in a dry skillet or over an open flame. Slice the lamb meatloaf into thin slices. To serve, fill
the pita with the thinly sliced meat, tomato, cucumber, red onion, and yogurt sauce. Top with olives if
desired.