A new twist on a traditional favorite! Zucchini bread has always been a hit at our house, and the lemon + blueberry additions made these loaves disappear as soon as they came out of the oven. Enjoy!
Print
Lemon Blueberry Zucchini Bread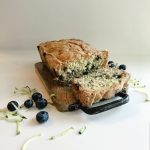 Lemon and blueberries add a refreshing twist to this popular bread!
Scale
Ingredients
3 eggs
2 cups sugar
1 cup oil
1 T vanilla
Zest of 1 lemon
3 cups flour
1 teaspoon baking soda
1 teaspoon salt
1 teaspoon baking powder
2 cups shredded zucchini (doesn't need to be peeled)
1 cup blueberries
Instructions
Preheat oven to 350* (if using dark pans, heat it to 325*).  Grease and flour sides and bottom of 2 loaf pans. Set aside.
In a stand mixer, cream eggs and sugar together.  Add oil, vanilla, and lemon zest and beat until fluffy.  In a separate bowl, sift the flour, baking soda, salt, and baking powder together.   Add to the egg mixture on medium low speed, mixing slowly, until just combined.  Slowly stir in the zucchini until well incorporated.  Remove and use a wooden spoon to fold in the blueberries.  Divide evenly between the 2 loaf pans.  Place them on a baking sheet and bake for 1 hour, or until a toothpick comes out clean.
Remove and cool.