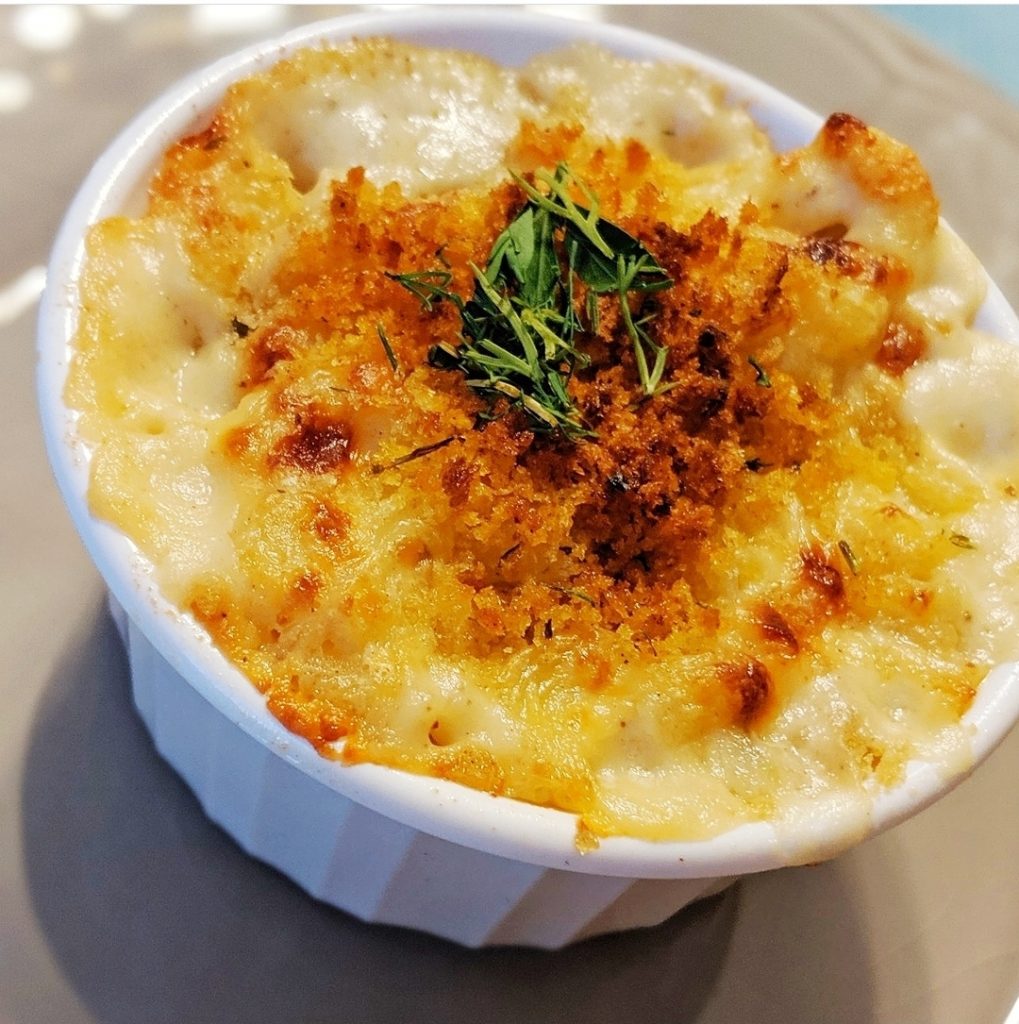 Print
Langostino Lobster Mac and Cheese
One of our favorite places to eat, serves a variety of Mac and Cheese dishes.  I figured it was time to recreate an old favorite and bring it to a new level with the addition of lobster, amped up seasonings, and updated cheese.  Shallots, Old Bay seasoning, cayenne, and nutmeg; combine with a medley of cheeses for a decadent sauce in this classic comfort food.  Top it off with Panko breadcrumbs for crunch and let everyone dig in!
Scale
Ingredients
1 lb elbow macaroni
½ cup butter
1 shallot, minced
½ cup flour
3 cups milk
1 cup heavy cream
1 cup fontina cheese, grated
2 cups sharp cheddar cheese, grated
4 cups gruyere cheese, grated
¼ teaspoon dry mustard
¼ teaspoon cayenne pepper
1 teaspoon Old Bay Seasoning
½ teaspoon nutmeg
½ teaspoon black pepper
1 – 1 ½ lbs Langostino Lobsters, cooked, or use any lobster meat, cooked
1 cup panko bread crumbs
2 T butter
1 teaspoon parsley, chopped
Instructions
Preheat the oven to 375*.  Fill a large stock pot with water and salt it generously, bringing it to a boil.  Add the pasta and cook it according to the directions on the package, usually 6-8 minutes.  Drain well.
In a large saucepan, heat the butter and saute the shallot, until soft and translucent.  Sprinkle with flour and continue cooking for 1-2 minutes to cook out the raw flour taste.  Pour in the milk and heavy cream and reduce the heat, stirring constantly as you heat the milk, but do not let it boil.  Continue stirring until the mixture has thickened and is smooth.  Remove it from the heat and add the fontina cheddar, gruyere, dry mustard, cayenne, Old Bay, nutmeg, and black pepper.  Sir until the cheese has melted and the seasonings are well combined.  Pour in the cooked pasta and the lobster and stir to combine.  Divide the mixture amongst 6-8 ramekins or you can bake it in one large baking dish. 
Melt the 2 T butter and gently mix with the panko bread crumbs.  Sprinkle over the tops of the dishes.  Bake for 30-35 minutes, or until the top is nicely browned the inside is bubbly and heated through.  Sprinkle with parsley and serve.