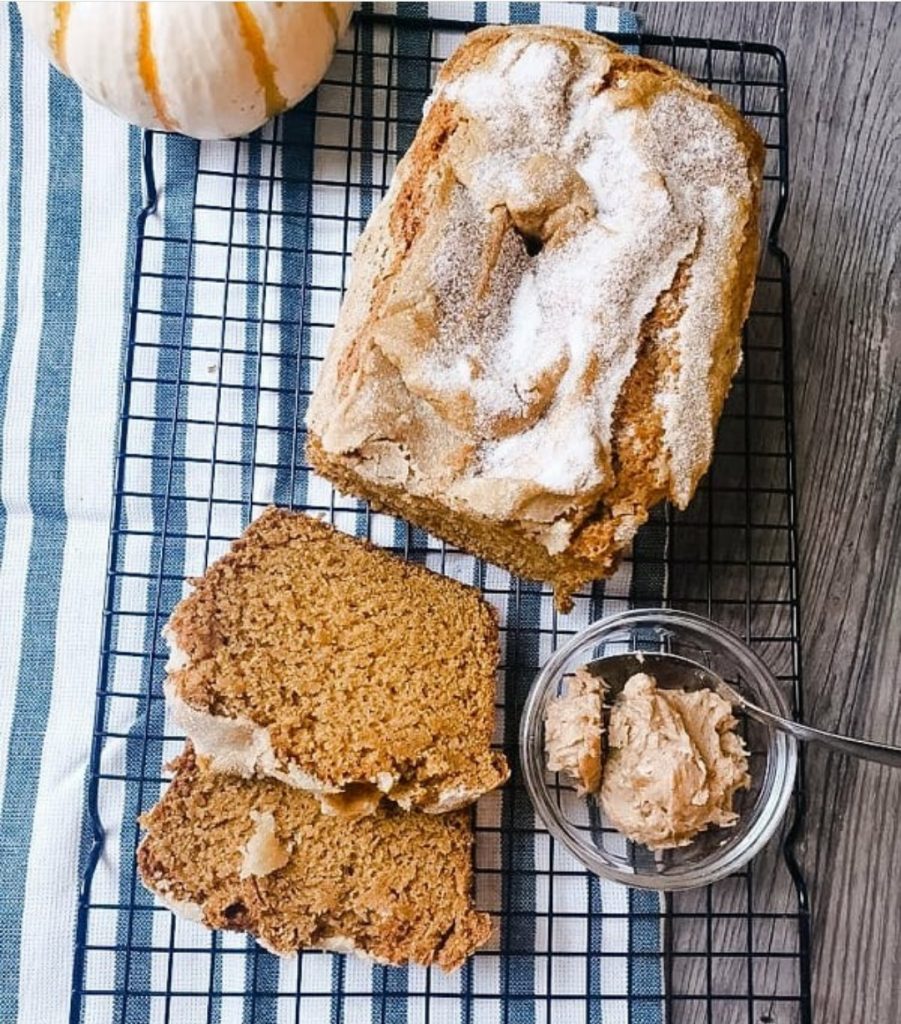 I am welcoming fall with this Pumpkin Bread. Moist and tender, with just the right amount of spices. Topped with a sugar crust…..trust me……! And served warm with cinnamon honey butter that melts beautifully. Seconds please!!
Print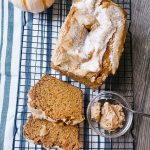 Spiced Pumpkin Bread with Cinnamon Ginger Butter
---
Description
Pumpkin spice flavored bread with cinnamon ginger butter.
---
Scale
Ingredients
Bread:
¾ cup vegetable oil or softened butter
2 2/3 cup sugar
4 eggs
1 (15 oz) can pumpkin puree
2 teaspoons vanilla
3 1/3 cups flour
2 teaspoons baking soda
1 teaspoon baking powder
1 teaspoon salt
1 teaspoon cinnamon
1 teaspoon nutmeg
½ teaspoon ginger
¼ teaspoon allspice
¼ cup sugar
Cinnamon Ginger Butter:
4 tablespoons butter
½ teaspoon cinnamon
½ teaspoon ginger
Pinch of salt
---
Instructions
Preheat oven to 350F and lightly grease 2 loaf pans. In a large bowl, cream oil, sugar, eggs, pumpkin,
and vanilla; until well blended. In a separate bowl, sift together the flour, baking soda, baking powder,
salt, cinnamon, nutmeg, ginger, and allspice. Add dry ingredients to the wet, and mix, only until
combined. Pour ½ of the batter in each loaf pan. Sprinkle the sugar over the top of the batter. Bake for
50-60 minutes, until a toothpick comes out clean. Serve with cinnamon ginger butter.
For the butter:
Whip together. Taste and adjust. Add more butter if needed, or more seasoning so it fits your taste.