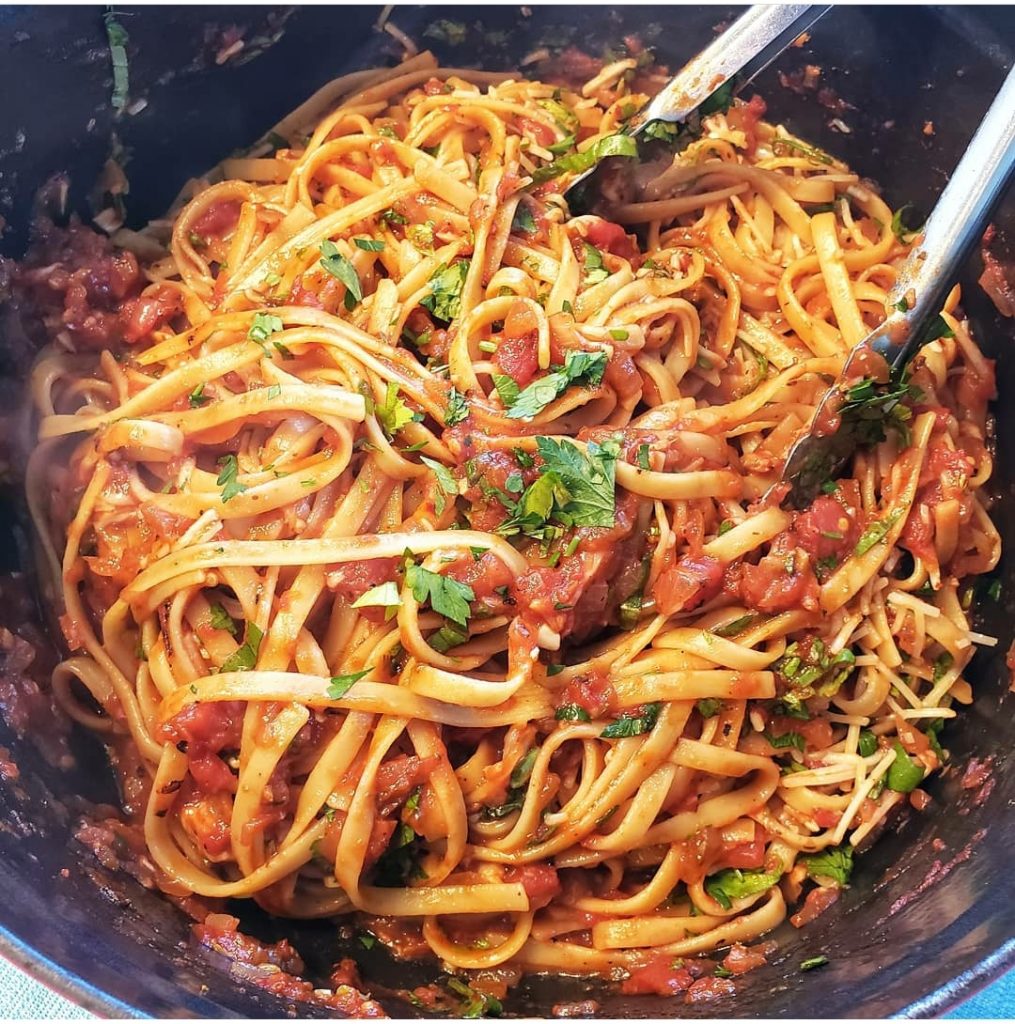 Want a quick, no fuss dinner? Let me introduce you to this! Pasta Arrabiata means "angry pasta" in Italian. This sauce is a spicy sauce (hence, "angry,"), with onion, garlic, tomatoes, and red pepper flakes. Balanced with red wine, fresh herbs, and seasonings; served with parmesan cheese. You'll want a second date with this one, for sure!
Print
Pasta Arrabiata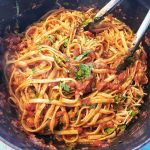 Spicy Italian pasta with veggies.
Scale
Ingredients
1/2 cup olive oil
1 onion, finely diced
1 teaspoon kosher salt
½ teaspoon black pepper
10 cloves garlic, minced
2 ½ teaspoons red pepper flakes, crushed in your hand
1 (28-ounce) cans fire roasted crushed tomatoes
1 1/2 teaspoons whole fennel seeds, chopped
3 tablespoons sugar
1 teaspoon oregano
½ teaspoon Italian seasoning
1/4 cup dry red wine
1/4 cup julienned fresh basil leaves
2 tablespoons parsley, chopped
½ cup Parmesan cheese
1 lb fettucine pasta
Instructions
In a large dutch oven, heat the olive oil over medium heat. Add the onion, salt, and pepper; and saute
until they begin to caramelize. Add the garlic and crushed red pepper flakes, and cook until lightly
browned and fragrant.
Add crushed tomatoes, the fennel, sugar, oregano, Italian seasoning, and red wine. Bring to a simmer
over medium heat, then reduce cook until it reduces slightly. Stir in the parmesan cheese, basil and
parsley, taste and adjust seasonings.
Meanwhile, cook the pasta in salted water, according to package directions. When it's al dente, strain
and add directly to the sauce. Toss to combine.
Serve with additional parmesan cheese.