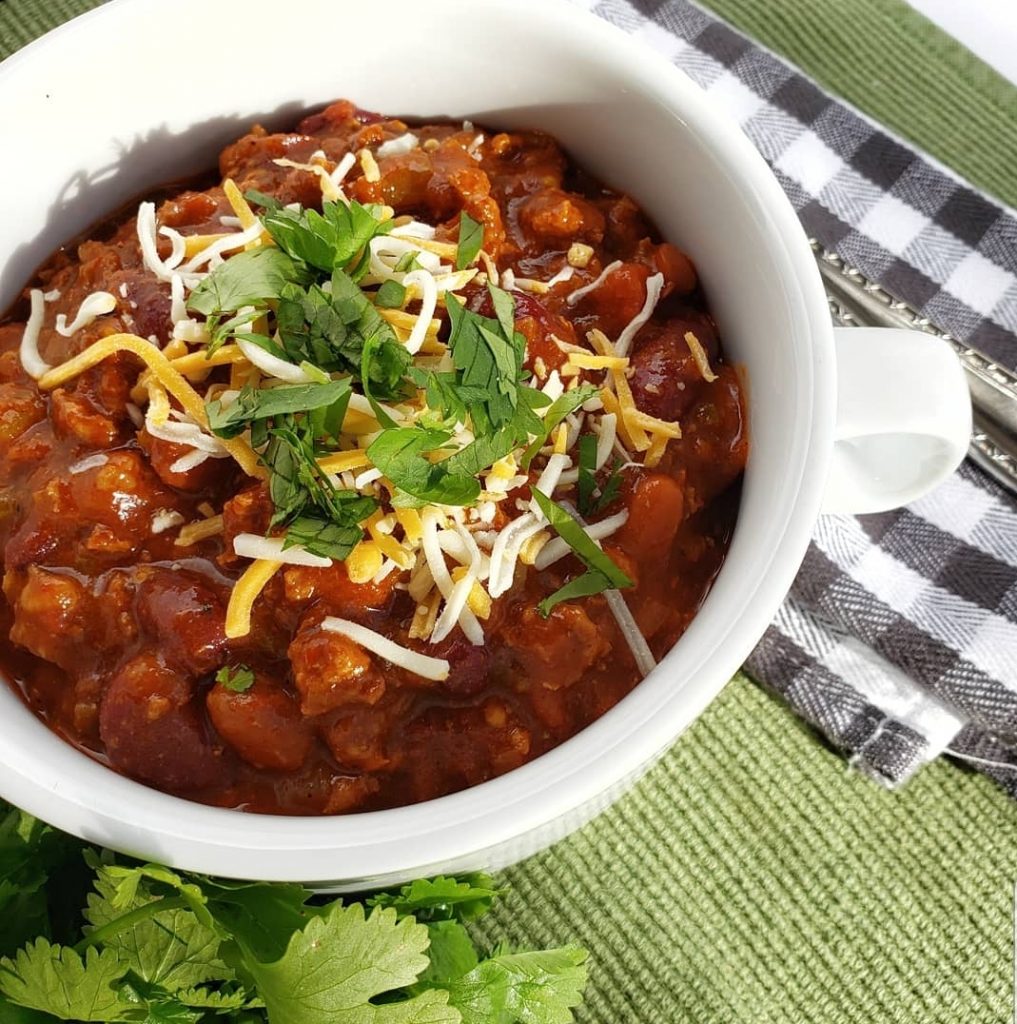 Print
Turkey Chili
This may be the BEST healthy, turkey chili you'll ever eat.  There, I said it.  My family is very particular about chili, so I took on the challenge and this was the result!
Made with lean ground turkey, fresh jalapeno peppers, dark red kidney beans, fire roasted tomatoes, and packed with spices.  Top is off with cilantro, grated cheese, and scallions; and let the feasting begin!
This makes excellent nachos, or quesadillas the next day.  Just a hint.  🙂
Scale
Ingredients
Olive Oil
2 cups chopped onions
1 tablespoon chopped garlic
1 large sweet bell pepper, chopped (any color)
1 cup celery, chopped
1 lbs ground turkey
1 jalapeno pepper, chopped
2 tablespoons oregano
4 tablespoons chili powder
1 tablespoon chipotle chili powder
3 teaspoons cumin
1 teaspoon coriander
1 teaspoon onion powder
2 teaspoons garlic powder
2 teaspoons smoked paprika
1 teaspoon dry mustard
1 tablespoon brown sugar
½ teaspoon cayenne pepper
1 teaspoon crushed red pepper flakes
1 can green chilies
1 28 oz can crushed tomatoes
1 15 oz can diced fire roasted tomatoes
2 cups chicken broth
Salt and pepper
2 cans dark red kidney beans, rinsed and drained
1 can chili beans
Scallions, chopped
½ bunch cilantro, chopped
Cheddar cheese, shredded  OR Cotija cheese, crumbled
Sour cream
Instructions
Heat olive oil in a dutch oven.  Add onions, garlic, bell pepper, and celery; and saute until softened.  Add ground turkey and jalapeno and saute until the meat is cooked through and the vegetables are translucent. Meanwhile, combine the oregano, chili powder, chipotle chili powder, cumin, coriander, onion powder, garlic powder, paprika, dry mustard, brown sugar, cayenne, and red pepper flakes in a small bowl, mixing well.  Sprinkle over the meat and vegetables and gently work into the mixture.  Add the green chilies, crushed tomatoes and fire roasted tomatoes, stirring to combine.  Add the chicken broth, salt and pepper; and bring to a boil.  Reduce heat and simmer for at least 15 minutes.  Add beans and heat through. 
Serve with Scallions, cilantro, cheese, and sour cream if desired.