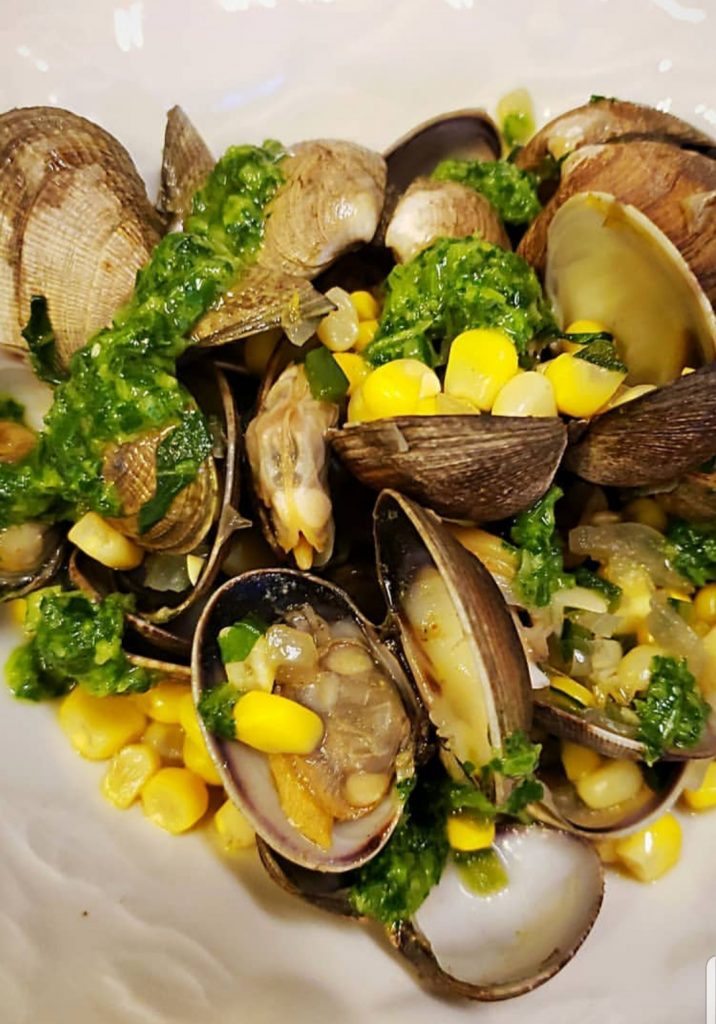 Print
Beer Steamed Clams with Poblano and Corn
Drunken clams, anyone? But seriously, the combination of fresh corn, poblanos, fragrant basil, and sweet clams steamed in beer; is addicting. And bonus points for it being on the table so quickly!
Scale
Ingredients
1 lb spaghetti
1 onion, diced
1 poblano pepper, diced
3 ears of corn, cut off the cob
4 basil leaves, chiffonade
1–2 t Old Bay seasoning
4 oz clam juice or seafood stock
1 12 oz beer, I used Blue Moon
2 lbs fresh clams, picked over; removing any that aren't closed or that are broken
Instructions
In a large pot, bring salted water to a boil.  Cook pasta al dente.
Meanwhile, heat olive oil in a dutch oven and saute the onion and poblano until tender.  Add corn and saute until heated through.  Sprinkle with the basil and Old Bay seasoning.  Pour in clam juice and beer and bring to a simmer.  Add clams to the pot and put the lid on.  Simmer about 5 minutes, until the liquid reduces and the clams open. 
Drain pasta.
Serve pasta with clams, drizzled with jalapeno basil sauce (recipe below).
Jalapeno Basil Sauce
3 garlic cloves
2 jalapenos
4 scallions
3 limes, juiced
1 bunch, cilantro
1-1/2 c basil
½-3/4 c olive oil
Salt and pepper
Combine in a food processor.  Pulse to combine and form a sauce.  Start with ½ cup olive oil, only add more if it needs to be thinner.  Add slowly to achieve the desired consistency.  Set aside.