Print
Pasta Bolognese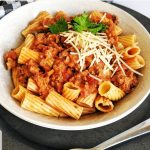 Simple ingredients come together and transform into a luxurious pasta dish.  I start with a great base of flavor by slowly sauteing the vegetables, and adding carrots for sweetness.   Combining beef and pork adds a second depth of flavor and unctuousness.  Herbs bring freshness; red pepper flakes bring the heat; and the red wine and crushed tomatoes, provide the perfect sauce to simmer away in.  Add some heavy cream and parmesan at the end for richness and serve with freshly cooked pasta.   Another little trick I have always employed; is to add a couple of tablespoons of basil pesto, if I have some around.  It just gives a fresh note, and provides an extra layer of flavor, that is unexpected and welcome!
Scale
Ingredients
3 tablespoons olive oil
1 large onion, diced
1 medium carrot, grated on a box grater
1 ½ teaspoons kosher salt
1 teaspoon black pepper
5 cloves garlic, minced
1 teaspoon dried basil
1 tablespoon dried oregano
½ teaspoon dried thyme
½ teaspoon dried fennel seeds, crushed
½ – 1 teaspoon crushed red pepper flakes
1 lb ground beef
½ lb ground pork
1 ¼ cups red wine
1 cup chicken broth
1 – 28 oz can crushed tomatoes
¼ teaspoon ground nutmeg
2 T – ¼ cup basil pesto (optional)
¼ cup heavy cream
½ cup parmesan cheese, shredded
¼ bunch fresh parsley, chopped
Parmesan cheese, for serving
1 lb rigatoni pasta
Instructions
In a large dutch oven, heat the olive oil over medium high heat.  Add the onion and carrot, sprinkle with the salt and pepper; and saute until soft and translucent.  Add in the garlic and cook, just until fragrant.   Sprinkle the basil, oregano, thyme, fennel, and red pepper flakes, and stir them into the vegetables.  Add the ground beef and pork, breaking it up with your hands; and continue to saute until the meat is cooked through; working it around with a wooden spoon so breaks apart.  Pour the wine into the pan to deglaze the bottom, then add the chicken stock and the tomatoes; bring the mixture to a boil, then reduce and let it simmer for about 15 minutes, allowing the flavors to come together.
Meanwhile, cook the pasta in a well salted pot of water, according to the package directions.
While the pasta is boiling, add the nutmeg, pesto (if using), heavy cream, and the parmesan cheese to the sauce and simmer for 2-3 minutes; just to heat through.  Drain the pasta and toss it with the sauce.  Serve topped with the fresh parsley and more parmesan cheese.