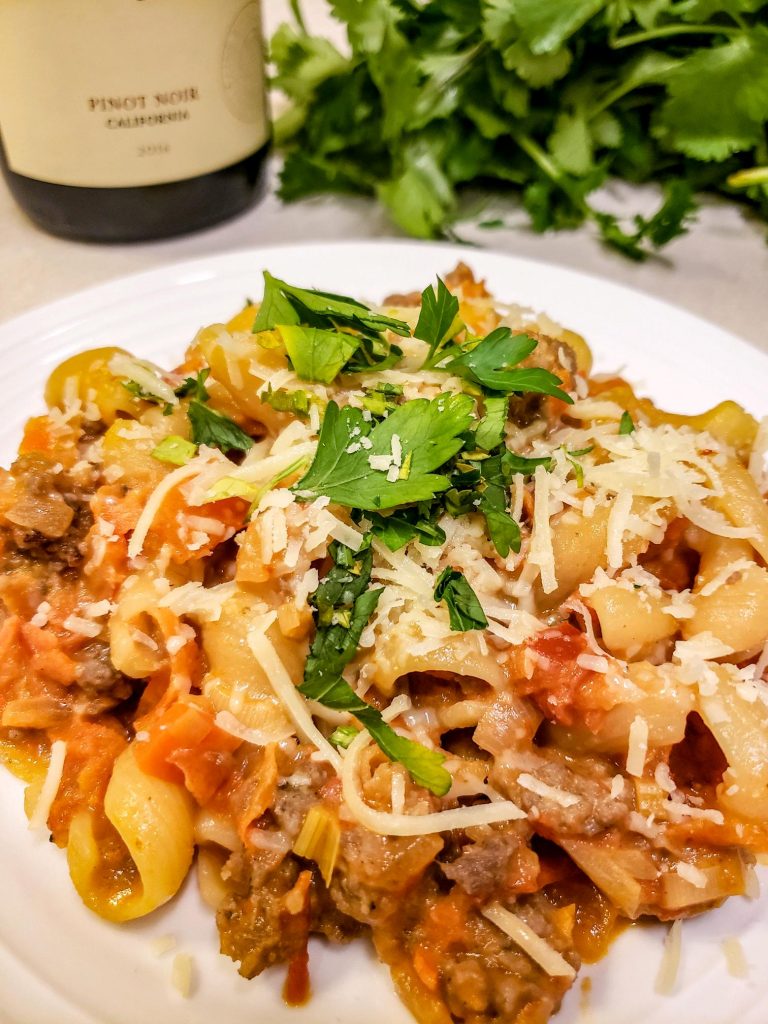 Alright, alright…. All puns aside, can you go wrong with pasta after a long work day? I think not! Pasta is the perfect comfort food, and what I love about pasta is that the possibilities are truly endless. I always have a box (or three… or four…) of different pastas in my pantry. Who doesn't? Pasta is one of those kitchen staples that are quick and easy to whip up, and it's something that can easily be experimented with.
Last night I made a scrumptious spicy sausage bolognese and paired it with trompetti pasta. My family devoured it, and I hope yours will too!
Print
Spicy Sausage Bolognese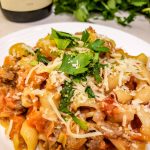 A twist on traditional bolognese — instead of beef, this is made with spicy Italian sausage.
Scale
Ingredients
3 T olive oil
1 onion, chopped
1 leek, halved lengthwise, then thinly sliced
3 carrots, peeled and grated
2 cloves garlic, minced
1 ½ t kosher salt
½ t black pepper
1 lb spicy Italian sausage
1 t dried fennel seeds, crushed
1 t red pepper flakes
½ cup dry red wine
1 28 oz can, crushed tomatoes
¾ cup heavy cream
1 cup parmesan cheese, shredded
1 lb rotini or fusilli pasta
¼ cup parsley, chopped, for finishing
Instructions
Fill a large stock pot with water and salt it well.  This is your chance to really flavor your pasta, so make sure your water is nice and salty.  Set it aside.
In a dutch oven, heat the olive oil until it shimmers.  Add the onion, leek, and carrots, and salt them to help them sweat.  Saute over medium heat, until they are translucent.   Add the garlic and continue sauteeing, just until fragrant.  Push the vegetables off to the sides and put the sausage in the middle.  Break it up and continue cooking until it is cooked through.  Incorporate the vegetables into the sausage and add the fennel seeds and red pepper flakes, and black pepper.   Deglaze the pan with the red wine, add the crushed tomatoes and stir to combine.  Reduce heat and simmer for 10-15 minutes.  Add the heavy cream, reducing heat to low. 
Meanwhile, bring the salted water to a boil.  Add the pasta and cook it for 5-7 minutes, or until al dente.  Drain pasta, reserving some of the pasta water, and add it to the sauce.  If needed, use a ladleful of pasta water to thin out the sauce; depending on how you like it.  Toss with the parmesan cheese.  Top with parsley and serve!
Keywords: Spicy, Italian, Sausage, Pasta, Bolognese