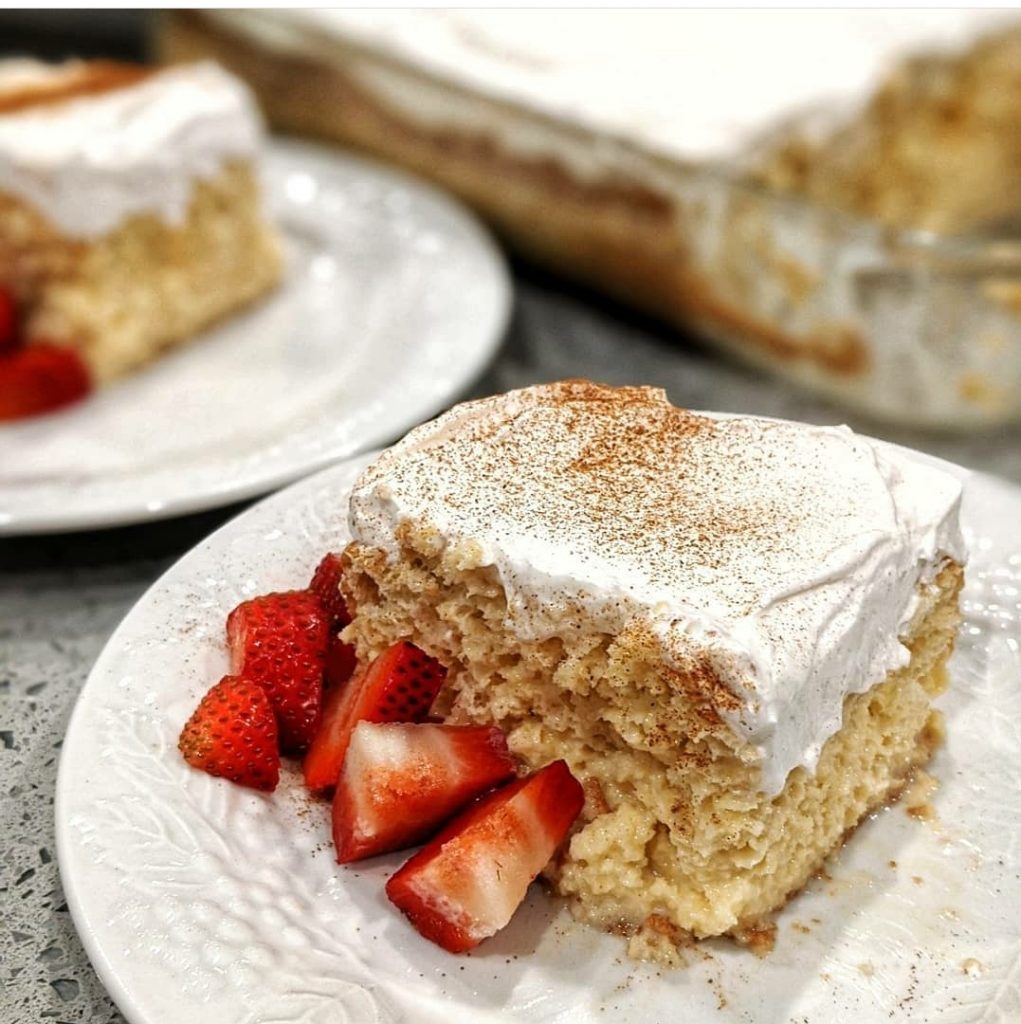 Tres Leches is a popular Mexican cake that is soaked in a mixture of 3 milks, giving it a moist texture. My version combines a cake batter with whipped egg whites, which makes a tender cake. It soaks up the milk beautifully! Top with cinnamon scented whipped cream, and serve with fresh strawberries. Be sure to cut a big piece for yourself because this will disappear fast!
Print
Leora's Tres Leches Cake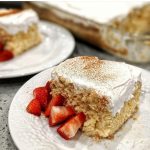 Moist cake served with cinnamon whipped cream and fresh berries.
Scale
Ingredients
Cake:
1 1/2 cups all-purpose flour
2 teaspoons baking powder
½ teaspoon salt
1 cup white sugar, separated
5 eggs, separated
2 teaspoons vanilla extract
½ cup whole milk
1 cup heavy cream
1 (14 ounce) can sweetened condensed milk
1 (12 fluid ounce) can evaporated milk
Whipped cream topping:
1 1/2 cups heavy whipping cream
1 cup white sugar
1 teaspoon vanilla extract
½ teaspoon cinnamon
Fresh strawberries, sliced for serving.
Instructions
Preheat oven to 350*. Spray a 9×13 pan with non-stick cooking spray and set aside.
In a bowl, sift together the flour, baking powder, and salt. Set aside. In a stand mixer, combine the egg
yolks with the ¾ cup of the white sugar and beat until pale yellow. Add the vanilla and milk and mix until
combined. Add the flour mixture, and incorporate just until combined. Don't over mix!
In a separate bowl, beat the egg whites on high speed, gradually adding the remaining ¼ cup of sugar until
stiff peaks form. Fold the egg whites into the batter, gently, just until combined. Pour the batter into the
prepared baking pan and smooth it into the corners. Bake for 25-35 minutes, or until a toothpick inserted,
comes out clean. Remove and cool completely!
Combine the whole milk, heavy cream, sweetened condensed milk, and evaporated milk in a bowl; and
whisk well. When the cake has cooled completely, poke holes all over the top of the cake with a knife. Pour
the milk mixture over the top of the cake. Cover and refrigerate for at least 4 hours, or overnight; allowing
the cake to soak up the milk mixture.
When ready, make the topping by whipping the heavy cream sugar, vanilla extract, and cinnamon, until stiff
peaks form. Serve slices of cake with dollops of whipped cream on top and fresh sliced strawberries.