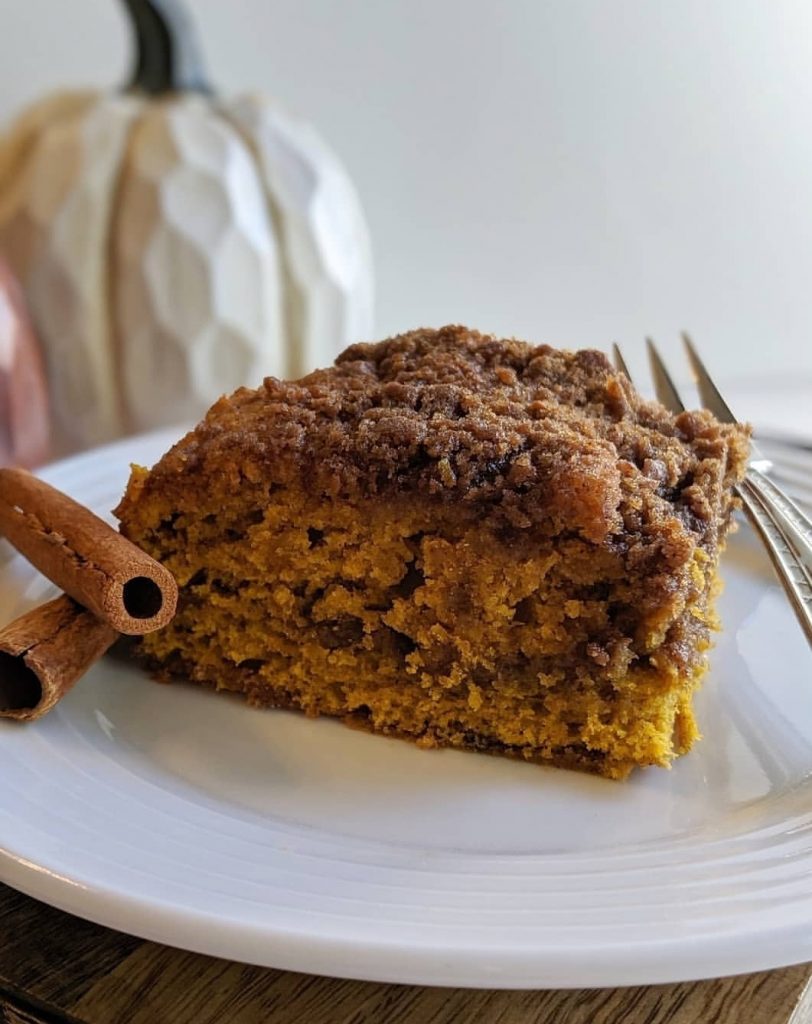 Print
Pumpkin Streusel Cake
I still remember, as a child, the smell of my mom's streusel cake as it came out of the oven.  I would wait patiently for that first slice of warm cake, reveling in the scent of cinnamon, brown sugar,  and almonds.  Sometimes the aroma would wake me up on a weekend morning……..and I knew I was in for a treat.   It was the best EVER.  This week, I wanted to put an autumn twist on that classic cake and add pumpkin, nutmeg, and ginger to the mix.  Not to brag, but this rendition on her cake is absolutely divine.  I feel certain she would approve.
Scale
Ingredients
For the cake batter:
1 ½ cups sugar
½ cup shortening, softened
3 eggs
1 15 oz can pumpkin puree (NOT pumpkin pie filling)
2 ½ cups flour
1 T baking powder
1 teaspoon kosher salt
2 teaspoons cinnamon
1 teaspoon nutmeg
1 teaspoon ginger
For the streusel mix:
1 cup dark brown sugar
¼ cup flour
4 t cinnamon
4 T cold butter, cut into thin slices
1 cup slivered almonds, optional
Instructions
Preheat oven to 375*.  Grease and flour a 9×13 pan and set aside.
In a stand mixer, cream the sugar and shortening until light and fluffy.  Add the eggs, beating after each addition.  Add the pumpkin, mixing well to combine.  In a separate bowl, sift the dry ingredients together.  Add them to the pumpkin mixture and slowly mix, scraping down the sides as needed, until just incorporated.  Set aside.
In a separate bowl, add the dark brown sugar, flour, and cinnamon; and cut the butter into the mix with a pastry cutter or fork.  You can also use your fingers to mix it in.  You want a sandy, pea sized consistency.
Spread half of the batter into the prepared pan.  Don't be alarmed, the batter is thick!  Just spread it as best you can.  Sprinkle ½ of the streusel mix over the batter.  Dollop the remaining batter on top of the streusel filling, and use a spoon to gently spread it in an even layer, covering the streusel.  Again, it is thick; so be patient as you do this.  Sprinkle the remaining streusel all over the top.  There is a lot of streusel, so you can sprinkle it on pretty thick.  If desired, sprinkle the slivered almonds over the top of the streusel.
Bake at 375 for about 30 min., or until a toothpick comes out clean.  Remove and serve warm, or cool completely.
Notes
If you prefer to use walnuts or pecans, feel free to substitute those for the slivered almonds.