If you ask any of my kids what their favorite dessert is, 4/5 of them will tell you, "mom's cookie skillet!" The other one doesn't like chocolate. Whenever my kids are over for dinner, I always give a few options for dessert, and most of the time my cookie skillet is requested. This last time it was requested, I decided to play around with the family favorite. The kids were weary, but I knew coconut and almonds would transform this dessert into something even more spectacular. It was a hit! Enjoy!
Print
Coconut Almond Chocolate Chip Cookie Skillet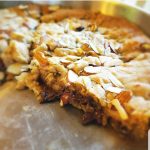 Ooey, gooey, chocolatey, coconuty goodness! Serve warm with vanilla ice cream.
Scale
Ingredients
½ cup butter, softened
½ cup brown sugar
½ cup granulated sugar
1 egg
1 teaspoon vanilla
1 teaspoon almond extract
½ teaspoon baking soda
½ teaspoon baking powder
½ teaspoon salt
1 cup flour
½ cup shredded coconut
1 cup semisweet chocolate chips
1/3 c slivered almonds
Instructions
Preheat the oven to 350*.
Cream the butter with the brown sugar and granulated sugar, until fluffy.  Add the egg, vanilla, and almond extract and beat for 1 minute.  On low speed, add in the baking soda, baking powder, salt, and flour; until just combined.  Stir in the chips and coconut.  Press into a 9 or 10 inch oven safe skillet and sprinkle with the slivered almonds.
Bake until the top is golden brown and the middle is set; about 18-22 minutes. Remove and cool, or eat it warm! Serve with a scoop of vanilla ice cream.