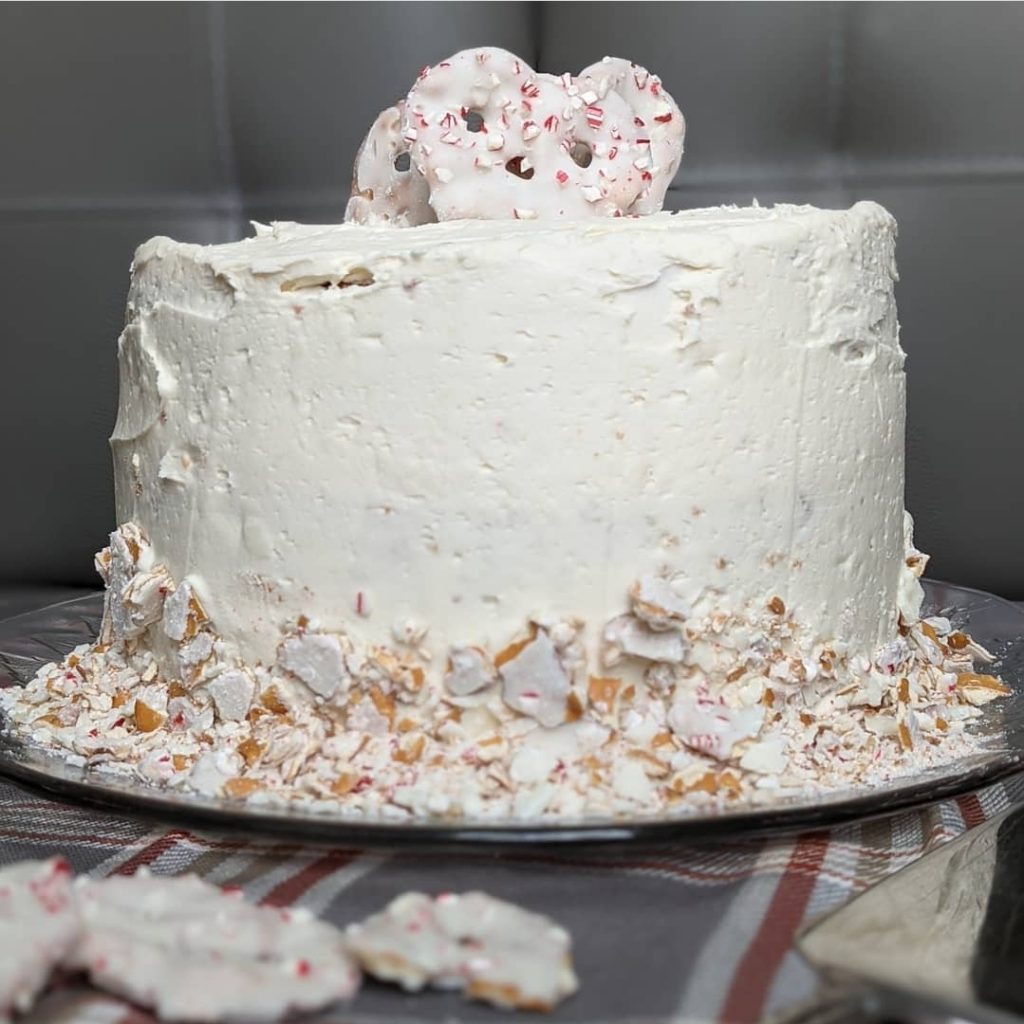 Delicious. Just the right amount of peppermint. Lovely crunch from the pretzels. And who can go wrong with white chocolate. Little bit sweet….little bit salty.
And the bonus is these pretzels are on sale @costco right now!!
Print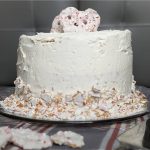 White Chocolate Peppermint Pretzel Crunch Cake
---
Description
Perfectly pepperminty. A surprise crunch from the pretzels take this cake to the next level.
---
Scale
Ingredients
8 oz white chocolate chopped (or white chocolate chips)
2 ¾ cups all-purpose flour
¼ cup cornstarch
1 tablespoon baking powder
1 teaspoon salt
1 cup unsalted butter room temperature
1 ½ cups sugar
4 eggs
1 1/2 cups milk
1 ½ teaspoons vanilla
1 teaspoon peppermint
White chocolate peppermint pretzel crunch:
2 cups white chocolate peppermint covered pretzels
White Chocolate Buttercream:
¼ cup heavy cream
1 ¼ lbs white chocolate (you can use high quality white chocolate chips)
1 ¾ cups butter
6 cups powdered sugar
teaspoons vanilla extract
White Chocolate Peppermint Ganache:
4 oz white chocolate finely chopped
2/3 cups heavy cream
1 teaspoon peppermint extract
For Garnish:
White chocolate peppermint covered pretzels, broken into pieces (I buy the bag at Costco)
---
Instructions
For the cake:
Preheat oven to 350F. Grease and line 3 8" pans with parchment paper, then grease and flour. Set
aside.
Melt the white chocolate, using a double boiler, set aside and let it cool.
Sift the flour, cornstarch, baking powder, and salt in a bowl, set aside.
In a stand mixer, beat the butter and sugar, until light and fluffy. Add the eggs, one at a time, until well
incorporated. In a glass measuring container, combine the milk with the vanilla and peppermint
extracts. Alternate adding the dry and wet ingredients, beginning and ending with the dry. Mix, only
until well combined. With the mixer on low, add the cooled white chocolate and mix to combine.
Pour into the prepared pans (using a scale makes this much easier) and bake for 20-30 minutes; or until
a toothpick comes out, almost clean. Let the cakes cool for 10-15 minutes, then turn out onto a cooling
rack. When cooled, wrap in plastic wrap and freeze, while you make the butter cream and ganache.
For the Pretzel Crunch:
Pulverize the pretzels in a food processor, set aside.
For the Buttercream:
Put the white chocolate in the microwave for 20 second increments, stirring after it begins to soften
until the chocolate is melted and smooth. Set aside to cool slightly. Cream the butter in the stand mixer,
until light and fluffy. Add the cooled white chocolate and vanilla and beat until fully incorporated. Turn
the mixer down and add the powdered sugar a little at a time, beating after each addition, until its fluffy
and spreadable. Add the cream and beat well.
White Chocolate Peppermint Ganache:
Place chopped chocolate and cream in a microwave safe bowl. Microwave in 15 second increments,
stirring in between, until smooth and silky. Add the peppermint extract and stir well to combine. Set
aside until ready to use.
To assemble the cake:
Place one layer of cake on a cake stand or serving plate. Top with buttercream and spread evenly.
Sprinkle a layer of pretzel crunch over the buttercream. Repeat with next layer of cake, then
buttercream and another layer of crunch. Top with last layer of cake. Frost with the rest of the
buttercream, then drizzle the white chocolate peppermint ganache over the top, letting it drip down the
sides. Spread the broken pretzels around the bottom of the cake, and top it with a couple of whole
pretzels.