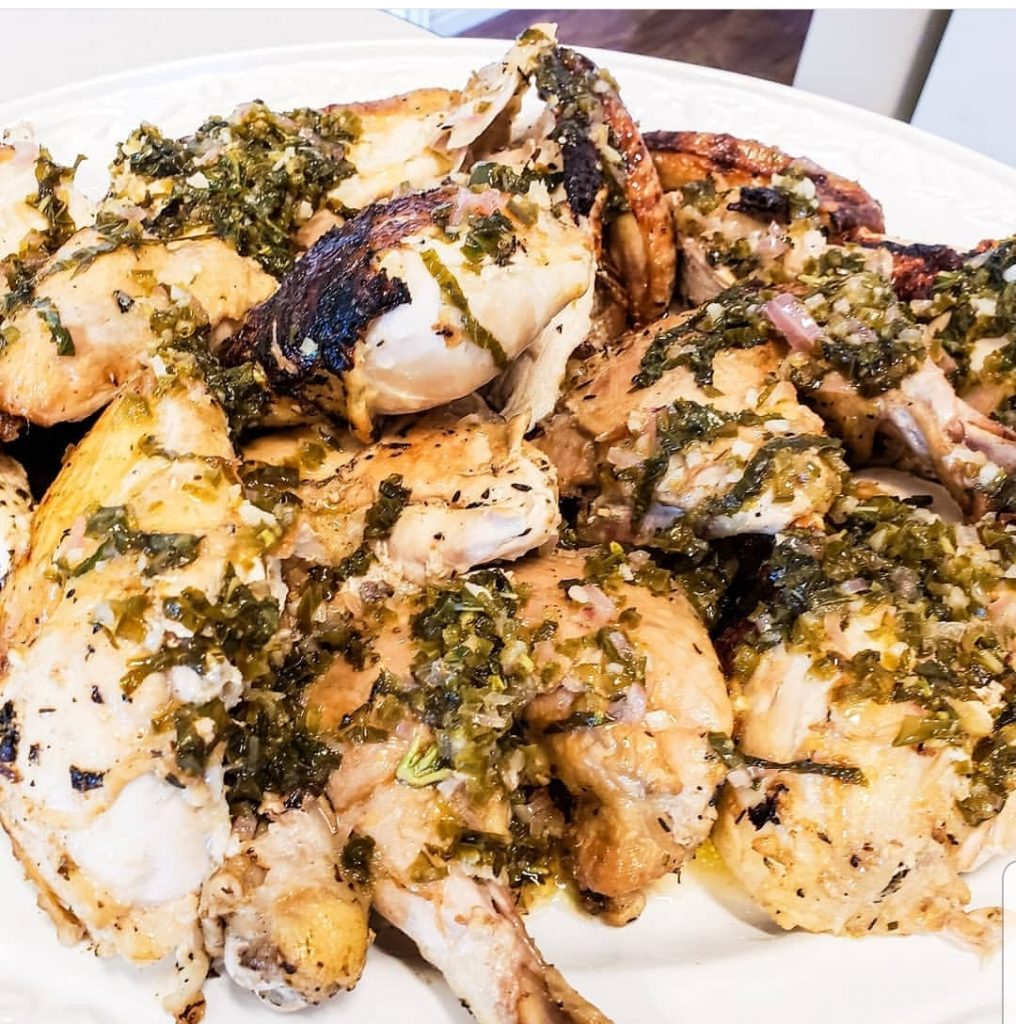 Print
Honey Jalapeno Basil Roasted Chicken
Tender, juicy chicken; packed with flavor.  Simple enough for a busy weeknight, yet perfect for a family get together or a dinner party.  Basil and jalapeno are a natural combination, and the honey rounds out the profile with a sweet note.
Scale
Ingredients
Marinade:
2 T lemon zest
1 T garlic, minced
1 T fresh thyme, chopped
1 T basil, chiffonade
Salt and pepper
2 T olive oil
1 whole chicken, spatchcocked
Honey Jalapeno Basil Sauce:
3 T olive oil
½ shallot, diced
2 cloves garlic, minced
2 jalapenos, diced
2 T  honey
¾ c olive oil
Zest of 1 large lemon
¼ cup lemon juice
½ cup basil chiffonade
Salt and pepper
½ cup chicken stock
½ cup butter
Instructions
For the chicken:
Turn the chicken, breast side down on a cutting board.  Remove the backbone with kitchen scissors, and save (freezing) to make stock.  Open the chicken and using a sharp knife, cut a slit in the bone between the breasts, and push down on the wings, firmly with your hands, so the breastbone breaks, and the chicken lays flat.
Whisk the marinade ingredients together and rub all over the spatchcocked chicken.   Refrigerate for at least 2 hours and up to 8 hours. 
Preheat oven to 400*.  Heat olive oil in a large cast iron skillet over medium high heat.  Place the chicken in the skillet, skin side down.  Sear for 10-12 minutes to obtain a nice browning.  Turn chicken over and  put the skillet in the preheated oven.  Roast for 30 minutes, or until the internal temperature is 165*. 
Meanwhile, make the sauce.  Heat olive oil in a large pan, and saute the shallot, garlic, and jalapeno, until softened and fragrant.  Add the honey, olive oil, lemon zest and juice, basil, salt and pepper.   Add the chicken broth and butter, and bring to a simmer.  Reduce the sauce to thicken.  Remove the chicken and cut into 8 pieces.  Serve with the pan sauce.