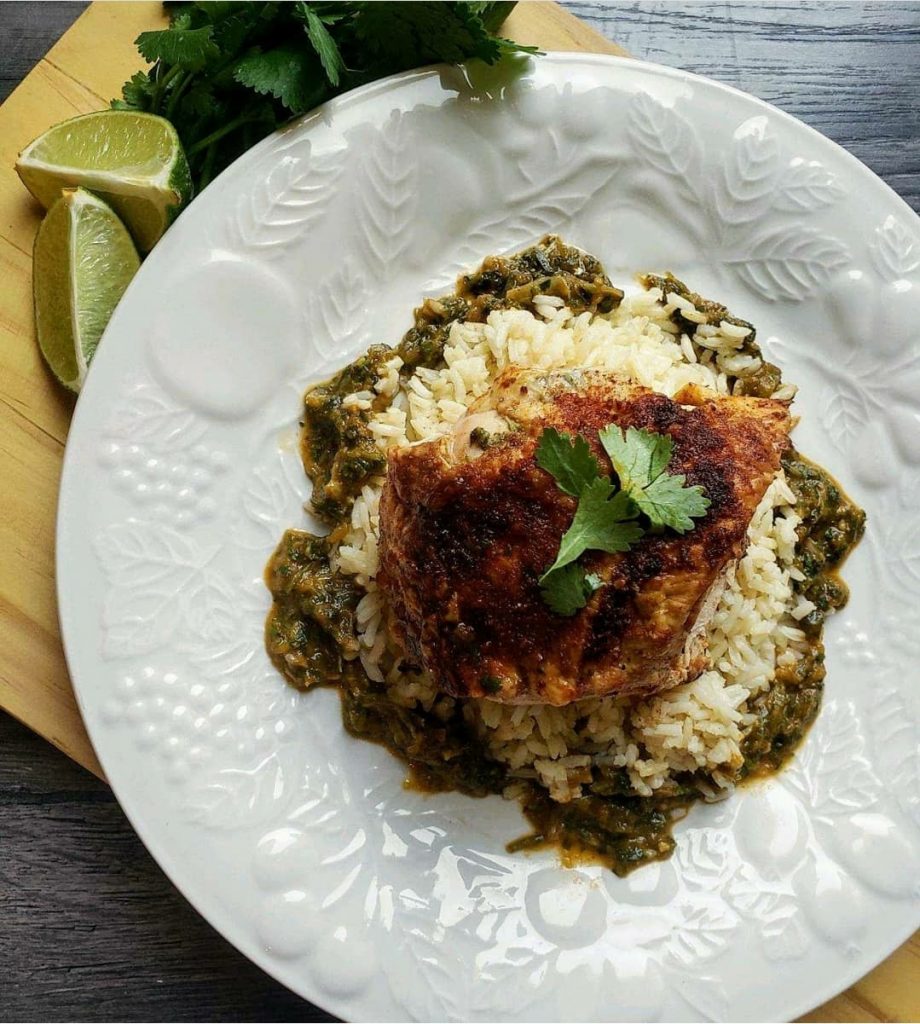 t's comfort food season! And this dish will up your chicken game. Tender, juicy roasted chicken; seasoned with a fajita blend and served with a Green Chile Sauce (I could eat this sauce with a spoon, it's that good….). And since the chicken is spatchcocked, it is done under an hour!
Print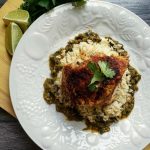 Roasted Chicken with Green Chile Sauce
---
Description
Roasted chicken served with a delicious green chile sauce.
---
Scale
Ingredients
Chicken:
Chicken, spatchcocked
4 tablespoons butter, softened
2 tablespoons olive oil
½ bunch cilantro, chopped
1 lime, zested and juiced
Kosher salt and black pepper
2–3 tablespoons of the fajita seasoning, below; divided
Salsa:
1 bunch cilantro
4–5 Green onions, cut into thirds
1 clove garlic
1 poblano pepper, cut into chunks
1 serrano pepper, cut into chunks
1 can diced green chilies
3 limes, juiced
1 tablespoon of the fajita seasoning
Salt and pepper
2 tablespoons Olive oil
1 tablespoon honey
Combine in a food processor. Set aside.
Fajita seasoning:
2 teaspoons chipotle chili powder
1 teaspoon salt
1 teaspoon smoked paprika
1 teaspoon brown sugar
1 teaspoon cumin
1 teaspoon onion powder
½ teaspoon garlic powder
½ teaspoon cayenne
Whisk together. Use as directed.
---
Instructions
Preheat oven to 425F. Lay the spatchcocked chicken on a lined baking sheet. Gently separate the skin
from the breasts and thighs; just making a pocket for the butter. Mash the butter, olive oil, cilantro, zest
and juice, salt and pepper together with a fork. Put a large spoonful in each pocket you just created on
each breast and thigh, and mash it a little with your hand, taking care that the skin stays over it. Gently
rub any remaining butter mix over the chicken and sprinkle with a little olive oil. Take 1-2 tablespoons
of the divided fajita seasoning and sprinkle it all over the chicken. Bake, uncovered for 1 hour; or until
the internal temperature is at least 160F; remove and let it rest for 10 minutes. Remember the
temperature will increase 5-10 degrees while resting. Make sure it is 165F, before eating. Cut the
chicken into 8 pieces, and if desired, cut the breasts in half. Serve with the green chile sauce.