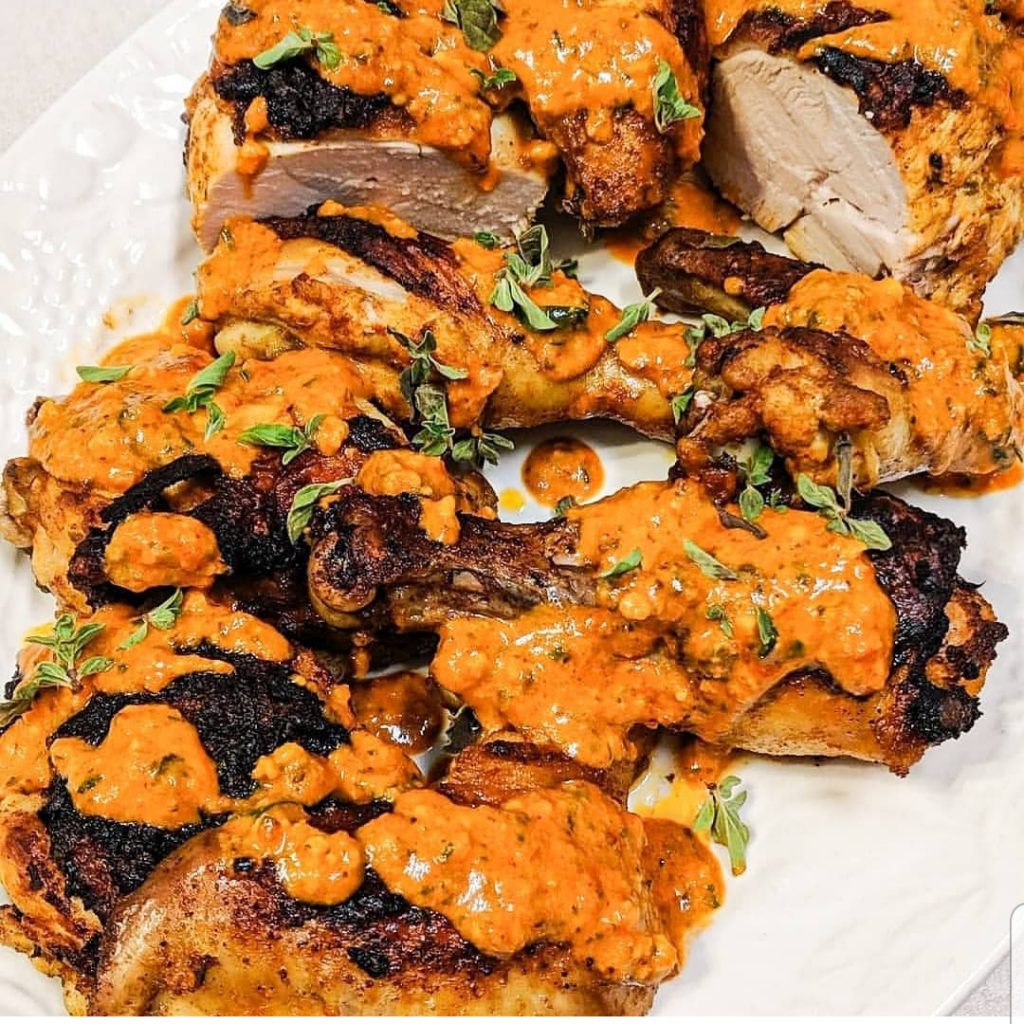 Most romesco sauces are made with only one type of nut, but I have to brag… I got a bit creative. My sauce is made with hazelnuts AND almonds, with piquillo peppers as well. I served this chicken with sauteed green beans and roasted potatoes with onions and lemon. Add this to your weekly menu — you won't be disappointed!
Print
Spanish Chicken with Romesco Sauce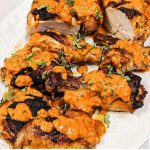 Yummy romesco sauce paired with chicken and roasted vegetables.
Scale
Ingredients
Marinade:
4 cloves garlic, minced
2 T lemon zest
Juice of 2 lemons
2 T olive oil
2 t smoked paprika
1 t salt
1/2 t turmeric
1 t coriander
1/4 t cayenne
2 sprigs of fresh thyme
Romesco Sauce:
1/2 c piquillo peppers, drained
1/4 c almonds, toasted
1/4 c hazelnuts, toasted
1 garlic clove, smashed
1/4 c tomato paste
2 T parsley
1/4 c + 1 T sherry vinegar
1 t smoked paprika
1/2 t red pepper flakes
1/4 – 1/2 t cayenne pepper
1/2 c + 3 T olive oil
Salt and pepper
1 whole chicken, with the skin, cut into 8 pieces
Roasted Potatoes:
Yukon Gold potatoes, cut into wedges
1 large red onion, sliced
1 lemon, cut into wedges
3 T olive oil
1/2 t garlic powder
1 t oregano
1 t salt
1 t pepper
Instructions
For the marinade:
Combine all ingredients in a large bowl, and whisk to combine. Pour over the raw chicken and cover with tin foil. Marinate for 2 hours.
Preheat oven to 400 degrees.
Heat a large cast iron skillet on the stove and add olive oil. Saute the chicken, skin side down, for 5-8 minutes, or until nicely browned. Flip the chicken onto the opposite side and put the cast iron skillet in the oven. Bake for 30 minutes, skin side up.  Check internal temperature of the breasts (must be 165 degrees). If they need more time, reduce the oven to 350 degrees and continue baking for another 10-30 minutes, or until the internal temperature reaches 165.
Romesco Sauce:
Put the first 10 ingredients in a food processor and process until finely chopped. With the processor running on low, slowly drizzle in the olive oil and process until smooth. Season with salt and pepper to taste.
Pour romesco sauce over the chicken once it comes out of the oven.
Potatoes:
Toss the potatoes with olive oil, garlic powder, oregano, salt, and pepper. Roast on a separate pan lined with tin foil, in the 400 degree oven, along with the chicken (3o minutes).