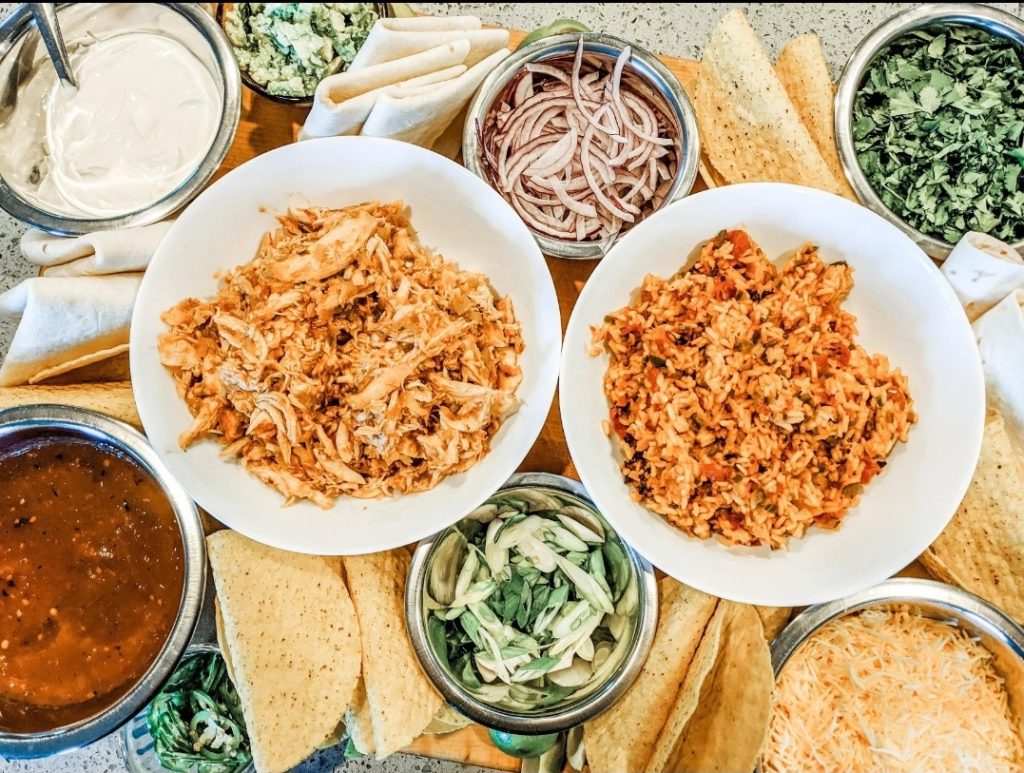 I love entertaining, and one of my very favorite things to create for entertaining purposes is a charcuterie board! I've made several in the past, for holidays, birthdays, parties, or even just family get togethers. They're easy and fun to display!
I created this Chicken Taco Platter for Super Bowl Sunday and it was a HUGE hit at my house. Who doesn't like tacos?? And, I just have to brag: one of my daughters, who doesn't normally like rice, asked for my Mexican Rice recipe at the end of the evening.
This is perfect for any type of entertaining, or even just a date night at home! You can't go wrong. Enjoy!
Print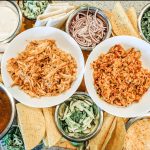 Chicken Taco Platter
---
Description
A charcuterie board specifically for chicken tacos. This board includes my guacamole recipe, as well as my Mexican rice recipe.
---
Scale
Ingredients
CHICKEN:
Olive oil
1 onion, diced
3 garlic cloves
1 package taco seasoning
1 teaspoon smoked paprika
1 can green chilies, not drained
Chicken, rotisserie chicken, shredded
1 16 oz bottle, favorite salsa
Other Fixings for the Tacos:
Mexican Rice, see recipe below
Mexican cheese, shredded
Green onion, cut on a diagonal
Red onion, thinly sliced
Sour cream
Jalapenos, thinly sliced
Favorite salsa
Leora's Guacamole, see recipe below
Leora's Mexican Rice, see recipe below
Cilantro, chopped
Lime wedges
Hard corn shells
Flour shells
Tortilla chips
MEXICAN RICE:
2 tablespoons olive oil
½ onion, diced
2 garlic cloves, minced
1 poblano, diced
1 cup rice
½ teaspoon cumin
1 15 oz can rotel tomatoes
1 8 oz can tomato sauce
1 ½ cups chicken broth
Cilantro, chopped
LEORA'S GUACAMOLE:
3 avocados, chopped
½ white onion, chopped
½ bunch cilantro, chopped
2 Serrano peppers, minced
1/8 – ¼ cup Cotija cheese, grated
2 limes, juiced
Kosher salt to taste
---
Instructions
CHICKEN:
Heat the olive oil in a large saute pan. Add the onion and garlic, and saute until soft and translucent. Add the taco seasoning, smoked paprika, and green chilies; and work them into the onions. Add the shredded chicken and salsa, and heat through.
MEXICAN RICE:
In a large saute pan, with a lid, heat the olive oil over medium heat. Add the onion, garlic, and poblano; and saute until softened and fragrant. Pour in the rice and cumin, and stir to heat the rice a little and mix in with the vegetables. Add the rotel tomatoes, tomato sauce, and chicken broth. Bring to a boil; then reduce to LOW and simmer for 15-20 minutes; or until the rice is done. Remove and sprinkle with cilantro for serving.
LEORA'S GUACAMOLE:
Place everything in a bowl, and toss gently to combine. Let it sit for 10-15 minutes for the flavors to meld.
ASSEMBLY:
Put the chicken in a large bowl. Put the Mexican rice in another large bowl. Sprinkle with fresh chopped cilantro. In small bowls add the cheese, onions, sour cream, sliced jalapenos, salsa, guacamole, cilantro, and lime wedges. Add the hard corn shells, some folded flour shells, and tortilla chips around the board, in between the bowls.