Print
BBQ Chipotle Pineapple Chicken Salad Bowls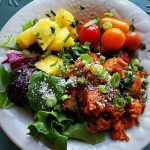 Spicy, sweet, and tangy all come together in this salad bowl!  Mix it up with your choice of greens, fresh pineapple cubes, cherry tomatoes, cotija cheese, scallions, and a citrusy vinaigrette.  You could add pepitas if you wanted as well!
Scale
Ingredients
For the sauce:
2 cups BBQ Sauce, any kind you like
2 cloves garlic, minced
2 t chili powder
1 t smoked paprika
1 t coriander
2 chipotle peppers in adobo, chopped
½ c pineapple juice
½ t red pepper flakes
1 lime juiced
For the chicken:
2 T Olive oil
½ red onion, diced
1 poblano pepper, diced
1–2 lbs cooked, shredded chicken breast
½ bunch cilantro, chopped
For the Salad:
Fresh pineapple chunks
Cherry Tomatoes, halved
Chopped cilantro
Spring mix
Avocado slices
3–4 scallions, chopped
Cotija cheese, crumbled
Lime Cilantro Vinaigrette:
½ cup olive oil
¼ cup lime juice
1 t Dijon mustard
1 clove garlic, finely minced
1–2T honey – to taste
Salt and pepper
¼ c cilantro, chopped
Instructions
Sauce Directions:
Put all ingredients in a sauce pan, bring to a simmer for about 10 to 15 minutes, whisking occasionally.  Reduce heat to low as needed if it starts to splash spit.  Set aside.
Chicken Directions:
Heat Olive Oil in a large saute pan.  Add red onion and poblano pepper and saute until translucent and tender.  Add chicken and saute until heated through.  Pour ½ of the sauce into the chicken and gently fold in.  Add more sauce if needed, to get the consistency you want.  Toss in the chopped cilantro.
Salad Directions:
Place ingredients of choice, in a bowl, add the chicken and drizzle with the lime cilantro vinaigrette (directions below). 
Vinaigrette Directions:
Combine all ingredients in a mason jar.  Put the lid on tightly and shake vigorously to combine.