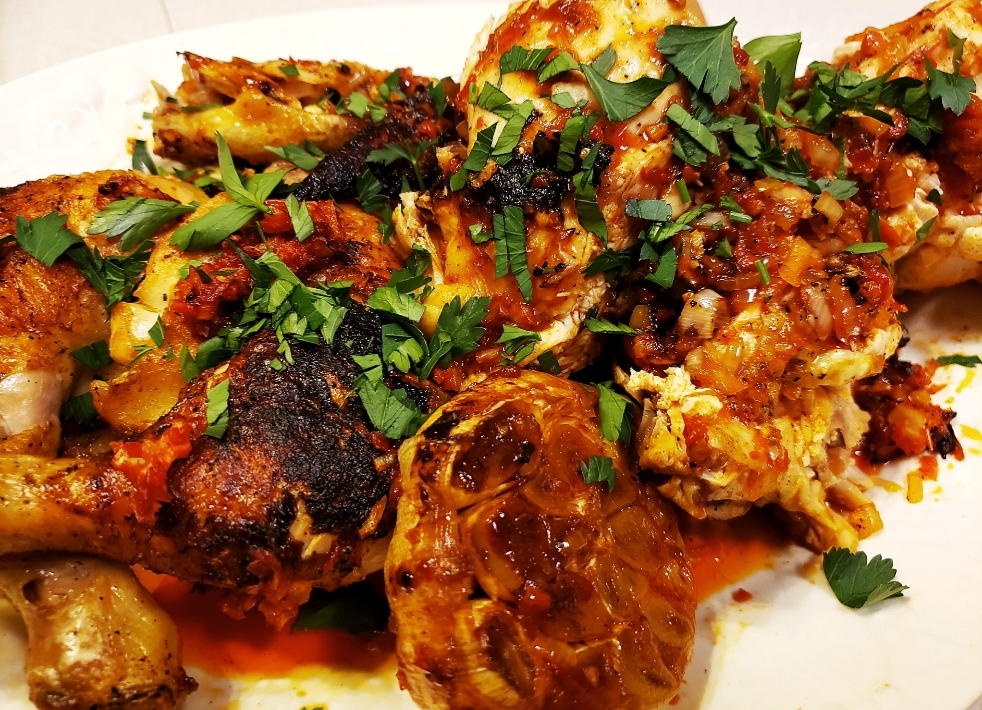 I have wanted to try harissa paste for a long time, and creating my own harissa inspired sauce for chicken was the perfect opportunity. My family devoured this, and I'm sure yours will as well! Serve with my Moroccan Spice Roasted Potatoes.
Print
Harissa Roasted Chicken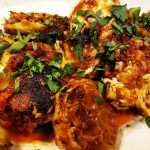 Roasted chicken with a delicious blend of spices.
Scale
Ingredients
1 whole chicken, back bone removed and pressed flat
1 t ground coriander
1 t ground cumin
2 t hot paprika
1 t garlic powder
½ t ground cayenne
1 teaspoon oregano
3 tablespoons olive oil
½ cup harissa paste
½ yellow or white onion, diced
3 cloves garlic, minced
¼ cup olive oil
1 lemon juiced
1 whole head of garlic, with the top cut off
½ bunch of parsley, chopped
Instructions
Preheat oven to 400 degrees. Combine coriander, cumin, hot paprika, garlic powder, cayenne, oregano, and
olive oil in a small bowl. Salt and pepper the chicken, and then rub the spice mixture all over the
chicken, on both sides. Set aside.
Heat a large cast iron skillet, over medium heat. Pour about 3 tablespoons olive oil into the skillet.
Place the chicken, skin side down in the skillet, making sure that you open it up, so the legs are open;
allowing more of the skin to next to the pan, browning. Sear the chicken, for up to 12 minutes, checking
frequently so the skin gets a nice brown color; but doesn't burn. Turn the chicken, once it is a deep
brown, and sear on the other side for about 6 minutes. Remove the pan from the heat.
In a small bowl, combine the harissa paste, diced onion, minced garlic, olive oil, and lemon juice. Mix
well, so the flavors combine well. Lay the garlic head, cut side down, in the cast iron skillet next to the
chicken. Pour the harissa sauce over the chicken and put the cast iron skillet into the oven. Bake at
400* for approximately 35-45 minutes, or until the internal temperature of the breast reaches 165*.
Once it reaches 165*, remove and let it rest for 15 minutes. Cut the chicken into 8 pieces, then cut the
breasts in half (if desired), and spoon the pan sauce over the chicken. Finish with the chopped parsley
and serve.
Serve with my Moroccan Spice Roasted Potatoes.