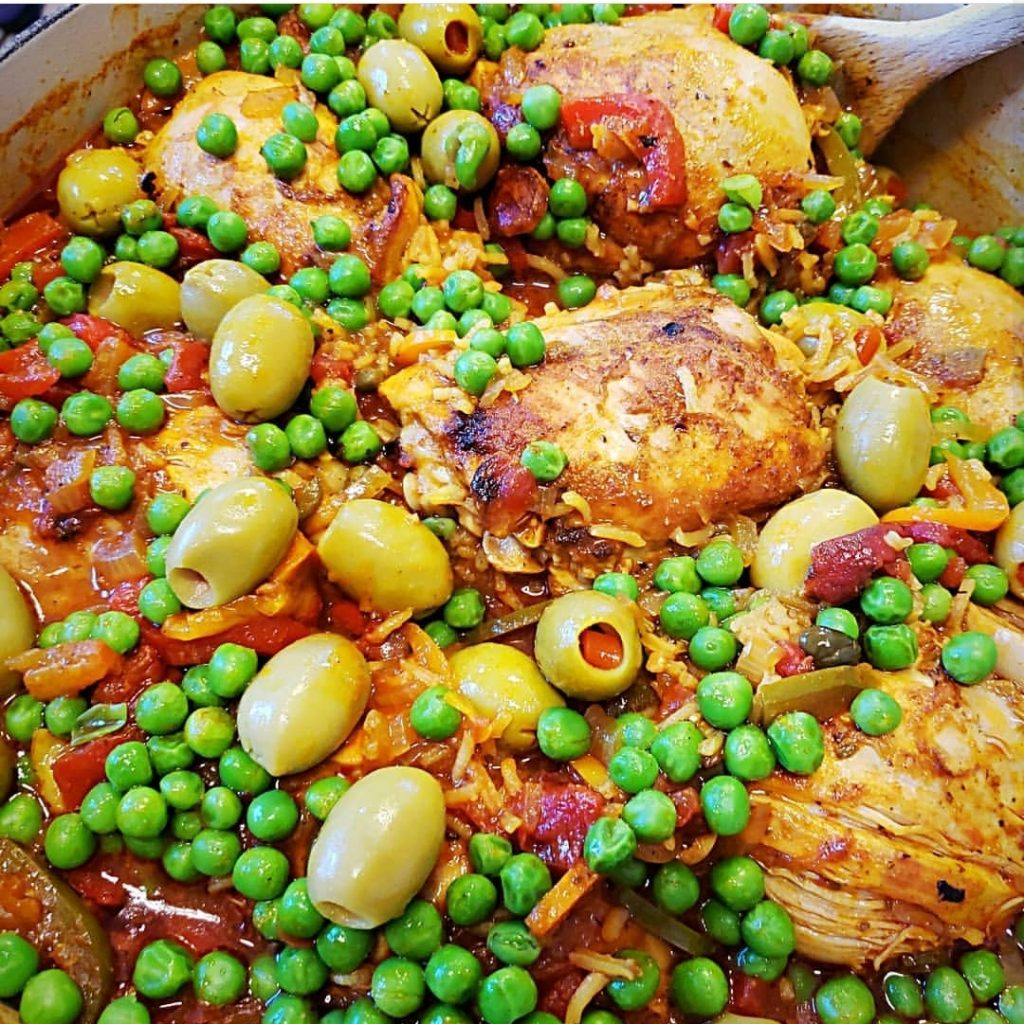 Print
Arroz con Pollo
I have wanted to make Arroz con Pollo since a friend introduced me to the flavors of her native cuisine, years ago.  We have since then lost touch, but I have never forgotten the tips she gave me.  So here is my version of this classic dish.  Bright, bold flavors that incorporate some of my favorite ingredients.  You will love this dish because everything cooks in one pot, and the result is a tender, juicy chicken dish.
Scale
Ingredients
Spice Mix
2 t salt
2 t paprika
2 t coriander
2 t garlic
2 t onion powder
1 t cumin
½ t turmeric
½ t cayenne
2 t oregano
½ t red pepper flakes
Combine and reserve 3T for later use.  Put the remainder in a separate bowl and set aside.
6-8 chicken thighs, skin removed if it is on the chicken
3 T olive oil
Juice of 1 lime
Remainder of the spice mixture from above
Olive oil
½ t turmeric
1 onion diced
1 green pepper, diced
½ yellow pepper diced
½ orange pepper, diced
4 cloves garlic, minced
2 T capers
2 c basmati rice
3 T of reserved Spice Mix from above
1 jar roasted bell peppers, drained and chopped
3 T tomato paste
½ c white wine
1 Fat Tire beer
½ c sherry
3 c chicken stock
1 can fire roasted tomatoes, drained
1 cup pimento stuffed olives
1 cup frozen sweet peas, defrosted
1 bunch cilantro chopped
5-6 scallions, chopped
Instructions
Combine the 3 T olive oil, Juice of 1 lime, and the remainder of the spice mixture, and massage into the chicken thighs.  Place in a bag and marinate overnight or for 8 hours.
Pre-heat oven to 375*.  Heat additional olive oil in a dutch oven and cook the chicken for 3-5 minutes per side, browning nicely.  Remove and set aside.
Add more olive oil and the ½ t of turmeric.  Cook the onion, peppers, garlic, and capers until softened and fragrant.  Add rice and seasonings and saute for 2 minutes, NOT moving the rice too much, let it toast a little bit.  Stir in peppers, paste, wine, beer, sherry, stock, and tomatoes and bring to a simmer for 5 minutes.  Put chicken in the pot, nestling it into the rice.  Cover.  Bake in oven for 20-25 minutes.  Check it at 10 and 15 minutes to make sure you don't need to add more liquid.  Remove from oven and add the peas and olives.  Fluff the rice and serve, topped with cilantro and green onions.