This is a taco dish you won't want to miss. The pineapple salsa cools down the semi-spicy chicken, and the flavors combine beautifully in each bite. Perfect for Taco Tuesdays!
Print
Chicken Tacos Al Pastor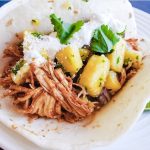 Scale
Ingredients
Sauce for chicken:
3 garlic cloves
1 ½ teaspoon oregano
1 teaspoon cumin
1 teaspoon coriander
2 teaspoons salt
1 teaspoon pepper
4 dried guajillo chilies (stems removed, and cut into chunks)
½ red onion, peeled and cut into chunks
1/3 cup pineapple juice
1/3 cup apple cider vinegar
2 packets anchiote powder
2 chipotle peppers with 1 T adobo sauce from can
1 T honey
Additional taco ingredients:
2 lbs chicken boneless, skinless breasts or thighs
Tortillas
Chopped cilantro
Pico de gallo or Pineapple Jalapeno Salsa (Recipe follows)
Sour Cream or Mexican Crema
Pineapple Jalapeno Salsa:
2 cups diced pineapple
2 jalapenos, minced
¼ cup red onion, minced
2 garlic cloves, minced
3 T cilantro, chopped
Juice of 2 limes
1 t red pepper flakes
Salt and pepper
Toss together to combine.
Instructions
In a blender, combine the sauce ingredients.  Blend until smooth.  Set aside.
Place the chicken in a crockpot, pour the sauce over the chicken, cover, and cook on low for 6-8 hours.  When done, shred the meat in the sauce.  Serve with warm tortillas, pineapple salsa , and the taco fixings.