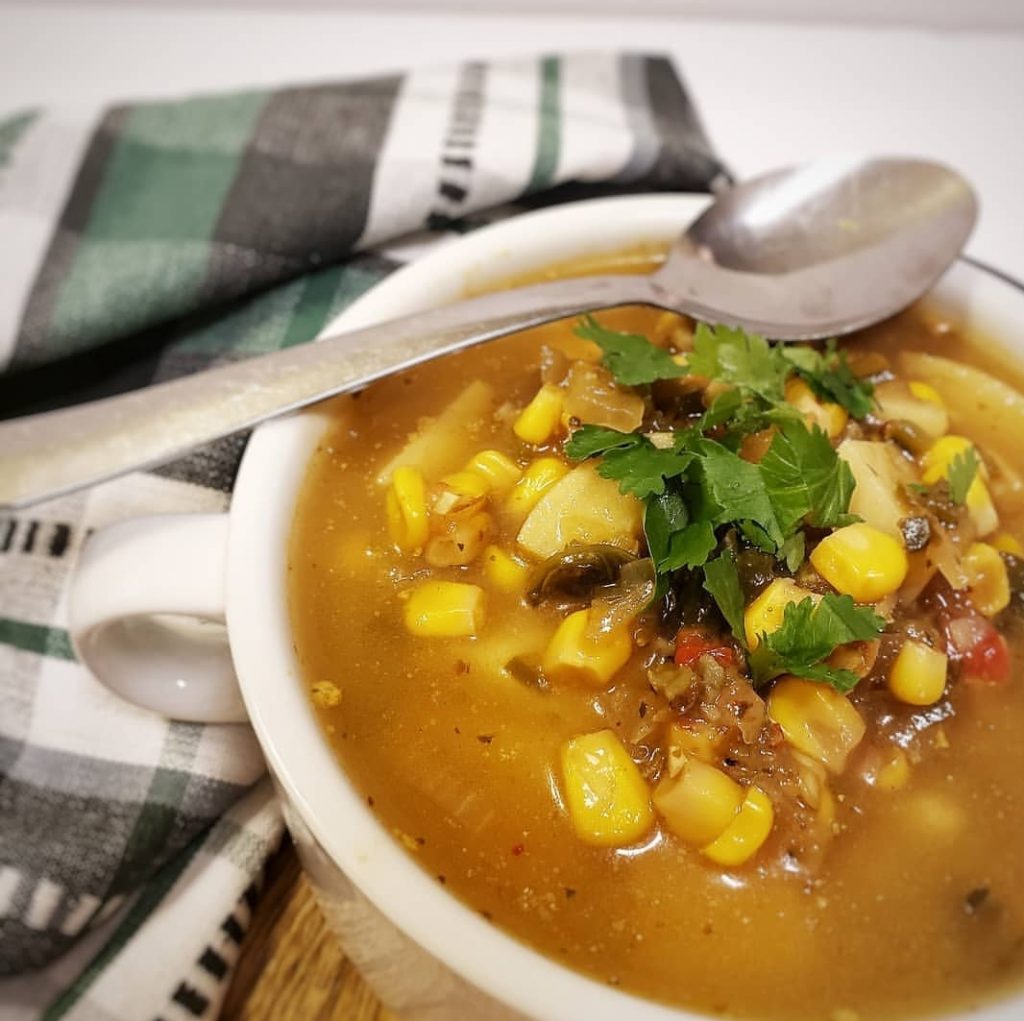 Soups are some of my favorite things to experiment with. And, if you've been following me for a while, you already know that!
What is fun about soups is you can take any recipe and make it your own. You can alter the heat any way you like, and you can add extra of your favorite ingredients. This particular version I created was a hit for my family, and based off of their preferences. I'm sure it will be a hit for yours, too!
Print
Potato & Green Chile Soup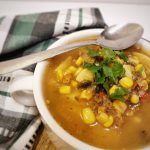 Green chiles and potatoes come together deliciously for this soup.
Scale
Ingredients
Olive oil
1 onion, chopped
4 garlic cloves, minced
1 poblano pepper, diced
2 jalapenos, minced
1 teaspoon salt
½ teaspoon black pepper
1 8oz can green chilies
2 teaspoons oregano
2 teaspoons cumin
2 teaspoons coriander
2 teaspoons red pepper flakes
1 lime, zested and juiced
5 Yukon gold potatoes, cut into ½ inch pieces (no need to peel)
1 cup roasted salsa verde, I usually use a medium or spicy one
2 quarts chicken broth
2 cups corn, defrosted
2 cups baby kale, stems removed
Chopped cilantro
Scallions, chopped
Tortilla Chips
Instructions
Heat olive oil in a large stockpot over medium heat. Add the onion, garlic, poblano, and
jalapenos, salt and pepper; and saute until soft and translucent. Add in the green chilies,
oregano, cumin, coriander, red pepper flakes, lime zest, and lime juice, and gently work it into
the mix. Pour in the potatoes and saute for 2-3 minutes, adding more olive oil if necessary.
Pour in the salsa and chicken broth and bring to a boil. Reduce and simmer for 30 minutes to
allow the potatoes to cook and the flavors to develop. Add the corn and baby kale and simmer
an additional 10 minutes for the corn to heat through and the kale to wilt in. Serve with
chopped cilantro, scallions, and tortilla chips on the side.