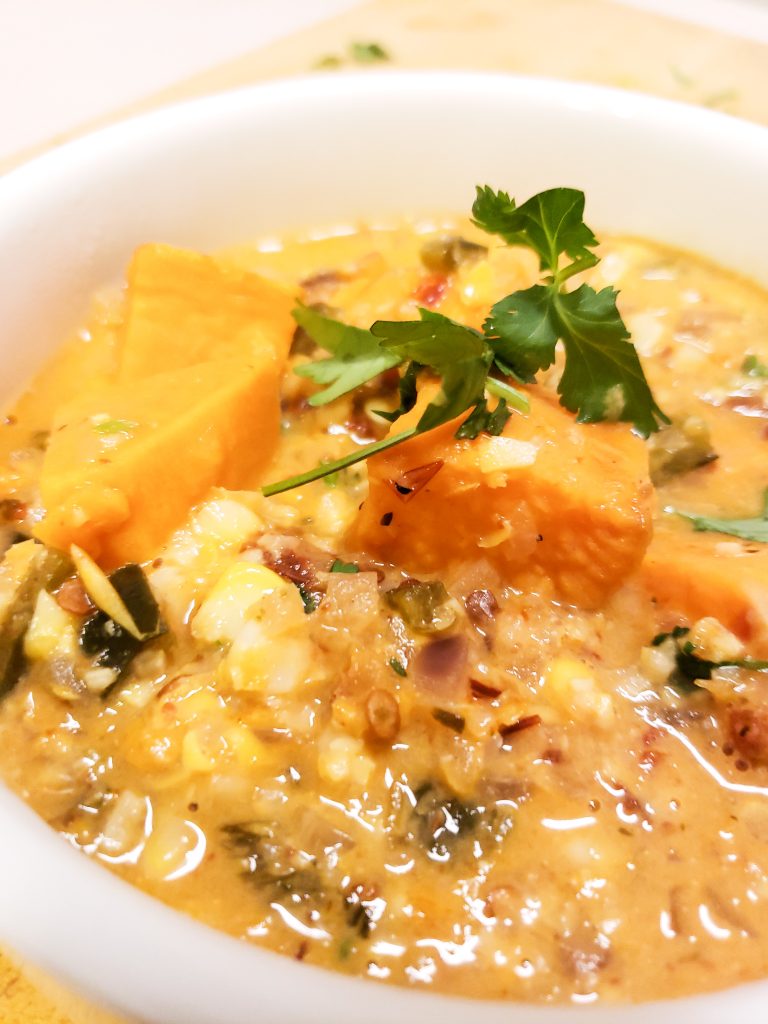 Print
Chipotle Sweet Potato, Poblano, and Corn Chowder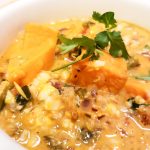 Sweet, spice, and everything nice. You will love this chowder on a cold day!
Scale
Ingredients
Olive oil
2 sweet potatoes, peeled and cubed into 1/2 ' chunks
2 poblano peppers, cut in half
Salt and pepper
Olive oil
1 red onion, diced
3 cloves garlic, minced
4 cups corn kernels, (either about 4 ears of fresh corn or you can use frozen)
3 chipotle chilies in adobo sauce
1 T of the adobo sauce
1 t oregano
1 t red pepper flakes
1 t smoked paprika
Kosher salt and pepper
4 cups chicken broth
½ cup heavy cream
1–2 t honey
1/3 cup fresh cilantro, chopped
3 scallions, chopped for serviing
Cojita cheese, for serving
Instructions
Preheat oven to broil and place rack in the MIDDLE of the oven, away from the broiler.   Line a baking sheet with parchment paper and put sweet potatoes on the sheet.  Drizzle with 2T olive oil and using your hands; tossing to coat.  Sprinkle with salt and pepper.  Make room at one end for the poblanos.  Lay them, skin side up, again drizzle with 1 T olive oil and rub it on them.  Place on the MIDDLE rack, away from the broiler for about 12 min.  Keep checking to make sure the skins on the poblanos are blistering and the potatoes are browning.
Meanwhile, heat olive oil in a large stock pot and add the red onion, garlic, and corn.  Saute until the onion and garlic are fragrant and the onion is translucent.  Stir in the chipotles, adobo sauce, oregano, red pepper flakes, paprika, salt, and pepper; and stir well, so the seasonings really get into the vegetables.  Pour in the chicken stock and bring to a simmer.  Take 2 cups of the soup and put it into a blender, blending until smooth.  This gives the soup a thickness.  Pour it back into the soup.  Remove the sweet potatoes and poblano peppers from the oven.  Let cool until you can handle them.  Peel the skin from the peppers and dice them.  Add the sweet potatoes and the diced peppers into the soup.  Add the heavy cream and honey and bring to a simmer.  Simmer, uncovered, until heated through.  Serve with cilantro, scallions, and cojita cheese as garnish.