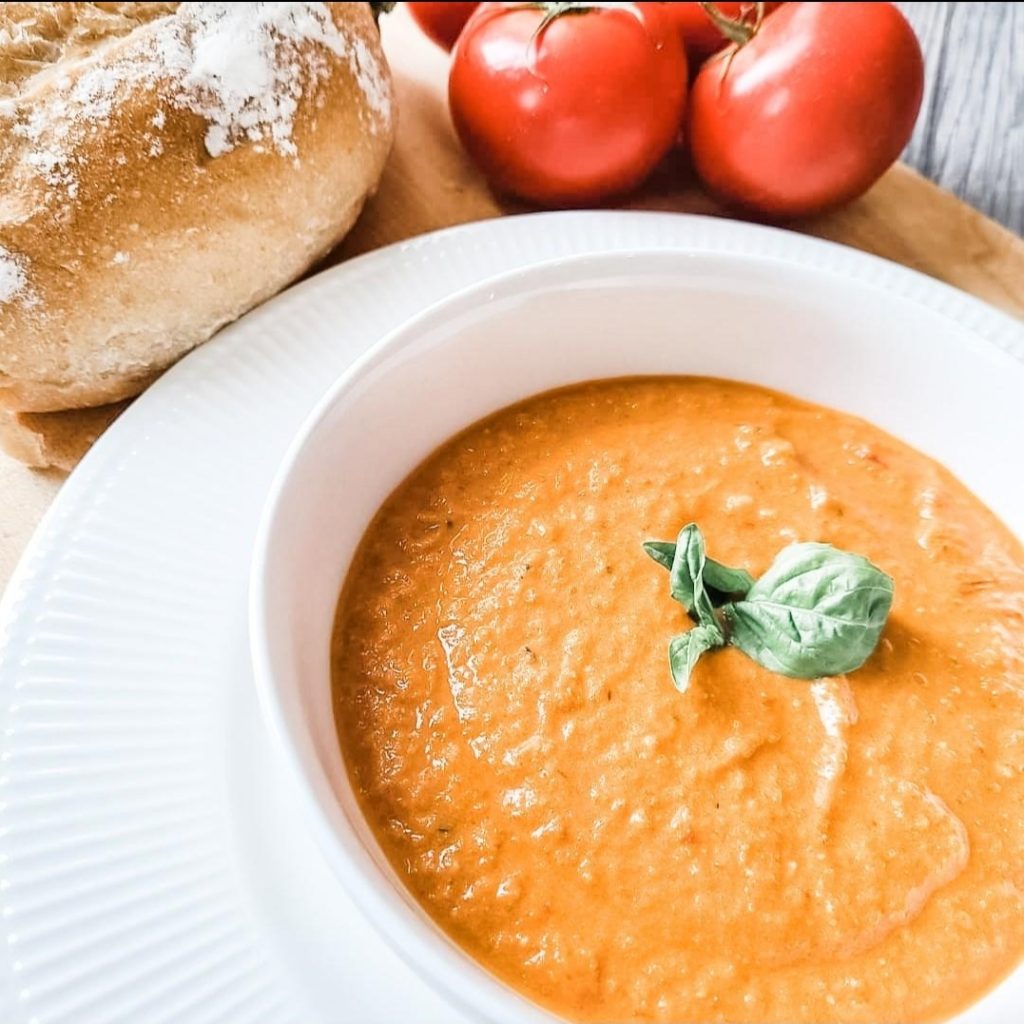 Nothing is better than tomato soup on a cold day. Well, except for my roasted tomato soup with PESTO. That's right — pesto. I promise you're going to love this, and it will become a winter staple in your home.
And as if this dish wasn't amazing enough as is… it can also be made to accommodate dairy free eating! See the notes at the bottom of the recipe.
Print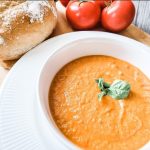 Roasted Tomato Pesto Soup
---
Description
Creamy tomato soup with a delicious spin.
---
Scale
Ingredients
3 lbs. roma tomatoes, cut in half
¼ cup olive oil
1 teaspoon Kosher salt
1 teaspoon black pepper
2 tablespoons butter
2 tablespoons olive oil
1 large onion, diced
1 bottle pesto
2 garlic cloves, roughly minced
1/4 teaspoon red pepper flakes (more if you like more heat)
2 (28oz) can whole tomatoes
2 teaspoons fresh thyme leaves
Kosher salt
Black pepper
1/4 cup heavy cream
---
Instructions
Preheat oven to 400*. Line a baking sheet with parchment paper and set aside. Gently toss the tomatoes with ¼ cup olive oil and place in a single layer on the baking sheet. Sprinkle with salt and pepper. Roast in oven for 45 minutes. Remove and set aside.
Meanwhile, in a large dutch-oven, heat the butter and olive oil over medium heat. Add the onions and saute until soft and translucent. Add the pesto and garlic, and cook until heated through and fragrant. Stir in the red pepper flakes. Pour in the canned tomatoes with their juice; the thyme leaves, and the roasted tomatoes with any juice on the baking sheet. Season with salt and pepper, to taste. Bring to a simmer for at least 20-30 minutes, but closer to 2 hours is better. Stirring occasionally, to allow the flavors to combine.
In batches, puree the soup, either in a blender, or put through a food mill; until smooth. Return to the dutch oven; add the cream, taste and adjust the seasonings. Serve with some chopped basil and grated parmesan, if desired, on top.
Notes
How can I make this dairy free? Omit the butter, and only use olive oil. Don't use store bought pesto, make your own homemade pesto: see recipe included below. Omit the heavy cream at the end. If you need to thin it a bit; use chicken broth instead.
Dairy free pesto:
2 cups basil, packed
2 garlic cloves
1 lemon, zested and juiced
¼ cup almonds or cashews
2 tablespoons nutritional yeast
1 teaspoon kosher salt
1/3 – ½ cup olive oil
Put all ingredients in a food processor and pulse until you get a smooth consistency.