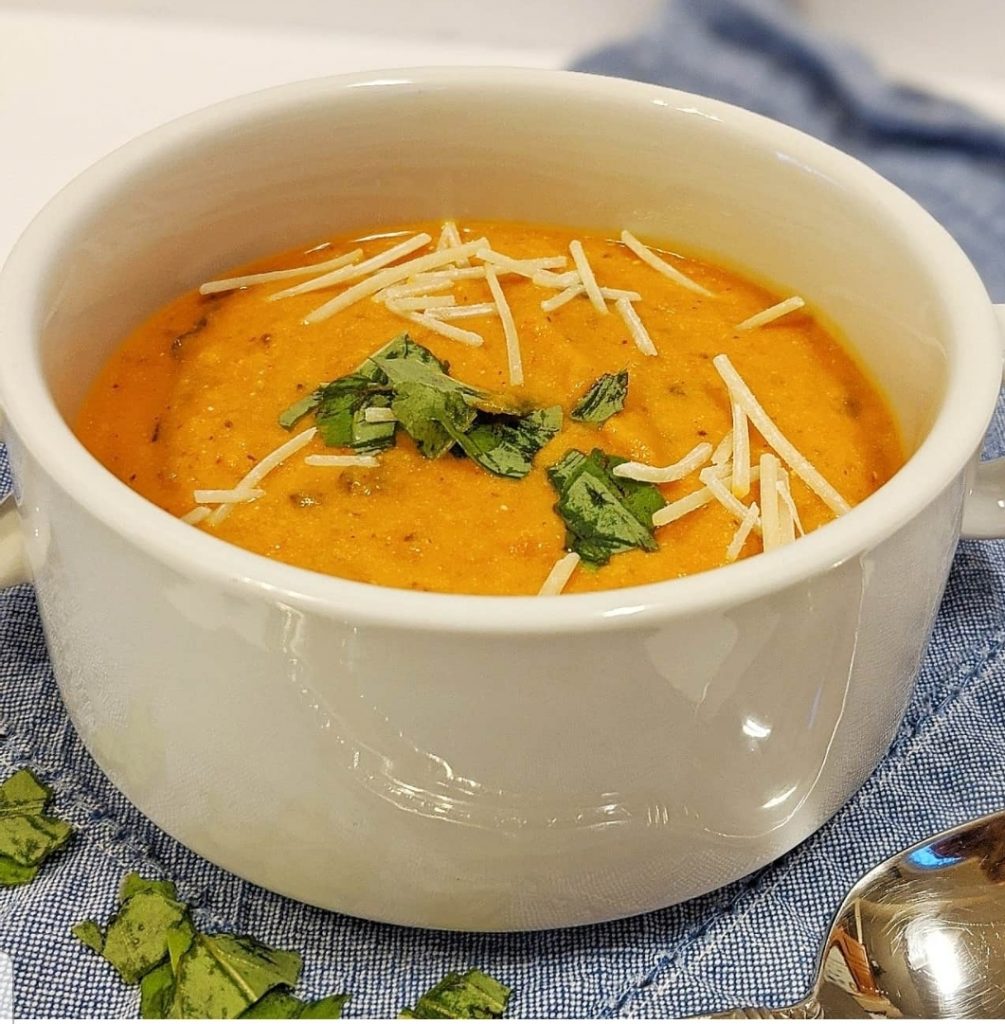 My daughter recently took a trip to Disneyland and fell in love with a tomato and basil soup served at one of the restaurants.
"Mom, you NEED to recreate this soup for me. It's absolutely delicious and it's the best soup I've ever had."
I've been working on this soup for a few months now, and I finally perfected it. This soup is truly a labor of love, and it is time consuming. But don't let that scare you!
And, not to brag, but everyone else at the table said it was the best soup they've ever had, too. Serve with grilled cheese, and you're ready to go. Enjoy!
Print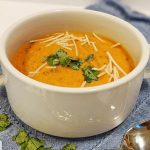 Roasted Tomato Basil Soup
---
Description
Sweet, savory, and delicious.
---
Scale
Ingredients
3 lbs. large tomatoes, cut in half
¼ cup olive oil
1 teaspoon Kosher salt
1 teaspoon black pepper
2 tablespoons butter
2 tablespoons olive oil
1 large onion, diced
1 carrot, grated
1 celery stalk, minced
1 leek, washed and thinly sliced
6 garlic cloves, roughly minced
1/4 teaspoon red pepper flakes (more if you like more heat)
1 (28oz) can whole tomatoes
2 teaspoons fresh thyme leaves
4 cups chicken broth
Kosher salt
Black pepper
1/3 cup brown sugar
¾ cup malt vinegar
1 cup heavy cream
¼ – ½ cup chopped fresh basil
---
Instructions
Preheat oven to 400*. Line a baking sheet with parchment paper and set aside. Gently toss the
tomatoes with ¼ cup olive oil and place in a single layer on the baking sheet. Sprinkle with salt and
pepper. Roast in oven for 45 minutes. Increase heat to "broil" and broil them for 2-5 minutes to let the
skin get a nice char. Remove and set aside.
Meanwhile, in a large dutch-oven, heat the butter and olive oil over medium heat. Add the onions,
carrot, celery, and leek. Saute until the vegetables are softened and the onions are translucent. Add the
garlic, red pepper flakes, and saute until fragrant; maybe 2 more minutes. Pour in the canned tomatoes
with their juice; the thyme leaves, the roasted tomatoes with any juice on the baking sheet, and the
chicken stock. Season with salt and pepper, to taste. Bring to a simmer for 20-30 minutes. Stirring
occasionally, to allow the flavors to combine.
While the soup simmers, combine the brown sugar and the malt vinegar in a separate, small pan, over
medium hear and bring to a simmer. Let it cook until the mixture is reduced by half and syrupy; about
10 minutes. Set aside.
Add the cream and the basil to the soup, stirring to combine. Pour in the sugar/vinegar syrup as well. In
batches, puree the soup, in a blender until smooth. Return to the dutch oven and taste and adjust the
seasonings. Serve with some chopped basil and parmesan cheese on top.