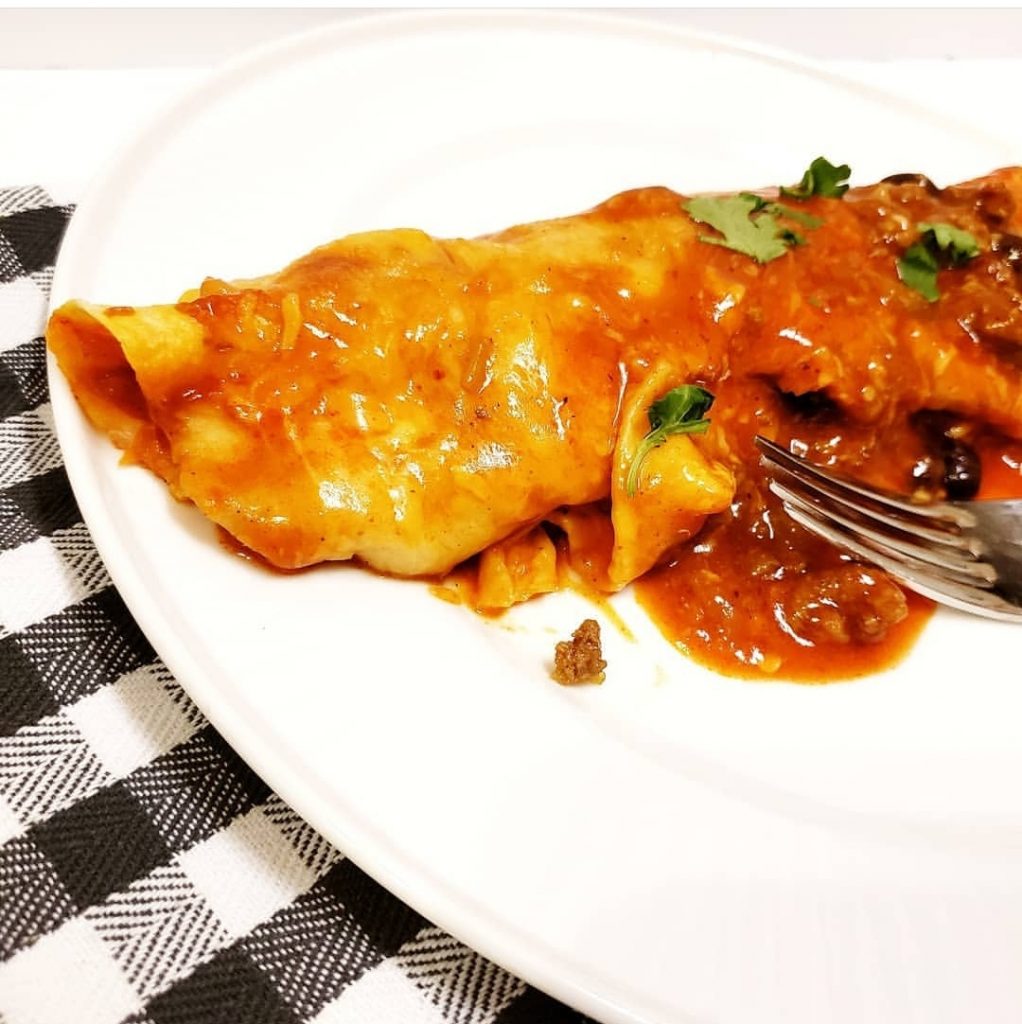 My family is a huge fan of Mexican cuisine, and I'm a fan of making things slightly healthier when I can. These enchiladas are a healthier version of a traditional favorite, but still absolutely delish! Oh, and did I mention the sauce isn't what you'd expect? Enjoy!
Print
Beef Enchiladas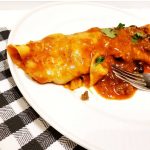 A healthier version of this traditional favorite.
Scale
Ingredients
Sauce:
1 tablespoon butter
2 tablespoons all-purpose flour
One 28-ounce can Red Enchilada Sauce
¼ teaspoon cinnamon
2 cups chicken broth
1/2 teaspoon salt
1/2 teaspoon black pepper
Meat:
1 tablespoon olive oil
1 pound ground beef
1 medium onion, chopped
2 cloves garlic, minced
Two 4-ounce cans diced green chiles
1 can black beans, drained and rinsed
1 teaspoon chili powder
1 teaspoon cumin
1/2 teaspoon salt
10 to 14 corn tortillas
1 cup shredded cheddar cheese or cheddar jack cheese
Toppings:
Cilantro, chopped
Scallions, chopped
Sour cream
Pico de gallo
Instructions
Preheat oven to 350*.
For the sauce:
In a saucepan over medium-low heat, melt the butter, add the flour, whisking together to form
a roux. Pour in the enchilada sauce, cinnamon, chicken broth, salt and pepper. Bring to a boil.
Reduce the heat and simmer, on low, while you prepare the other ingredients.
For the meat:
In a large skillet over medium-high heat, add the oil. Brown the ground beef with the onions
and garlic. If there is a lot of fat, drain it. Add the green chiles, black beans, chili powder, cumin
and salt, working the seasonings into the meat mixture and heating the beans through.
Remove from heat and set aside.
Wrap the corn tortillas in aluminum foil and place in the oven for 8-10 minutes to warm.
Remove them and unwrap. Put a large spoonful of enchilada sauce in the bottom of a 9X13
pan. Dip each tortilla into the sauce and then set it on a cookie sheet. Spoon ¼ cup of the meat
mixture in each tortilla, and a spoonful of the enchilada sauce (just to moisten the meat). Fold
the tortilla, so it contains the filling and place it, seam side down in the baking dish. Repeat
with remaining tortillas. Top with the remaining sauce and sprinkle with the cheese and
cilantro. Bake the enchiladas until bubbly, about 20 minutes. Sprinkle extra chopped cilantro
over the top; scallions, sour cream, and pico de gallo; on the side.
Serve with beans and/or rice.