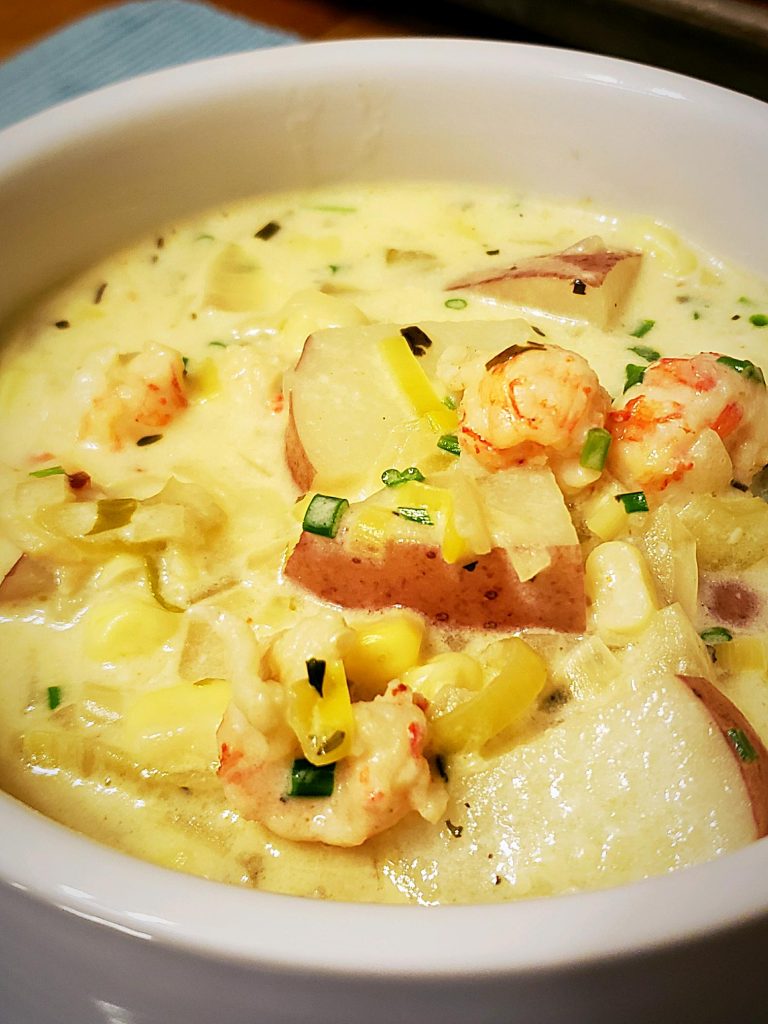 Hello, and welcome to my kitchen! With this being my very first blog post, I wanted to share something that has taken several years, lots of tweaking and tasting, failed attempts, and finally….the ultimate success: my Lobster, Red Potato, and Corn Chowder.
Here in Utah, winter is unforgiving. Don't get me wrong — we love it here! But for someone who is cold all the time (ahem….me) soup is the perfect warm hug after the cold just slaps you in the face. So a few nights ago, after enduring a bitter 9 degree day, I decided that soup was the only practical dinner for my family and I. I hope you enjoy this delicious soup as much as my family did!
Print
Lobster, Red Potato, and Corn Chowder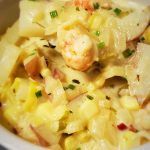 The perfect combination of chunky and smooth; the tastiest way to enjoy lobster on a cold, winter's day. 
Scale
Ingredients
3 T Olive Oil
2 T Butter
1 leek, dark green parts discarded, sliced
2 onions, diced
5 stalks of celery, with leaves, chopped
2 t salt
1 t pepper
2 t Old Bay seasoning
2 t Red Pepper Flakes
3 t Tarragon
1 cup white wine
½ cup cream sherry
1 bottle clam juice
4 cups chicken stock
4 – 5 red potatoes, chopped
2 cups heavy cream
2 T flour
4 cups frozen corn, defrosted (or you can use fresh corn, if it's in season)
1 – 1 ½ lbs langostino lobster tails, defrosted
½ cup of chopped fresh chives
Instructions
Heat olive oil and butter in a stockpot over medium heat.  Add the leek, onions, celery, salt, and pepper; and saute until the vegetables are soft and translucent.  Add Old Bay, Red Pepper flakes, and Tarragon, and gently combine, just until really fragrant.  Add the white wine and sherry; deglazing the pan and bring to a simmer.  Add the clam juice and chicken stock and bring to a boil.  Add the potatoes; reduce the heat, cover, and simmer for 15 minutes; until the potatoes are tender. 
Whisk the flour into the heavy cream and set aside.  Pour the cream into the soup, whisking to combine; add the corn and the lobster and stir gently.  Simmer for 5-10 minutes to thicken. Taste and adjust seasonings.
Serve with fresh chives on top and crusty bread on the side.
Keywords: Soup, Chowder, Dinner, Lobster, Potato, Corn