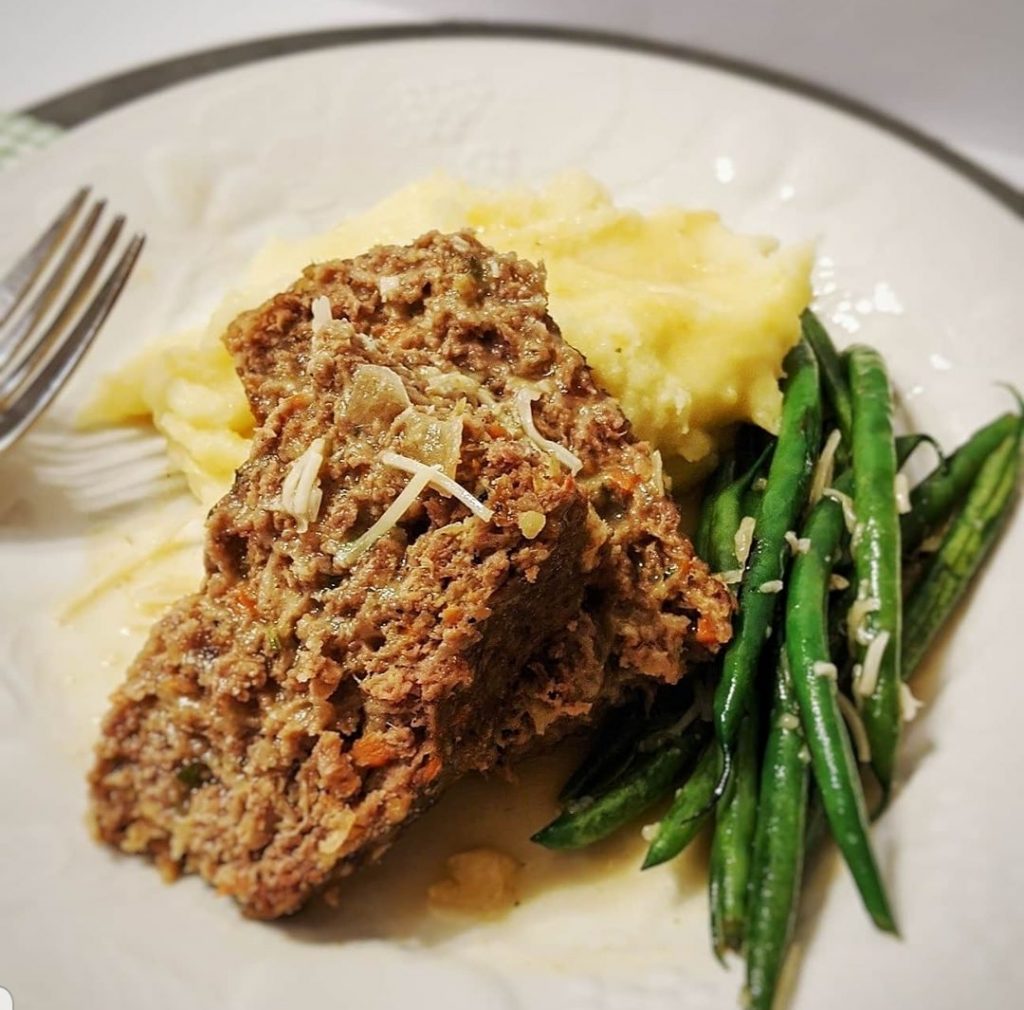 I've been told countless times that this is the only meatloaf someone will eat, once they've tried it. It's not dry like typical meatloaf, so there's no need to smother it in ketchup (ew). Have your pickiest eater try this one — I'm sure they'll love it!
Print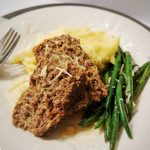 Leora's Meatloaf
---
Description
Moist, filled with tons of vegetables, and never dry!
---
Scale
Ingredients
Meatloaf:
2 tablespoons olive oil
1 large onion, chopped (2 cups)
2 celery stalks, diced
1 carrot, grated
3 cloves garlic, minced
2 pounds ground beef
1 pound spicy sausage
8 oz parmesan cheese, grated
1 teaspoon fennel seeds, crushed
3 eggs, beaten
2 tablespoons Dijon mustard
2 tablespoons Worcestershire sauce
1 teaspoon Tabasco
2 tablespoons black pepper
1/3 cup milk
2 ½ cups bread crumbs (panko if you have them)
1 tablespoon fresh parsley, chopped
1 tablespoon thyme leaves
1 head of garlic, the top cut off – for the gravy below
Onion Garlic Gravy:
2 tablespoons butter
2 tablespoons olive oil
2 large white onions, thinly sliced
¼ cup flour
2 cups chicken stock
Cloves of garlic from the roasted head, above; mashed with a fork
1 cup heavy cream
Kosher salt
Black pepper
---
Instructions
Preheat oven to 350*.
Heat olive oil in a large skillet over medium heat. Add the onion, celery, carrot, and garlic and cook until
the vegetables have softened and the onion is translucent; about 5-7 minutes. Transfer to a bowl and
allow to cool. In a separate large bowl put the ground beef, sausage, parmesan cheese, fennel, eggs,
Dijon mustard, Worcestershire, Tabasco, salt and pepper; and gently combine with a fork, careful not to
overwork the meat. Pour the milk over the breadcrumbs to soften them. Once softened, add the bread
crumbs, onion mixture, and the fresh herbs to the meat mixture and gently toss; again, not overworking
the meat.
Line a baking sheet with parchment paper and pour the meat mixture onto the baking sheet. Shape it
into a meatloaf shape. Also place the head of garlic on the baking sheet, in a corner, and drizzle it with
olive oil. Bake for 40-50 minutes. A meat thermometer should read 155-160*. Remove from the oven
and allow it to rest, so the juices redistribute. Serve with mashed potatoes and Onion Garlic Gravy.
Gravy instructions:
In a large saucepan, melt the butter in the olive oil. Add the sliced white onions, and salt with
kosher salt. Cook over medium heat until the onions are very soft and just starting to brown,
10 to 12 minutes. Stir in the flour so it coats the onions, then add the chicken stock and the
roasted garlic cloves and cook, whisking frequently, until the gravy begins to thicken. Stir in the
heavy cream and simmer over medium heat for about 5 minutes, careful not to let it burn on
the bottom. Put the gravy into a blender and puree until smooth. Season with salt and black
pepper. Serve immediately.