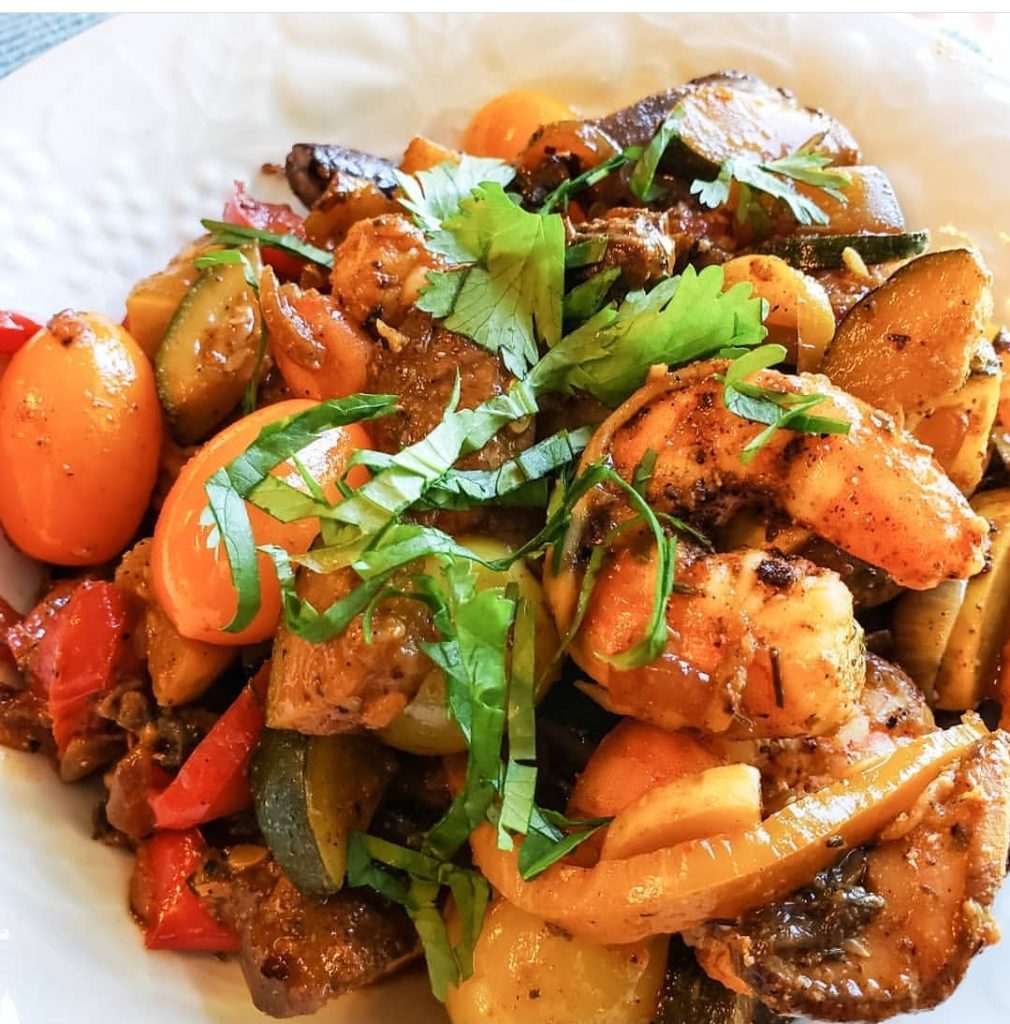 Print
Cajun Shrimp and Vegetables
Cajun Shrimp and Veggies gets it's flavor from the spice rub and the vegetables searing with lemony zest and juice. I can eat an entire bowl of this on it's own, but if you'd like; put it on top a bowl of garlic noodles for a slam dunk. I know……..I get you.
Scale
Ingredients
Olive oil
5 mushrooms, sliced
1 yellow pepper, sliced
1 red pepper, sliced
1 red onion, thinly sliced
2 zucchini, halved, then sliced
1 crookneck squash, halved, then sliced
2 garlic cloves, minced
2 lbs shrimp, peeled and tails removed
Zest and juice of 1 large lemon
1 c cherry tomatoes, halved
Cajun Seasoning:
                1 t salt
                2 ½ t garlic powder
                1 T hot paprika
                1 t pepper
                2 t onion powder
                ½ t cayenne pepper
                1 ¼ t oregano
                1 ¼ t thyme
                ½ t red pepper flakes
                1 t basil
Instructions
Toss the shrimp with 1 ½ – 2 T of the Cajun seasoning and set aside.  Heat oil in a large cast iron skillet on medium high.  Saute mushrooms, peppers, and onion, with 1 ½ T of the Cajun seasoning; until they begin to blacken and are becoming soft and translucent.  Add 1 T more oil, the zucchini, crookneck, and garlic; and continue to saute, turning it down to medium; until the vegetables are cooked through.  Turn the heat down to low.  In a separate saute pan, heat another 2 T olive oil on medium high, and saute some of the shrimp (but do NOT over crowd the pan.  You want them to brown, not steam) for about 2 minutes on one side, then turn and finish cooking on the other side.  Add to the pan of vegetables and put another round of shrimp in this pan.  Continue this process until all the shrimp are cooked and have been added to the vegetables.  Toss in the zest, juice, and cherry tomatoes.  And just heat through, as the juices deglaze the pan.