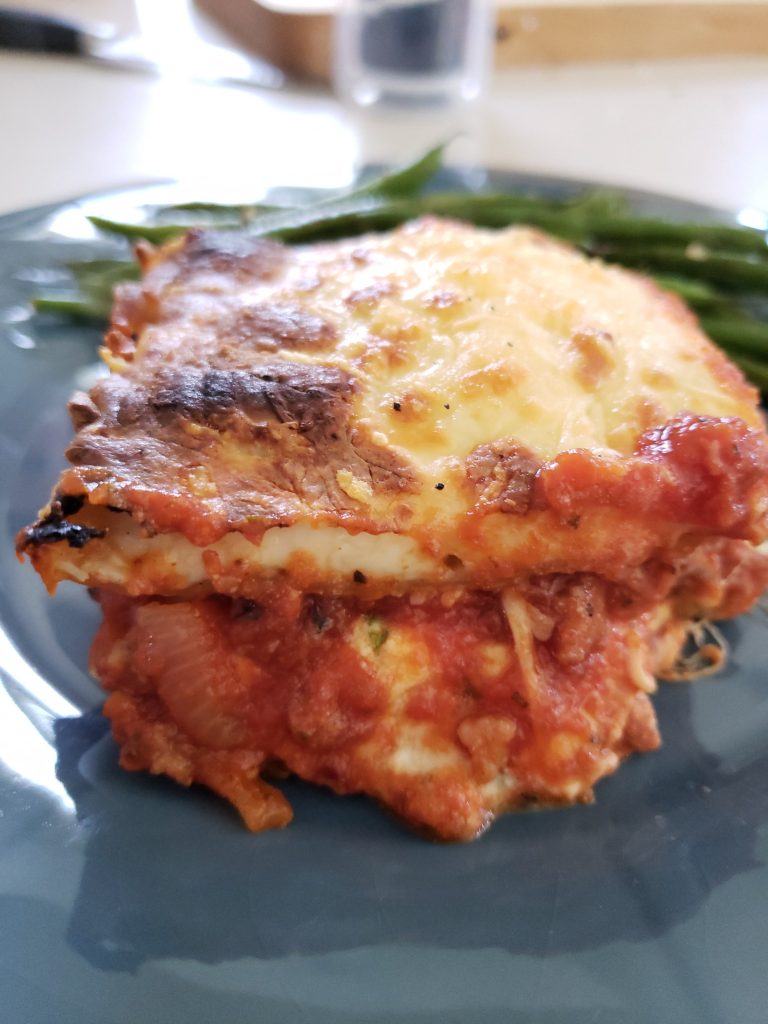 As my son says, "it's good, just eat it". LOL. This comforting meal combines our favorite sauce, that has taken me a few attempts to perfect, with creamy ricotta cheese and extra cheesy topping. And the best part…….? Bacon.
Print
Hearty Lasagna
A twist on classic lasagna.  Lot's of meat, lot's of cheese…….this one is for meat lovers!
Scale
Ingredients
1 lb bacon, diced
2 onions, chopped
Kosher salt
3 cloves garlic, minced
1 lb spicy sausage
1 t fennel
1 t red pepper flakes
1 t Italian seasoning
½ T dried basil
1 t fresh thyme
1 28 oz crushed tomatoes
2 6oz can tomato paste
1 15 oz tomato sauce
½ cup water
2 T brown sugar
16 oz ricotta cheese
2 T chopped fresh basil
3 cups mozzarella, shredded; divided
1 egg
3/4 cup parmesan cheese, shredded; divided
½  t salt
½  t pepper
12 ready to bake lasagna noodles
Instructions
Preheat oven to 375*.
Heat olive oil in a large pan and cook the bacon until almost crisp.  Remove and set aside.  Drain the grease, reserving 3 T.  Heat the 3 T bacon grease and add the onions and kosher salt, cooking until soft and transparent.  Add in the garlic, spicy sausage, fennel, red pepper flakes, Italian seasoning, basil, and thyme, and cook until browned.  Pour in the crushed tomatoes, tomato paste, tomato sauce, water, and brown sugar; and bring to a simmer.  Add the bacon in and stir to combine.  Turn the heat down and gently simmer for 10 minutes.
Meanwhile, make the ricotta cheese sauce.  Mix the ricotta, basil, and 2 cups of the mozzarella, the egg, and ½ cup of the parmesan cheese.  Season with salt and pepper.  Set aside.
To assemble, spread 1 cup of sauce in the bottom of a 9X13 inch baking dish.  Arrange noodles over the top of the sauce.  Spread ½ of the ricotta mixture over the noodles, then ½ of the remaining sauce over the ricotta.  Arrange noodles again, over the sauce and repeat the steps.  Finish topped with noodles and cover the noodles with the remaining 1 cup of mozzarella cheese and ¼ of parmesan cheese.  Cover with tin foil and bake for 25 minutes.  Remove foil and bake for another 25-30 minutes until the cheese is nicely browned.  Cool for 10 minutes prior to serving.
Notes
Serve with crusty bread, green beans, and a salad.