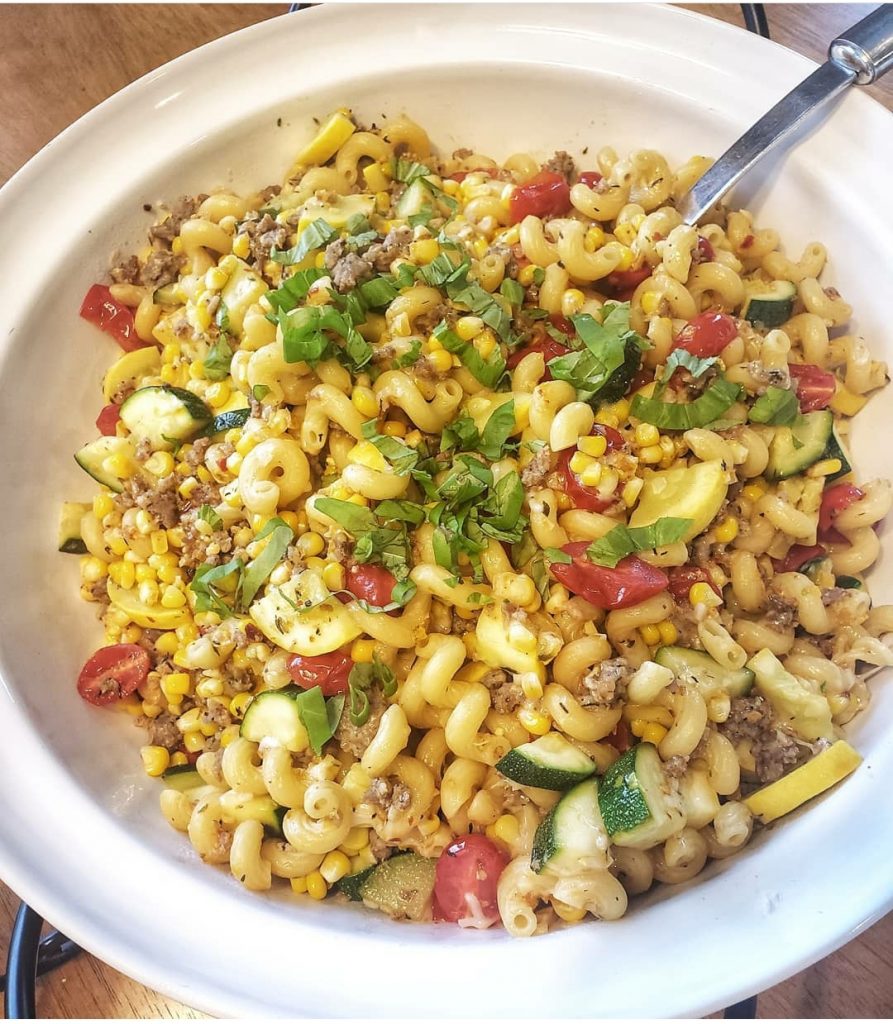 This pasta celebrates the flavors of summer with zucchini, corn, and sweet grape tomatoes. Sausage is a nice addition, and brings a richness to this pasta. Top with fresh basil, and you'll feel like you're eating straight from the garden! This is an easy weeknight meal that will surely satisfy!
Print
Summer Zucchini Pasta with Sausage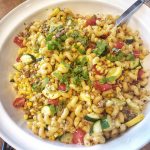 A summery pasta, served hot or cold, filled with veggies and sausage.
Scale
Ingredients
2 tablespoons olive oil
1 pound spicy Italian sausage
1 teaspoon fennel, crushed in your hand
2 zucchini squash, cut in quarters lengthwise, and then sliced
2 crookneck squash, cut in quarters lengthwise, and then sliced
2 cups cherry tomatoes, cut in half through the stem
3 cloves garlic, minced
Kosher salt and black pepper
2 teaspoons -1 tablespoon red pepper flakes, depending on your taste (I use 1T)
1 teaspoon oregano
1 teaspoon thyme
2 ears corn, kernels removed from the cob
1 lemon, juiced
1 cup parmesan cheese
¼ cup basil, roughly chopped
1 lb cavatappi pasta
Instructions
Heat olive oil in a large dutch oven, over medium heat. Add the sausage and saute until cooked
through. Season with the fennel. Add the zucchini, crookneck, tomatoes, garlic, kosher salt and black
pepper, red pepper flakes, oregano, thyme, and corn. Cook, stirring occasionally, until the squash is a
golden brown and caramelizing and the flavors are melding. Reduce heat and simmer to allow the
tomatoes to break apart slightly.
Meanwhile, cook pasta according to package directions, in well salted water. When done, drain;
reserving 1 cup of the pasta water. Add the pasta to the vegetable/sausage mixture along with 1/3 cup
of the pasta water and lemon juice. Simmer for 3 minutes to allow the sauce to thicken slightly. Top
with parmesan and basil and serve.