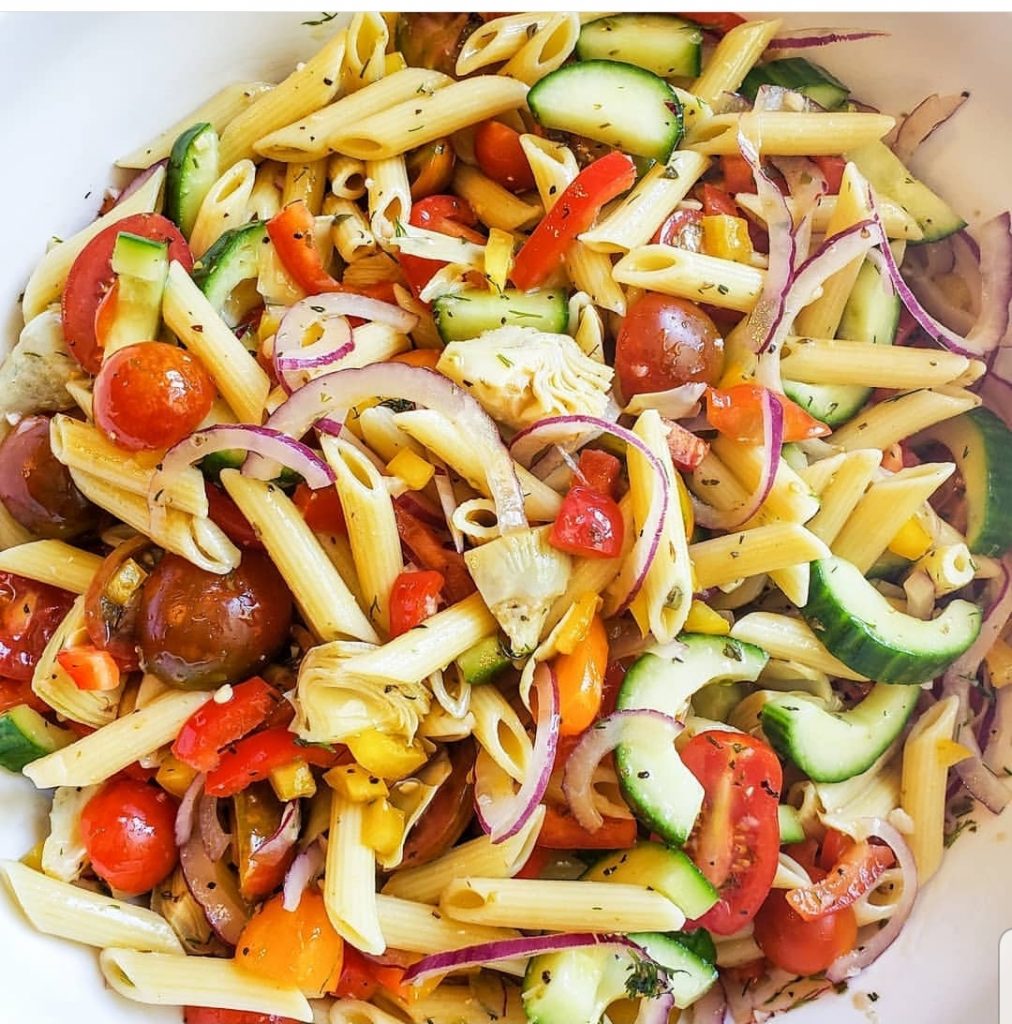 Print
Greek Pasta Salad
I love the flavors of Mediterranean food.  I love the freshness, I love the unapologetic way that vegetables are allowed to star in the dishes.  I love the bright flavors and pops of acidity.  I also needed to feed a crowd………thus the Greek Pasta Salad was born.  It has all of my normal greek salad ingredients, but with the addition of pasta; to make it go farther.  And the reviews were AMAZING!  Let me tell you about some of the key ingredients:
They may not be traditional, but they are the flavors that I love, so change them to fit your tastes and preferences:
·         Cucumber: I prefer an English cucumber; that said, I still seed it.  (who wants seeds in their salad?)
·         Bell peppers: I like a yellow and a red, for variety.  Large diced, so you can see what you are tasting
·         Tomatoes:  cherry tomatoes, grape tomatoes, even small roma tomatoes will work, just slice them through the stem.  Always use in-season, fresh tomatoes; which will give your salad THE BEST flavor
·         Red onion: cut these into small thin slices, but it adds a nice heat.
·         Artichoke Hearts:  I buy the cans of quartered hearts, then cut them in half again; and I prefer the ones packed in water so I control the flavor of my salad
·         Parsley:  Flat leaf all the way baby!
And then there's the vinaigrette…………..now I love capers.  But if you don't, then leave them out.  Play around with it and see what works for you.  But if you feel adventurous, try them.  You just might you like them as much as I do!
Scale
Ingredients
For the vinaigrette:
2 cloves garlic, minced
1 ½ teaspoon dried oregano
1 teaspoon Dijon mustard
¼ cup red wine vinegar
1 teaspoon drained capers, chopped
2 teaspoon fresh dill, chopped
1 teaspoon kosher salt
½ teaspoon black pepper
½ cup olive oil
2 Tablespoons sundried tomatoes in oil, chopped, with oil from jar
For the salad:
1 lb penne pasta, cooked al dente
1 cucumber, halved, seeded, and sliced into ¼ inch thick
1 red bell pepper, diced
1 yellow bell pepper, diced
1 pint cherry tomatoes, halved
½ red onion, thinly sliced
1 can artichoke hearts, chopped
½ cup flat leaf parsley, chopped
Instructions
Whisk all the vinaigrette ingredients together and set aside.
In a large bowl, combine the cooked pasta with 3 T of the vinaigrette and let it sit while you prep the veggies.  Stir it occasionally, so the pasta doesn't stick together.  When all the veggies are chopped, add them to the pasta and toss with the remaining vinaigrette.  Serve immediately, or chill in the refrigerator.