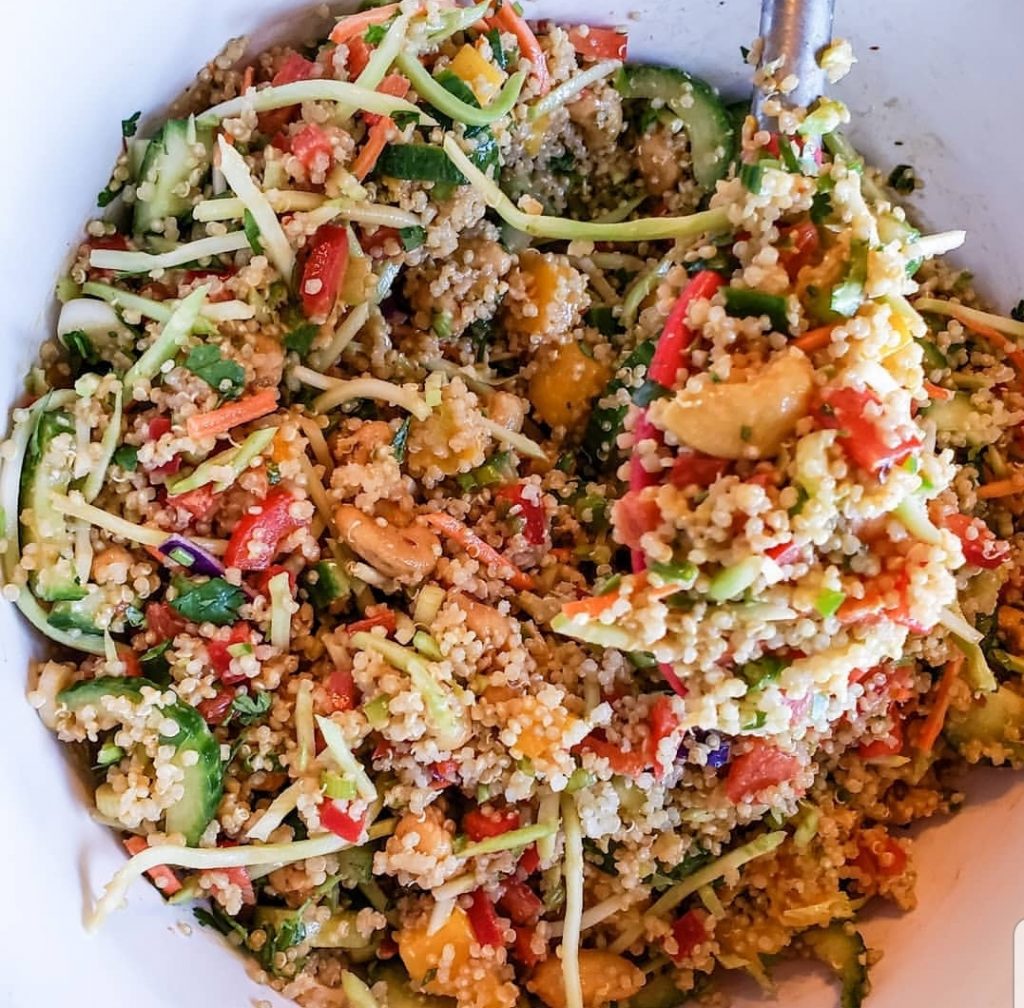 Print
Mango Jalapeno Quinoa with spicy Peanut Dressing
Let's face it………….there are times that you want a dish that brings together a myriad of textures and flavors.  THIS IS THAT DISH!  Fresh mangoes and jalapenos, with cucumber and bell peppers – Yup, it just works!  Add in the red onion for some additional heat and cashews for crunch……….it's a fresh, light, filling dish.  Entree or side dish?  Only you can decide!
Scale
Ingredients
For the Salad:
2 cups quinoa, cooked and cooled
½ package broccoli slaw
1 cucumber, seeded and sliced
1 red bell pepper
½ c cashews
¼ c green onions, chopped
1 jalapeno, diced
¼ c fresh cilantro, chopped
2 mangos, diced
For the Dressing:
¼ c peanut butter
¼ c lime juice
1 Tablespoon soy sauce
1 Tablespoon rice vinegar
1 teaspoon sesame oil
2 teaspoons fresh grated ginger
1 garlic clove, minced
2 teaspoons honey
2 Tablespoons chili paste (I use Sambal Oelek)
Instructions
In a large bowl, toss the quinoa, broccoli slaw, cucumber, bell pepper, cashews, green onions, jalapeno, cilantro, and mango together, gently.  In a separate bowl, combine all the dressing ingredients and whisk vigorously to combine.  Slowly pour about ½ of the dressing over the slaw, and gently fold it in.  Add additional dressing, making sure you don't over dress the slaw.  I find that the quinoa absorbs differently each time I make it.  😊  Serve, topped with additional chopped cilantro if desired.