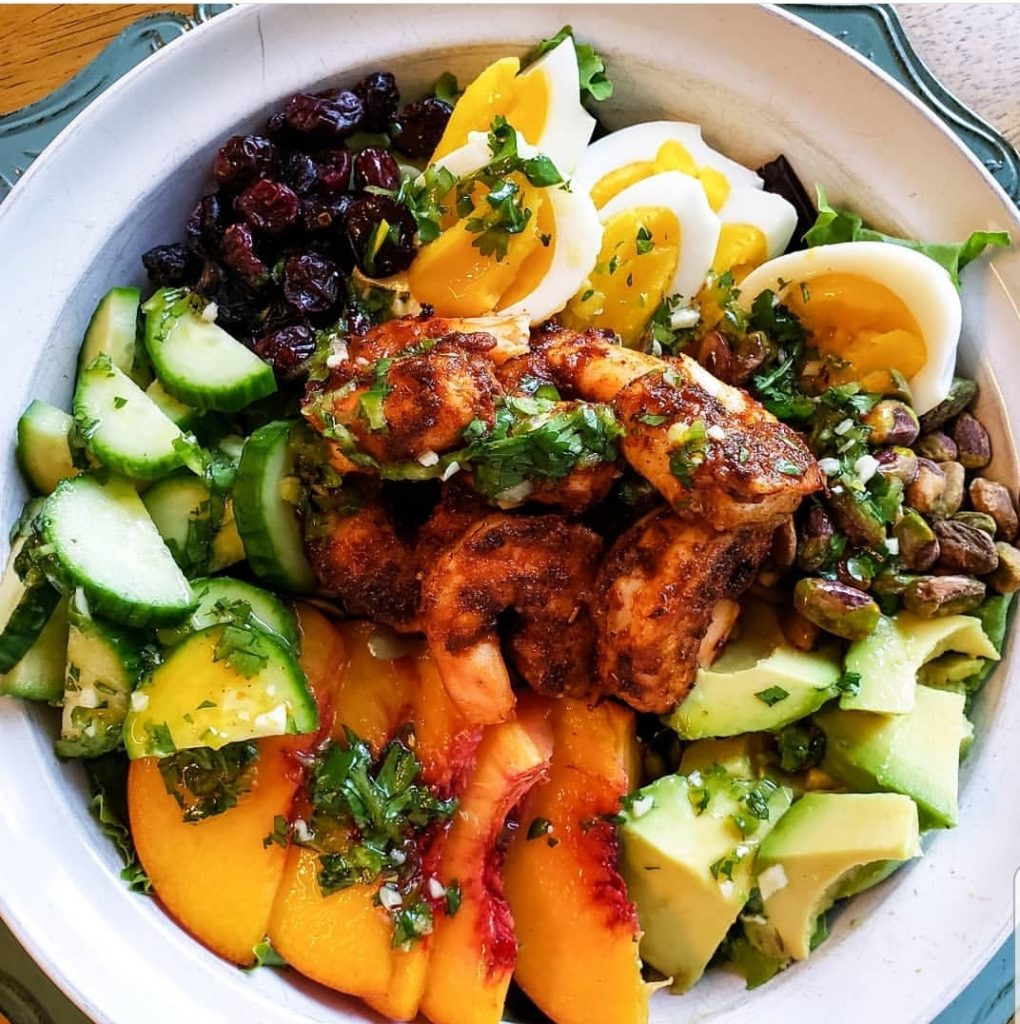 Print
Chipotle Shrimp and Nectarine Salad
Chipotle Shrimp, nectarines, and pistachio salad with a light jalapeno cilantro vinaigrette.  This is a fresh, summery salad with spicy shrimp, creamy eggs, crunchy pistachios, and sweet nectarines; all drizzled with a flavor packed jalapeno vinaigrette.  This may become a go-to weeknight dinner, since it comes together so quickly!
Scale
Ingredients
For the vinaigrette:
1/3 cup lemon/lime juice (I used 2 limes and 2 lemons)
½ cup olive oil
1 jalapeno, minced
2 garlic cloves, minced
2 T honey
2 T cilantro, chopped
1 t kosher salt
½ pepper
For the Chipotle Shrimp:
½ t chipotle chili powder
½ t smoked paprika
½ t coriander
1 t oregano
¼ t cayenne pepper
½ t red pepper flakes
3 T olive oil
Zest of 1 lemon
1 lb shrimp, peeled and tails removed
Instructions
For the vinaigrette:
Whisk all ingredients and set aside.
For the shrimp:
Combine the first 8 ingredients and stir completely.Rub over the shrimp and let it sit for about 15 minutes.Heat additional 2T olive oil in a large skillet over medium high heat.Saute the shrimp for about 2 minutes on one side, then turn and finish cooking until they are pink and cooked through.Remove and set aside.
For the Salad:
Chipotle Shrimp
Leafy green lettuce, chopped
1 nectarine, cut into sections
1 cucumber, diced
1/3 cup craisins
2 hard boiled eggs, quartered
¼ cup pistachios
1 avocado, cut into slices
To assemble the salad, place the lettuce in the bottom of a bowl.Lay the nectarines in one section, then moving clockwise in circle, add the cucumbers next, then the craisins, place the hard boiled eggs next, then the pistachios, then the avocado.Just around in a circle.Place the shrimp in the middle and drizzle the salad with the vinaigrette.