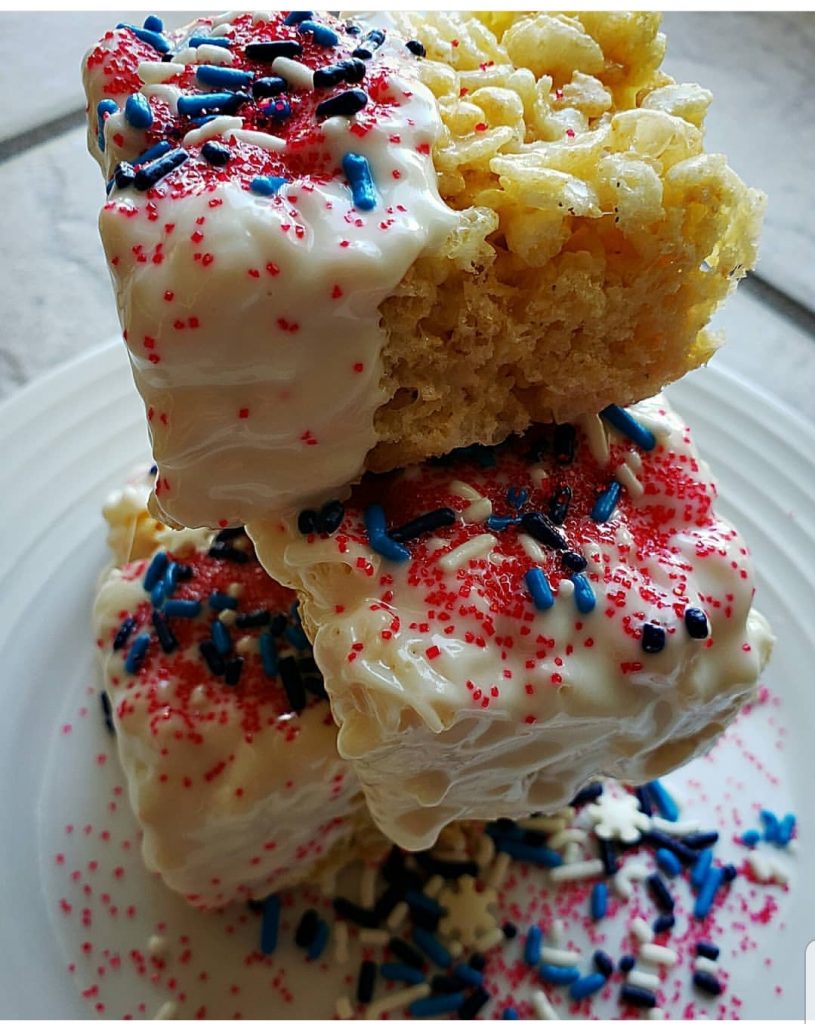 Print
BEST Rice Krispie Treats
These are a family favorite.  They are tender, soft, ooey gooey (is that a word?)……..and undeniably addicting!  I guarantee you'll agree they are the BEST rice krispie treats ever!
Scale
Ingredients
½ cup butter
20 ounces mini marshmallows
Pinch of salt
1 tsp vanilla
10 cups Rice Krispie cereal
10 oz package white chocolate chips
1 T butter
Assorted sprinkles
Instructions
Grease a 9X13 baking dish with butter. Set aside.
In a saucepan, over low heat, melt butter and marshmallows.  The key is to melt them over LOW heat – low and slow.  Just trust me on this.  Meanwhile, pour the rice krispies into a large bowl and set aside.  Once the butter and marshmallows are completely melted, remove from heat and stir in the vanilla and the salt.  Pour the mixture over the rice krispies and gently stir with a wooden spoon.  Pour into the prepared baking dish and press gently with your fingers until the mixture spreads out.  (I usually put a little butter on my fingers so they don't stick).  Let them cool and set, usually about 1 hour.
Cut the rice krispies into squares.  Prepare a baking sheet with parchment paper.   Place the white chocolate chips in a glass bowl, over a double boiler of simmering water and melt.  Add the 1 T butter and whisk into the chocolate.  Remove and set aside so the chocolate cools slightly.  Dip each rice krispie square into the melted chocolate halfway and then place on the parchment paper to set.  Decorate with the assorted sprinkles.