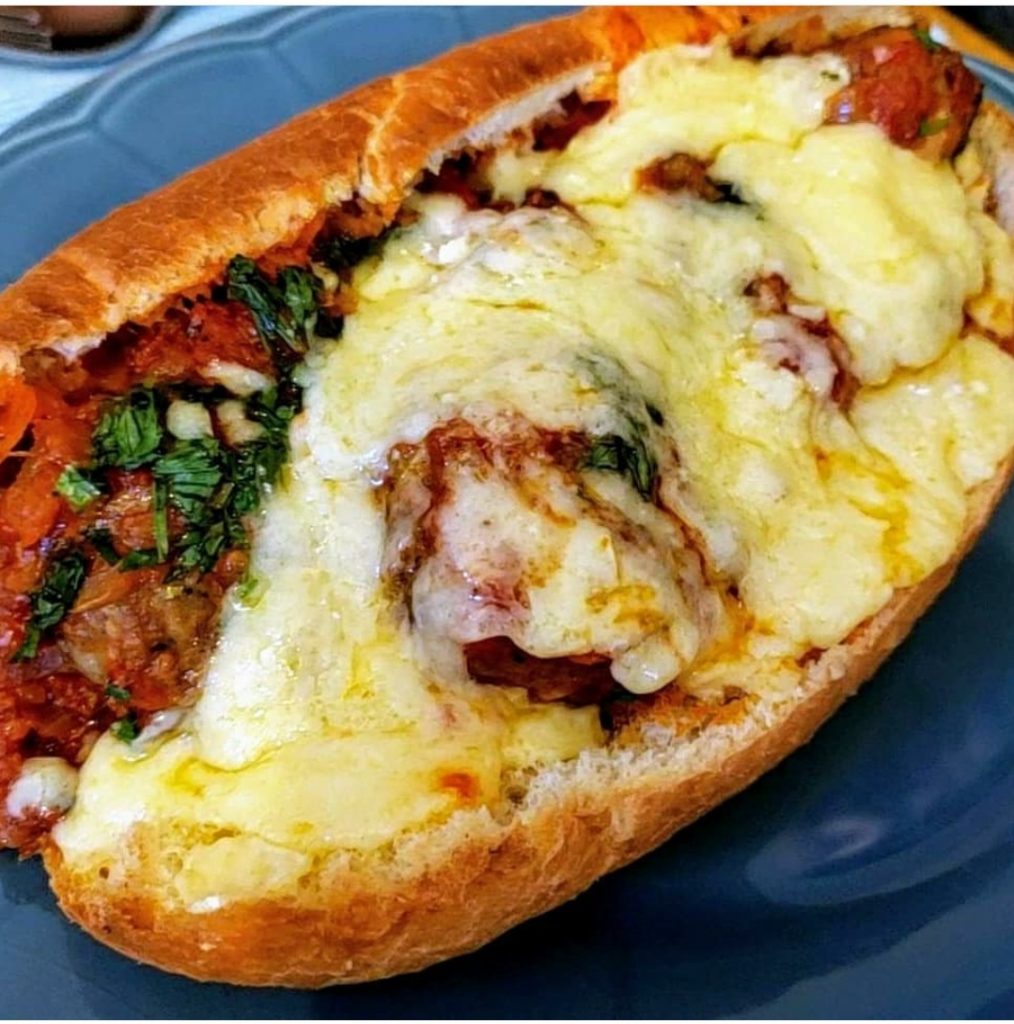 These meatball sandwiches are easy to throw together, and they're oh so delicious! The buns get toasted on the outside, the cheese melts just right, and the marina sauce…… Mmmm. You'll love these!
Print
Meatball Sandwiches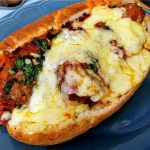 Scale
Ingredients
Meatballs:
1 pound ground sausage
1 lb ground beef
2 large eggs, lightly beaten
3 teaspoons Worcestershire sauce
1 teaspoon red pepper flakes
1/4 cup grated Parmesan cheese
4 cloves garlic, finely chopped
1/2 cup dry bread crumbs
1/4 cup finely chopped parsley
Kosher salt and black pepper
Tomato Sauce:
2 tablespoons olive oil
1 large Spanish onion, finely chopped
4 cloves garlic, finely chopped
1 ½ teaspoon red pepper flakes
1 teaspoon Calabrian chili flakes
2 (28-ounce) cans crushed tomatoes
2 teaspoons oregano
Salt and freshly ground pepper
3 tablespoons parsley, chopped
6 basil leaves, chiffonade
Hoagie Rolls
Provolone or White Cheddar cheese sliced
Instructions
Preheat oven to 400F.
Put sausage and ground beef in a large mixing bowl, with eggs, Worcestershire sauce, red pepper flakes, parmesan
cheese, garlic, breadcrumbs, parsley, and salt and pepper. Mix until well combined, taking care to not over mix the
meat. Divide into meatballs, roughly 2-3 tablespoons each. Place on a lined baking sheet and roast about 12
minutes. Break a meatball in half to check doneness, before removing them from the oven.
Meanwhile, in a large dutch oven, heat olive oil. Add onion and saute until soft and translucent. Add garlic, red
pepper flakes, and Calabrian chili flakes, and work them into the onions. Add the tomatoes, oregano, and 1
teaspoon salt and ½ teaspoon black pepper; and increase heat to bring to a boil, reduce heat and simmer until
sauce thickens and meatballs are done.
Remove the meatballs and place them in the sauce. Top with parsley and basil, let simmer 3 minutes.
Cut hoagie buns in half, and place meatballs down the center. Cover with sauce and sliced cheese. Place
sandwiches on a lined baking sheet and put them in the oven, just until the cheese melts.
Serve, topped with additional basil, if desired.