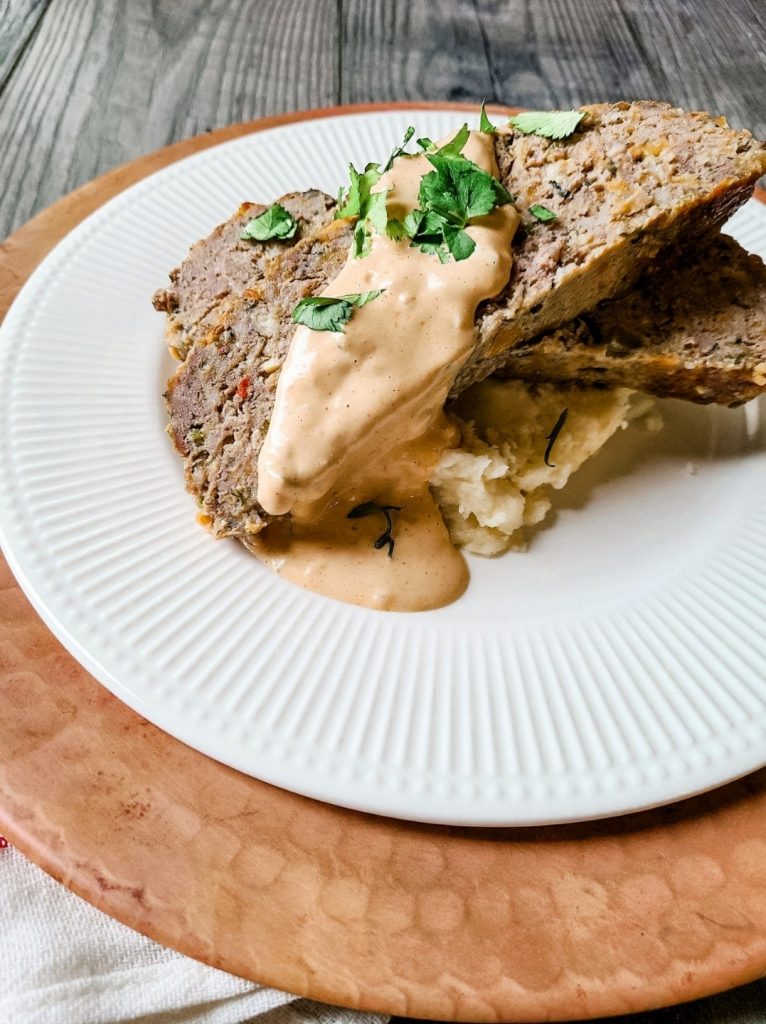 Meatloaf seems like the ultimate comfort food, and my mother used to make a delicious classic meatloaf. I used her method of adding cooked vegetables (read, super tender meatloaf), and updated it with cheeseburger flavors! This combination of meatloaf and cheeseburger is comforting and familiar with bursts of melty cheese studded throughout. Serve with my special burger sauce and your favorite garnishes; and this may become your new favorite comfort meal!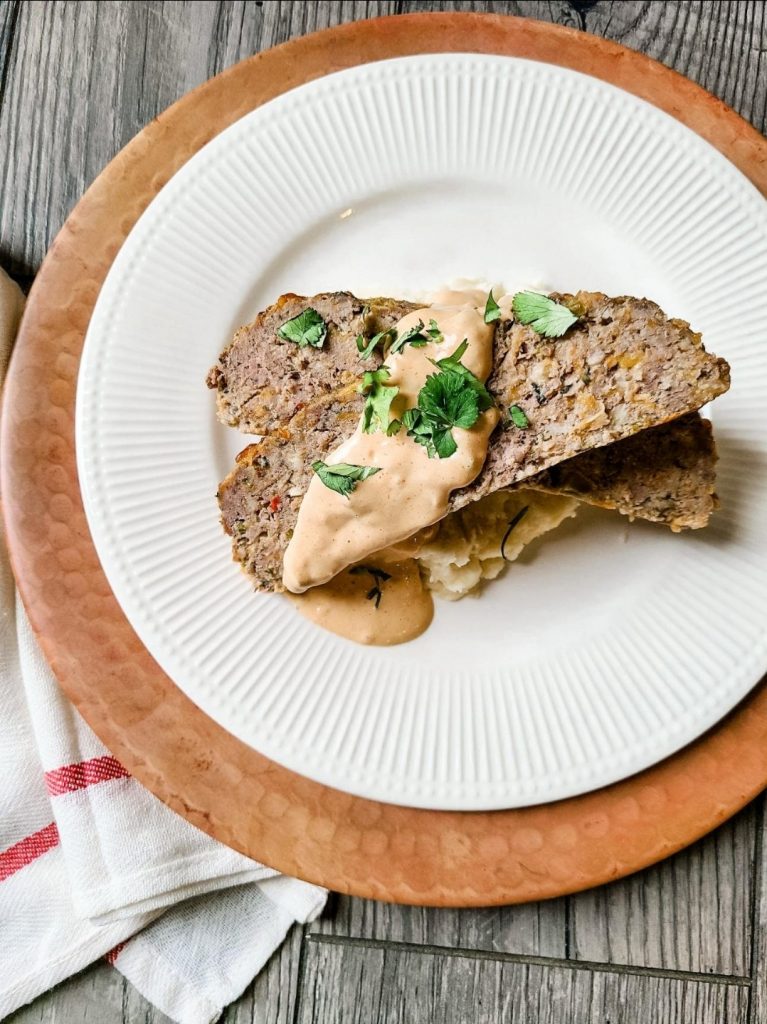 Print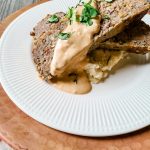 Cheeseburger Meatloaf
---
Description
A twist on classic meatloaf: tastes just like a cheeseburger, especially when topped with my special sauce.
---
Scale
Ingredients
Meatloaf:
Olive oil
1 large onion, chopped
2 celery stalks, diced
3 garlic cloves, minced
1 pound ground beef
2 pounds spicy sausage
1 tablespoon chopped parsley
1 tablespoon chopped basil
1 tablespoon gourmet burger seasoning
1 tablespoon Worcestershire Sauce
1 tablespoon Dijon Mustard
3 eggs, beaten
1/3 cup milk
1/3 cup heavy cream
1 cup sharp cheddar cheese, grated
2 tablespoons kosher salt
1 tablespoon black pepper
2 ½ cups finely crushed Ritz crackers
Burger Sauce:
½ cup mayonnaise
¼ cup ketchup
3 tablespoons yellow mustard
1 tablespoon dill pickle relish (or finely diced dill pickles)
2 teaspoons hot sauce, such as Cholula
½ teaspoon smoked paprika
½ teaspoon garlic powder
1 teaspoon onion powder
Garnishes:
Red onion, thinly sliced
Jalapeno, thinly sliced
Scallions, chopped
---
Instructions
Preheat oven to 350 degrees. Saute the onion, celery, and garlic in the olive oil over medium heat; until soft and translucent. Remove and set aside.
In a large bowl, put the ground beef, sausage, parsley, basil, gourmet burger seasoning, Worcestershire sauce, Dijon mustard, eggs, milk, heavy cream, cheese, salt, and pepper. Gently mix with a fork – not all the way combined yet. Add the cooled onion mixture and the Ritz crackers and mix in, taking care not to overwork the meat. Place on a parchment lined baking sheet and press into two rectangular shaped loaves. Bake for 40-50 minutes; or until the internal temperatures are 155-160 degrees. Meanwhile, whisk all the sauce ingredients together. Serve thick slices of meatloaf, drizzled with the burger sauce, and topped with your favorite garnishes.
*We like this served with creamy mashed potatoes.
Notes
How can I make this dairy free? Substitute 1/3 c almond milk or cashew milk for the milk, and 4 tablespoons olive oil for the heavy cream. Leave out the cheddar cheese.
How can I make this gluten free? Substitute 2-1/2 c gluten free oats or gluten free crackers for the Ritz crackers.