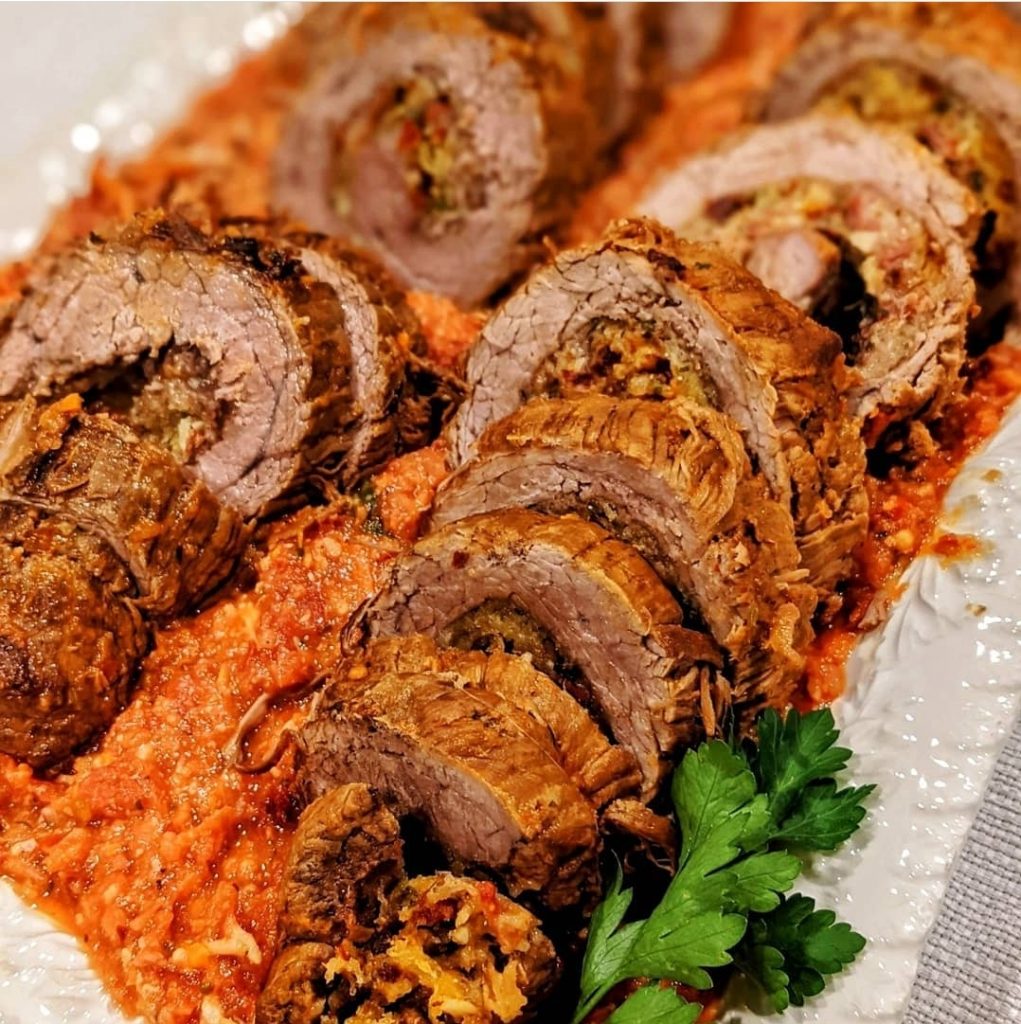 This classic Italian dish is made from thin flank steak, rolled with a savory filling, and then braised in a marinara sauce. Serve over a bed of buttery garlic noodles, with extra sauce on the side. You will LOVE this dish….. AND how easy it comes together!
Print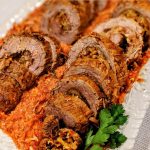 Braciole
---
Description
Flank stank rolled with a delicious filling.
---
Scale
Ingredients
½ cup Italian bread crumbs
2/3 cup grated parm cheese
½ cup grated provolone cheese
2 tablespoons fresh parsley, chopped
2 cloves garlic, minced
¼ cup sun dried tomatoes, chopped
2–4 oz. prosciutto, chopped
1 tablespoon lemon zest
2 tablespoons olive oil
Kosher salt and black pepper
1 ½ lbs Flank Steak, pounded thin; in the direction of the grain
Olive oil
1 onion, quartered
2 cloves garlic, smashed
1 celery stalk, rough chop
1 carrot, rough chop
1 teaspoon red pepper flakes
1 teaspoon oregano
1 cup dry white wine
2 32 oz can fire roasted crushed tomatoes
½ bunch fresh basil, chopped
---
Instructions
Preheat oven to 350F
Mix the first 10 ingredients in a bowl together. Tossing with a fork to combine. Set aside.
Lay the flank steak on a cutting board, and sprinkle the bread crumb mixture all over the top. Starting at
the side that runs across the grain. Roll up the steak, tightly, to enclose the filling. Using kitchen twine,
tie the steak in several places to secure it.
Heat olive oil in a large dutch oven, over medium heat and brown the braciola on all sides (about 4 min
per side). Remove and set aside.
In a food processor, add the onion, garlic, celery, and carrot, and process until they are finely minced.
To the same dutch oven, add more olive oil. Pour in the vegetable mixture and saute, until the
vegetables are tender and the onion is translucent. Add the red pepper flakes and oregano and work
them into the mixture. Deglaze the pan with the wine. Pour the crushed tomatoes over the top, stirring
them into the wine and vegetable mixture. Using an immersion blender, blend the sauce to the
consistency you desire. (We found we prefer a smoother sauce). Nestle the meat down into the sauce,
cover, and bake for 1 ½ hours. Every 30 minutes, turn the meat and baste with some of the sauce in the
pan.
When done, remove the braciola and let it rest for 10 minutes. Meanwhile, add the fresh basil to the
sauce and stir it in. Serve the braciole by slicing it, spooning sauce over it, and topping with additional
chopped basil. Serve with a side of pasta, salad, and crusty bread.