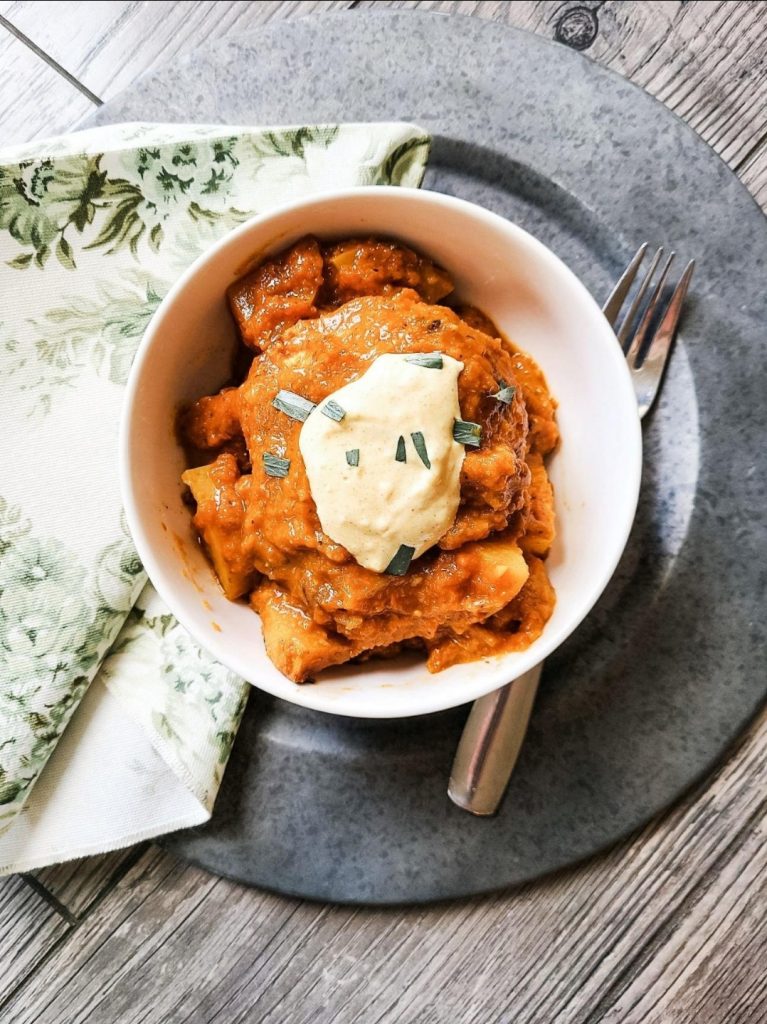 There's a phrase I've heard before, and it goes like this: "don't eat anything you can't pronounce." I have to laugh whenever I hear this because to be honest, the most delicious things I've ever tried have been things I can't pronounce.
This is no exception. This dish is inspired by the traditional French fish stew. The way the chicken cooks makes it oh so tender and juicy, and the sauce…. Well, there really is no way to explain it. It's creamy and packed with the flavor of tarragon, thyme, and turmeric. Your kitchen will smell incredible, and your tummies will be completely satisfied.
Go ahead… Give this one a try! And while you're at it, I'll save you a trip to Google…. It's pronounced "bool-yuh-bayz." 🙂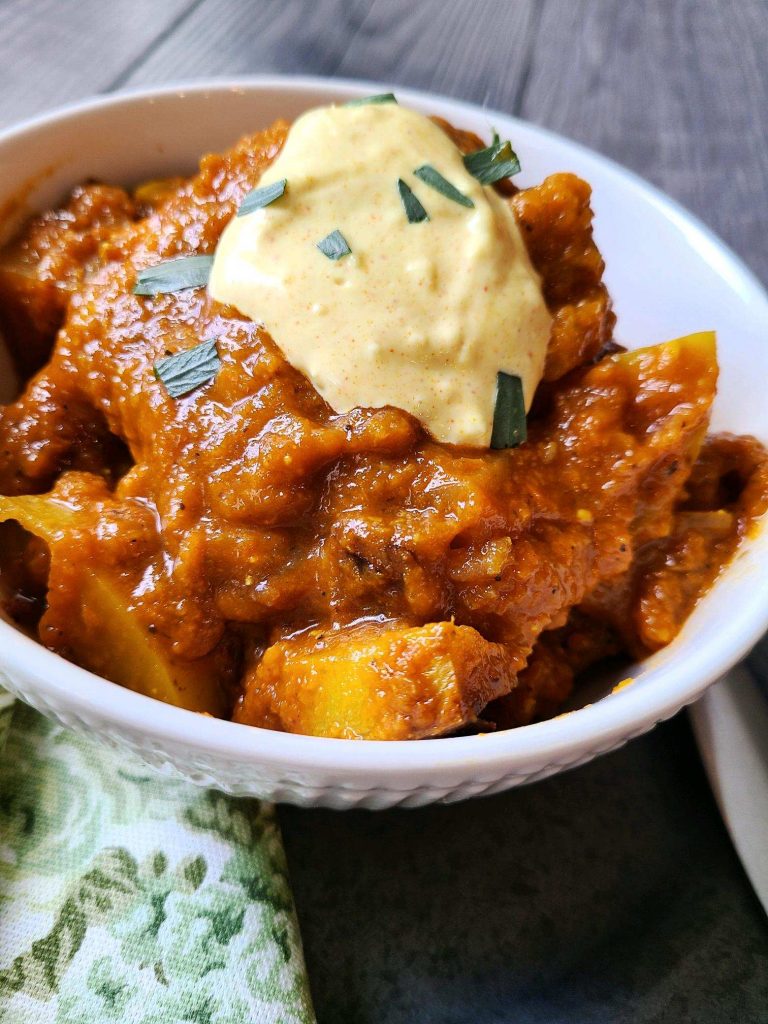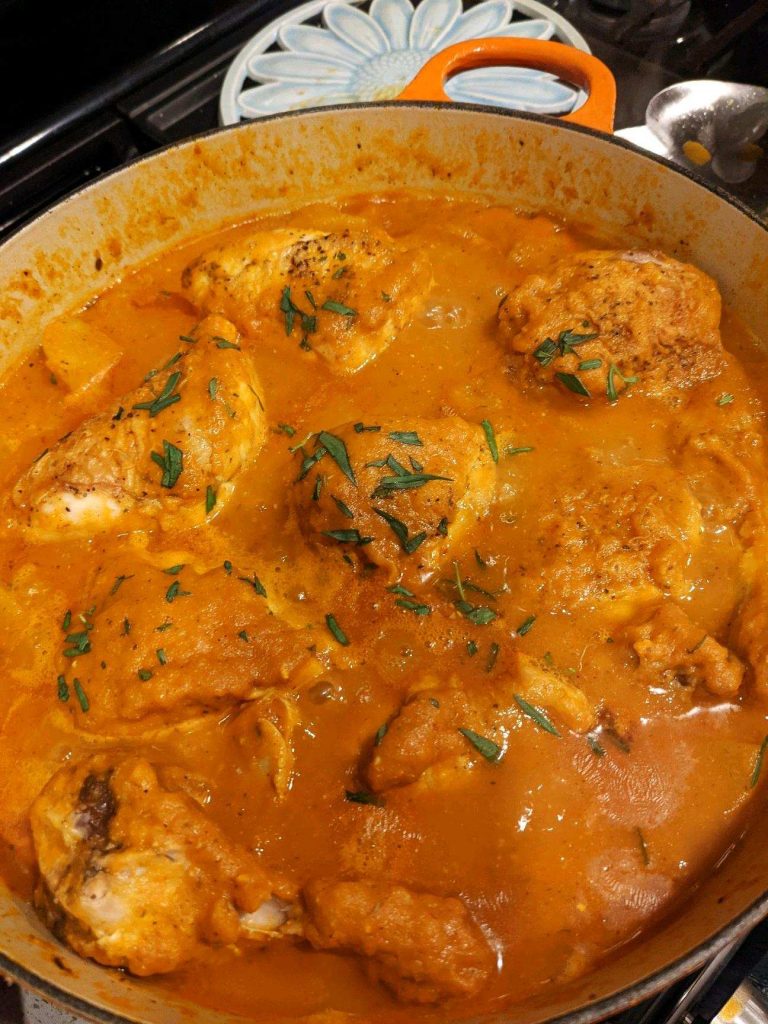 Print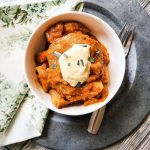 Chicken Bouillabaisse
---
Description
Tender and juicy chicken packed with the flavor of tarragon, thyme, and turmeric.
---
Scale
Ingredients
1 whole chicken, cut into 10 pieces, (cut the breasts in half)
Kosher salt and black pepper
Pinch of dried rosemary, crushed in your hand
3–4 tablespoons olive oil
1 onion, diced
1 small fennel bulb, diced
1 carrot, peeled and chopped
10–12 garlic cloves, peeled
1 lemon, zested
1 teaspoon turmeric
1 teaspoon thyme
1 15oz can fire roasted crushed tomatoes
1 cup dry white wine
2 cups chicken broth
1 teaspoon red pepper flakes
6 Yukon Gold potatoes, cubed into ¼ inch pieces
2 tablespoons fresh tarragon, chopped
½ bunch parsley, chopped
Rouille for serving
Crusty garlic bread for dipping
Rouille:
4 garlic cloves
1 ½ teaspoons kosher salt
1 cup mayonnaise
1 lemon, juiced
¼ teaspoon turmeric
½ teaspoon smoked paprika
Pinch of cayenne
---
Instructions
Bouillabaisse:
Heat olive oil in a Dutch oven over medium-high heat. Season chicken generously with salt, pepper, and rosemary; and brown the chicken in batches, until nicely golden brown all over; about approximately 6-7 minutes. Transfer to a plate, and set aside.
Lower the heat and add the onion, fennel, and carrot; and saute until the vegetables are softened and translucent. Add the garlic, lemon zest, turmeric, thyme, and crushed tomatoes; and cook for 2-3 minutes; until the garlic is very fragrant. Add the white wine, chicken broth, and red pepper flakes to the pan and bring to a boil, reduce to simmer for 10 minutes to allow the flavors to meld. Using an immersion blender, or a regular blender; process the mixture until the it is a smooth puree.
Put the chicken and potatoes into the pot with the puree. Cover and simmer rapidly for 25-35 (may be 40-45) minutes or until the chicken has an internal temp of 165F, and the potatoes are tender. Stir in the tarragon, and keep serve hot.
Serve in bowls with dollops of Rouille and the French bread.
Rouille:
Mash the garlic cloves with the salt, to create a paste. Then add the paste, mayonnaise, lemon juice, turmeric, paprika, and cayenne together the whisk vigorously; until smooth.